On today's edition of Queens Eats! Elias and I had planned a trip to MoMA PS1 on a hot summer day only to discover that while the museum was open, all the exhibits were closed for the Warm Up summer concert series!! Usually admission to the museum is distinct from admission to the concert, but there was going to be press coverage that day and as a result the museum decided closed all the exhibitions and installations :T I even wore a cute dress & ridiculous shoes so I could be the most Art that I could be.
So instead, we decided we'd fast forward to the eating part our day and went food-hopping in Astoria and Sunnyside.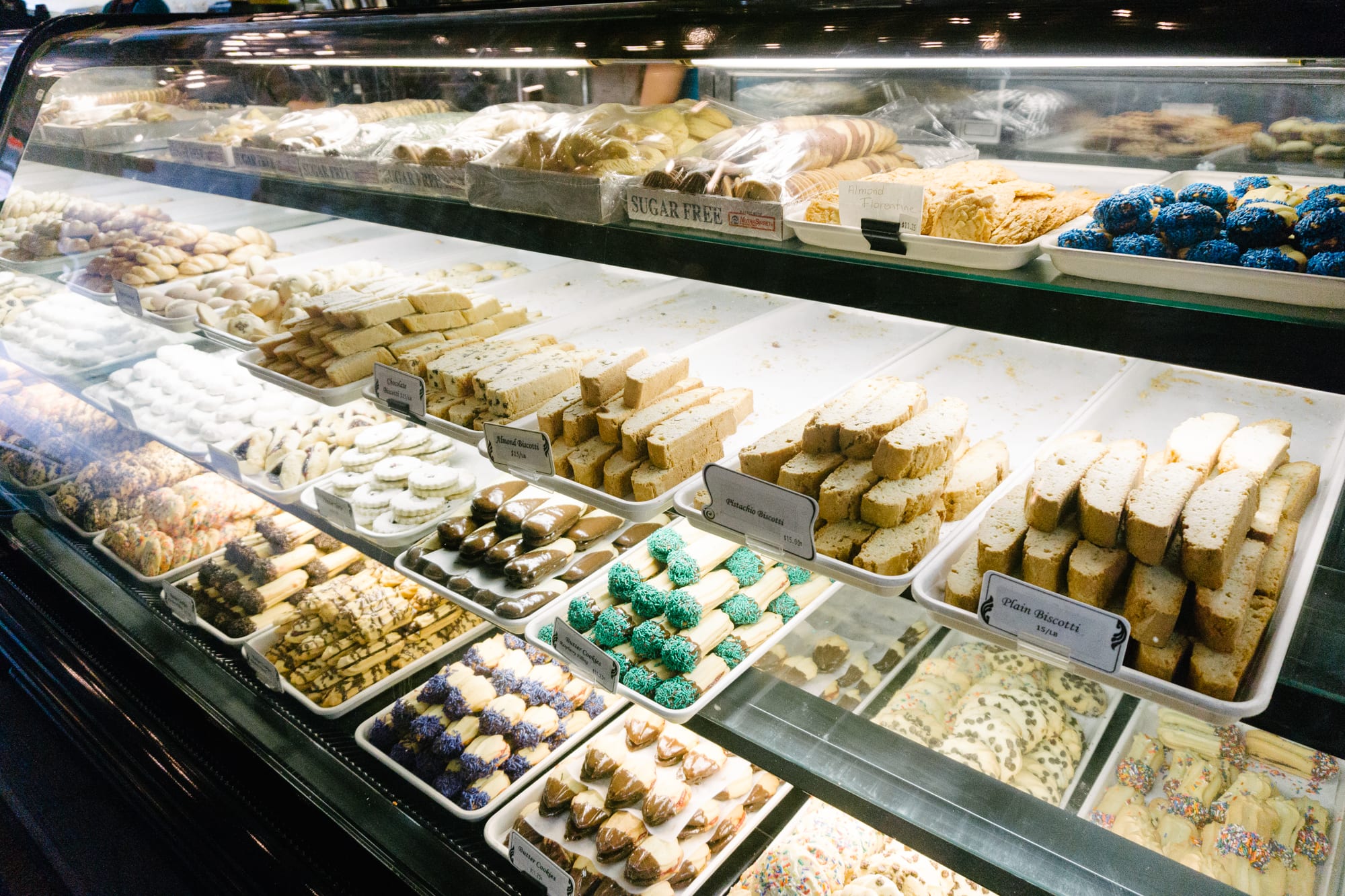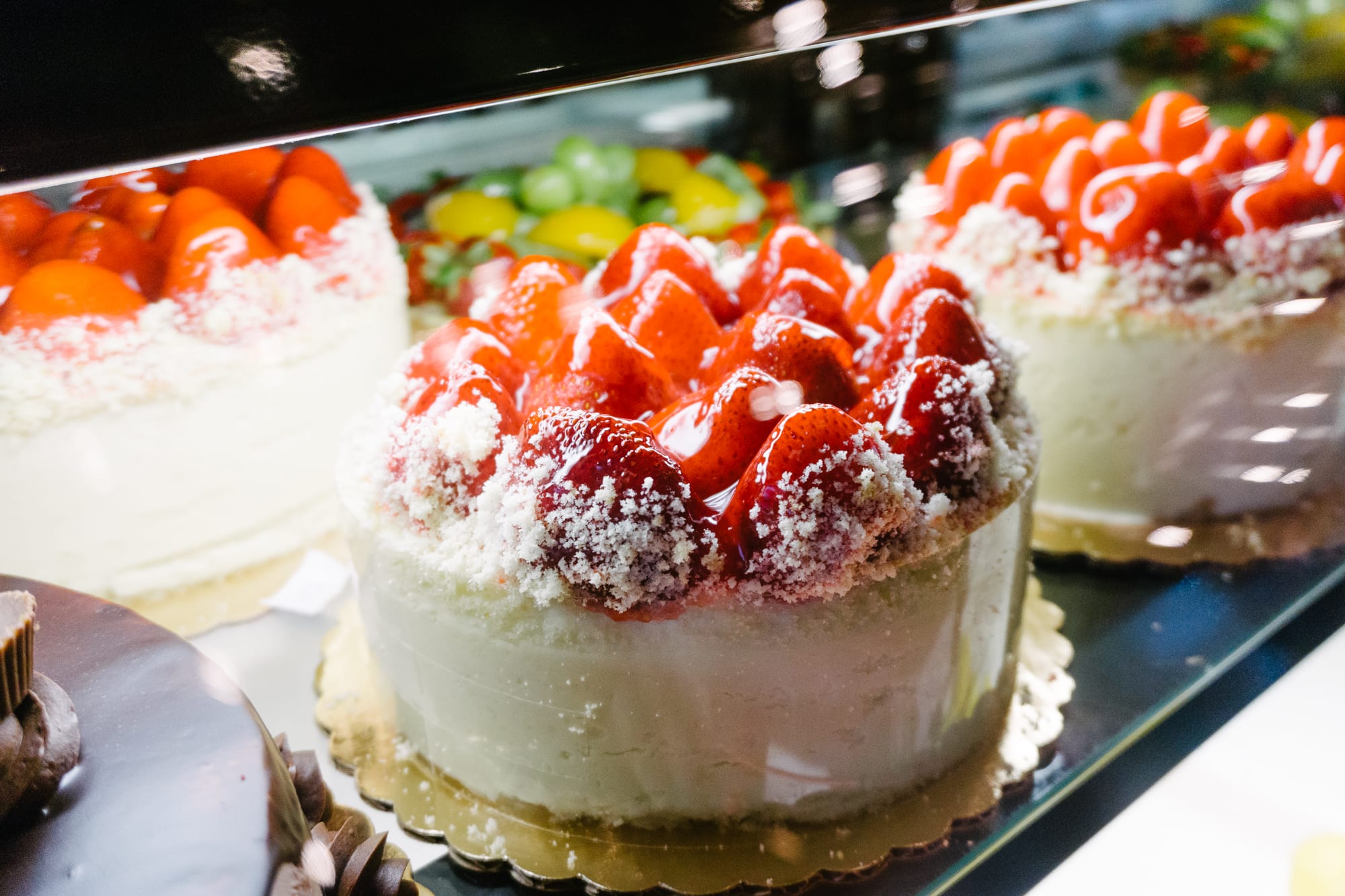 ??, kourambiedes (butter cookies filled with nuts and topped with powdered sugar and rosewater), baklava (filo based pastry filled with nuts and coated in syrup), and blood orange sorbet
Elias took me to Omonia Cafe, which was founded in 1977 (!!!) and famous for their Greek pastries and coffee. The cafe takes up THREE storefronts – the cafe itself, a smaller spot to buy pre-made goods, and a huge event space for partying. There was an incredible selection of treats at the cafe and I let Elias pick out a few treats that he loved. If you love sweet stuff, you have to try Greek pastries. They are a tad sweet for my taste, but really delicious and absolutely hits the spot if you have a sweet tooth. My favorite was the kourambiedes, the dusty white cookie above, because the rosewater was such a surprise. There were so many items on the menu I'd love to visit again to try some more.
We spent a few hours in the open space seating area in the back of the cafe. The decor is so lovely and the walls are covered in faux grass which we laughed at and then proceeded to take 400 photos of ourselves against it HAHA Thank you for always indulging in vanity with me~
The rest of the afternoon was spent strolling through Astoria and dreaming about a cute apartment in the neighborhood. Before we knew it, night was setting in so we hopped on the train over to Sunnyside to grab dinner at Salt & Fat.
I've wanted to go to Salt & Fat for years CENTURIES. The issue was always that there isn't much to do recreationally in Sunnyside so I always just took the 7 train past the 33rd street station in sadness. I was PUMPED for dinner and I was NOT WRONG. It was AMAZING.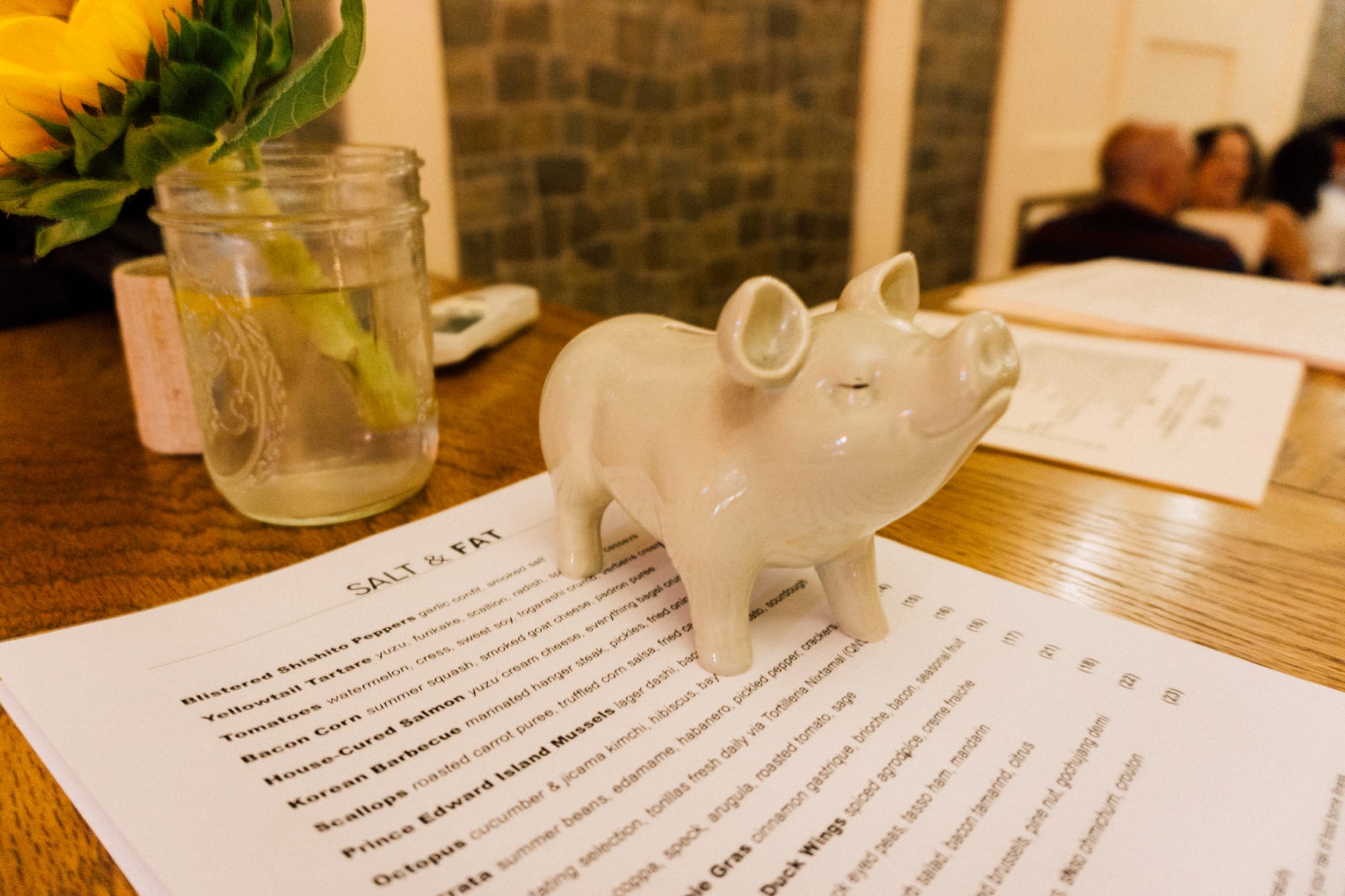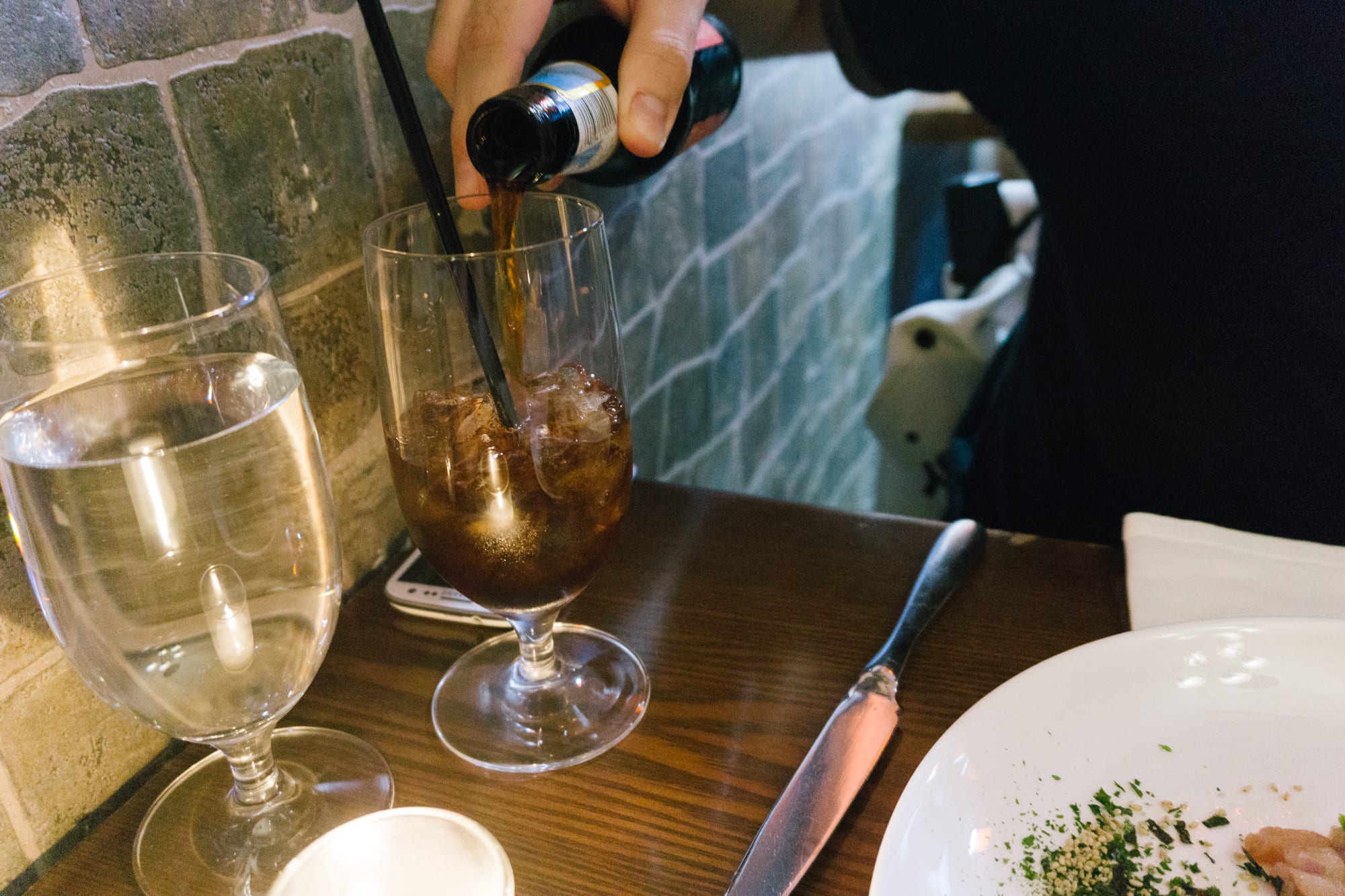 Yellowtail tartare with yuzu, furikake, scallions, radish, spicy mayo, cassava
To start the night, we devoured a bag of bacon fat popcorn that every table gets for service … at one point we even asked for a refill. GLUTTONS. Elias had been before so he recommended the Yellowtail Tartar and … oh my god even if you don't enjoy raw fish/food you have to try this. Zero fishy-ness, soft tender fragrant. It was so good it was so addicting. I loved the scallops and duck wings as well – all the proteins were flavored perfectly and tender with just enough chew/bit to them. The only dish I wasn't fond of was the day's special short ribs – the flavors didn't come together and the potato pancake was an odd texture. Somewhere in there was also an herb that tasted straight up like dish detergent. I'm not a big fan of cilantro, but I recognize the flavor and tolerate it, but this was … Elias and I thought someone used a pan that had not been rinsed well enough. I'm relieved it's not on the menu anymore.
Salt & Fat serves Asian and American fusion food served tapas style and oh MAN the food was so good. Plus, the service was impeccable! The only negative in the experience is that Salt & Fat is $$$$$. Usually I love tapas-style dining because encourages & enables the diner to try a lot of dishes on the menu (eat ALL the things), but the some dishes at Salt & Fat are too big to call appetizers, but not enough to be considered an entree so they come in at an odd price point which leaves you with a mouth-satisfied, but not stomach-satisfied feeling post dinner.
Which is why after our delicious meal, we went across the street and ordered sushi & seafood apps at Ariyoshi LMAO. It was also my first time at Ariyoshi and I didn't get a full meal, but it hit the spot and Elias says it's one of his favorite late night places so I'd be more than happy to do this restaurant dinner combo again.
Can't say I wasn't disappointed that the museum part of the day didn't happen, but I got to spend time with one of my favorite people and ate some great things so it all worked out in the end!!
---