I had a lot of fun doing the Etude House posts a few months ago and I wanted to continue with the theme of brand-centric beauty posts by starting a brand collection series reviewing all of the items that I've owned/used from a specific company. This first one up is Innisfree!
Flushing has an abundance of Asian beauty stockists, but it's still short of a few brands including a retail shop that carries Innisfree products. Last year, I took a trip to Guangzhou for a family matter and towards the end of my time there, decided to see if I could hunt down an Innisfree so I could try some things in person. I'm sure people who have easy access to Innisfree will think it pretty lame of me, but it was so exciting!!! Not nearly as soul-ascending an experience as Etude House, but exciting nonetheless.
Founded in 2000 by Amore Pacific, Innisfree promotes eco-friendly all-natural skincare and cosmetic products. In Korea, it's considered a "road-shop brand" (think drugstore for those of us in the states) with products in the low to medium price point. Their most popular & recognizable spokesmodel in recent years is Yoona of Girl's Generation 🎀. My experience with Innisfree has been limited for a lack of availability, but overall my first impression going into this was a positive one!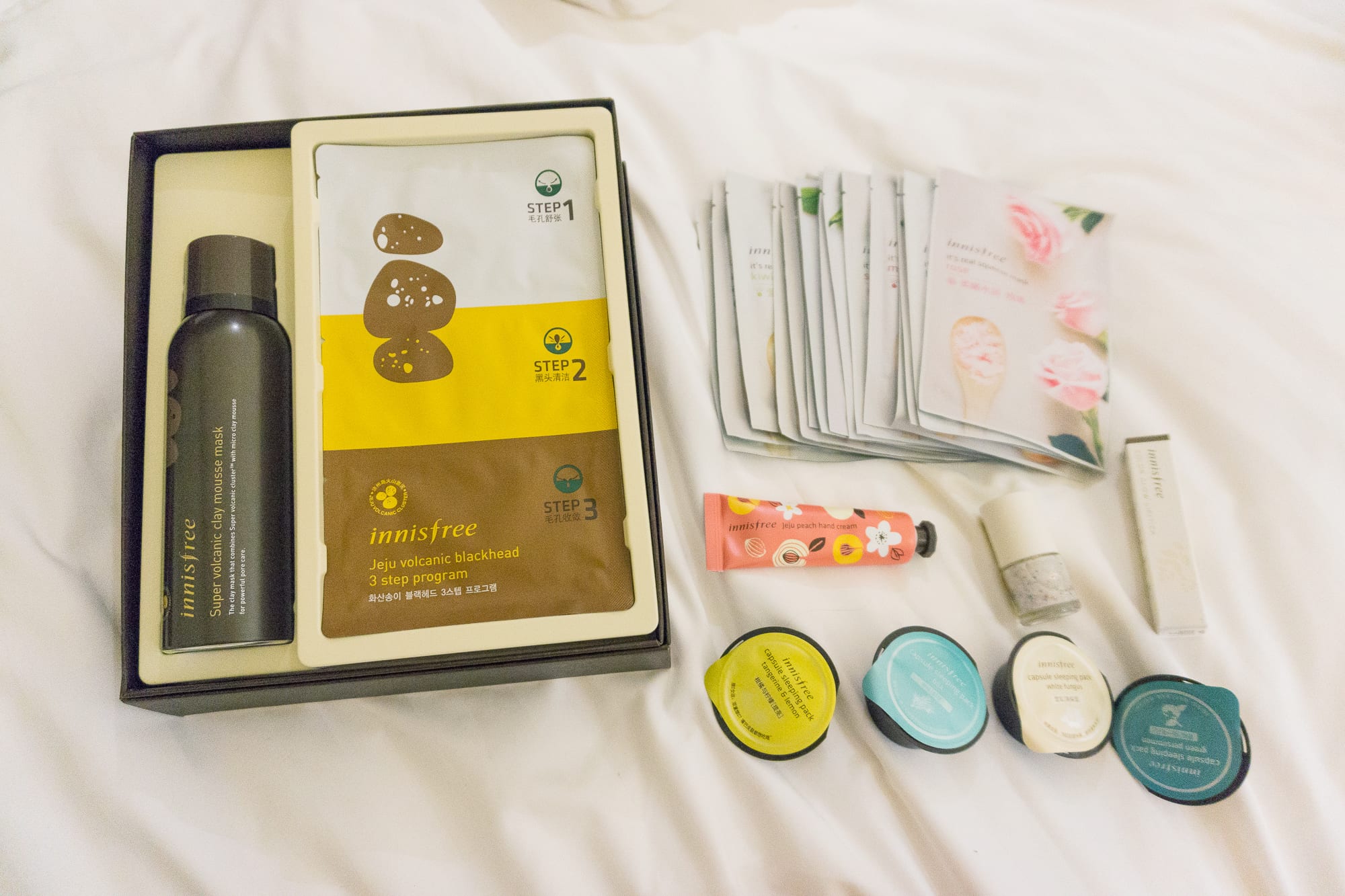 Here is the extent of the damage I inflicted on my wallet! Again, because I had only heard a bit about what was popular and what was not, I ended up making Mistakes by buying too much of what I already had and missing out on a few star products! I spent approximately 500 RMB, roughly $75 USD, on what turned out to be largely face masks. Literally what the hell. The one good thing is that in general, liked most of what I got, and also because I received a TON of freebies (at the end of the post!)
· · ·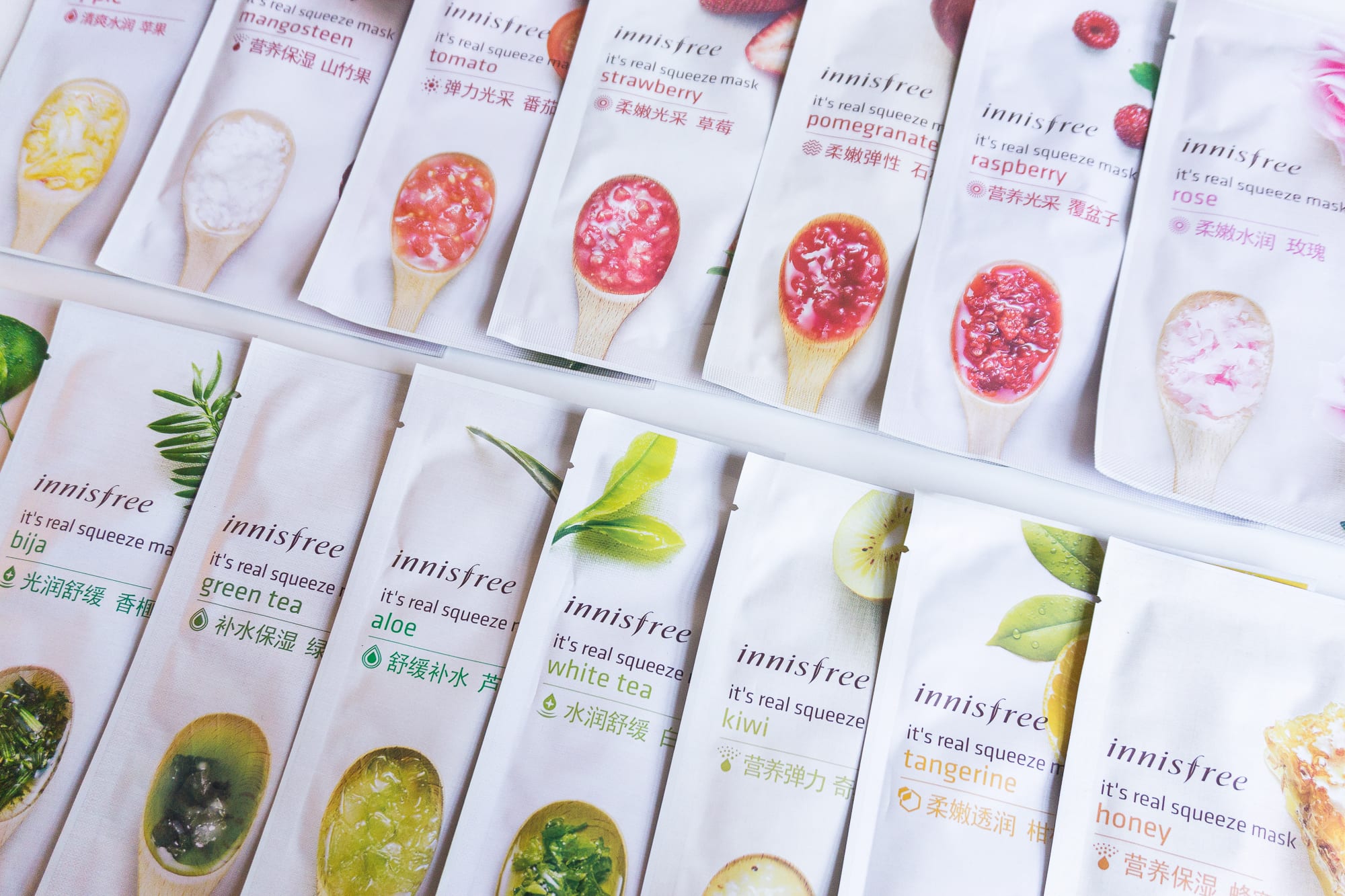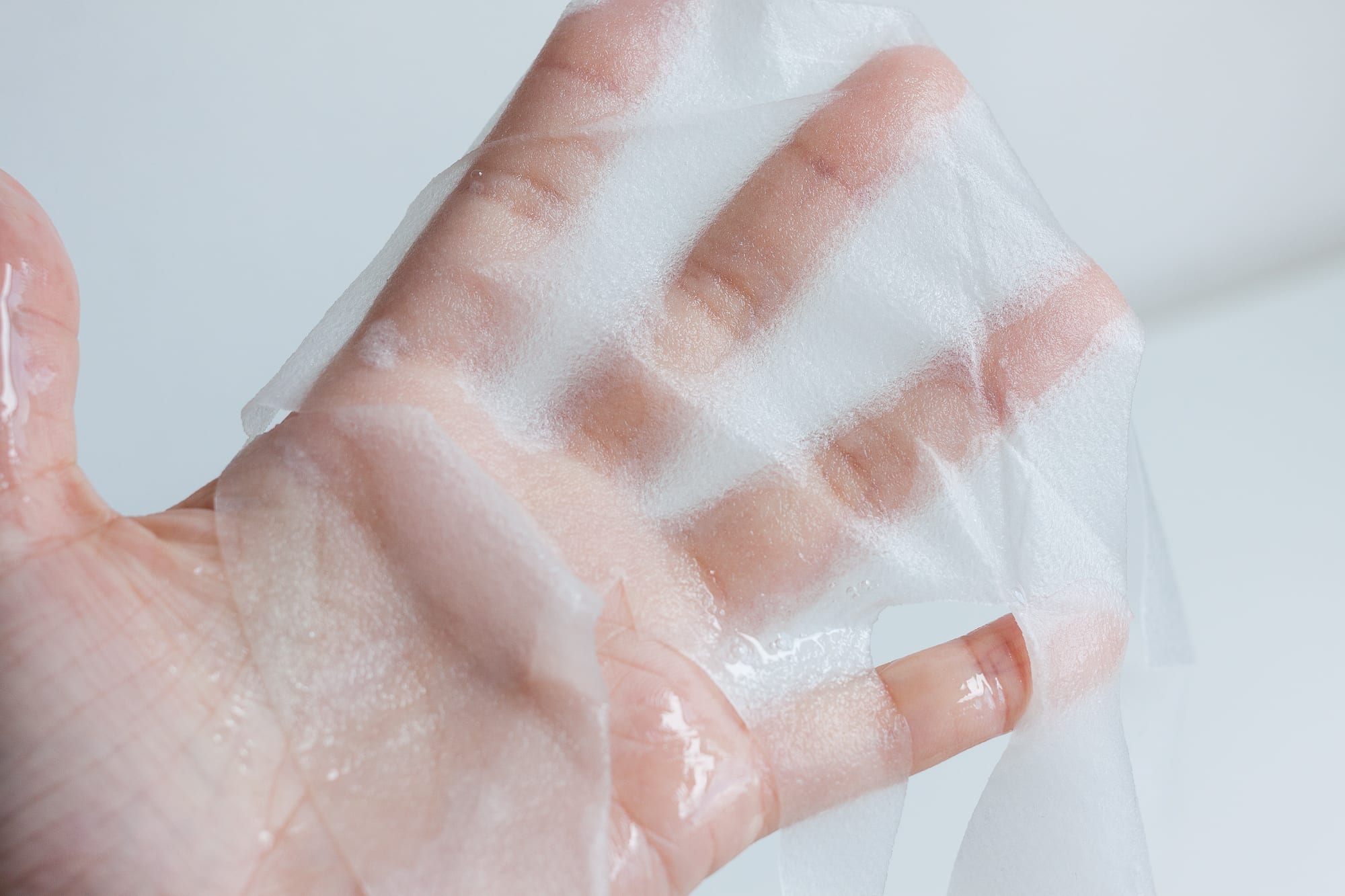 Innisfree It's Real Squeeze Sheet Masks ($16.25 for 15 on Amazon)
I indulged first by asking the sales associate in the shop to grab me a full collection of the It's Real Squeeze sheet mask line! This is the cheapest sheet mask line that Innisfree carries at $1.20 per sheet, with the most expensive Second Skin masks coming in at $5.00 each.
These are the thinnest sheet masks that I've ever tried! Much thinner than anything I've used from My Beauty Diary, The Face Shop, etc. They're the most similar to a pack of the 'Everyday' type sheet masks from Lululun that I have which are also very thin, but tend to be sold in bulk quantities. At one point I accidentally tore the Innisfree mask just by unfolding it, but the thinness wasn't surprising given the price. I can see the reasoning in making them flimsier for the price – these also happen to be the cheapest masks I've bought at retail price. One positive regarding the lack of thickness is that the thin mask was actually easier to wear because it clung so firmly to my skin that I was able to walk around and run errands without any danger of it slipping off!
As for scent & fit – I didn't include an on-face photo for fear of scaring everyone, but the fit for my face was about average with WAY too much fabric in the jaw/chin area and not enough for my fivehead forehead. The scents were nice! I can't recall any of them being particularly offensive, but there were a few whose scents didn't quite match. The raspberry, for example, had a bit of an alcohol scent to it… so they're hit or miss, but it's still worth a try for $1.20 each.
· · ·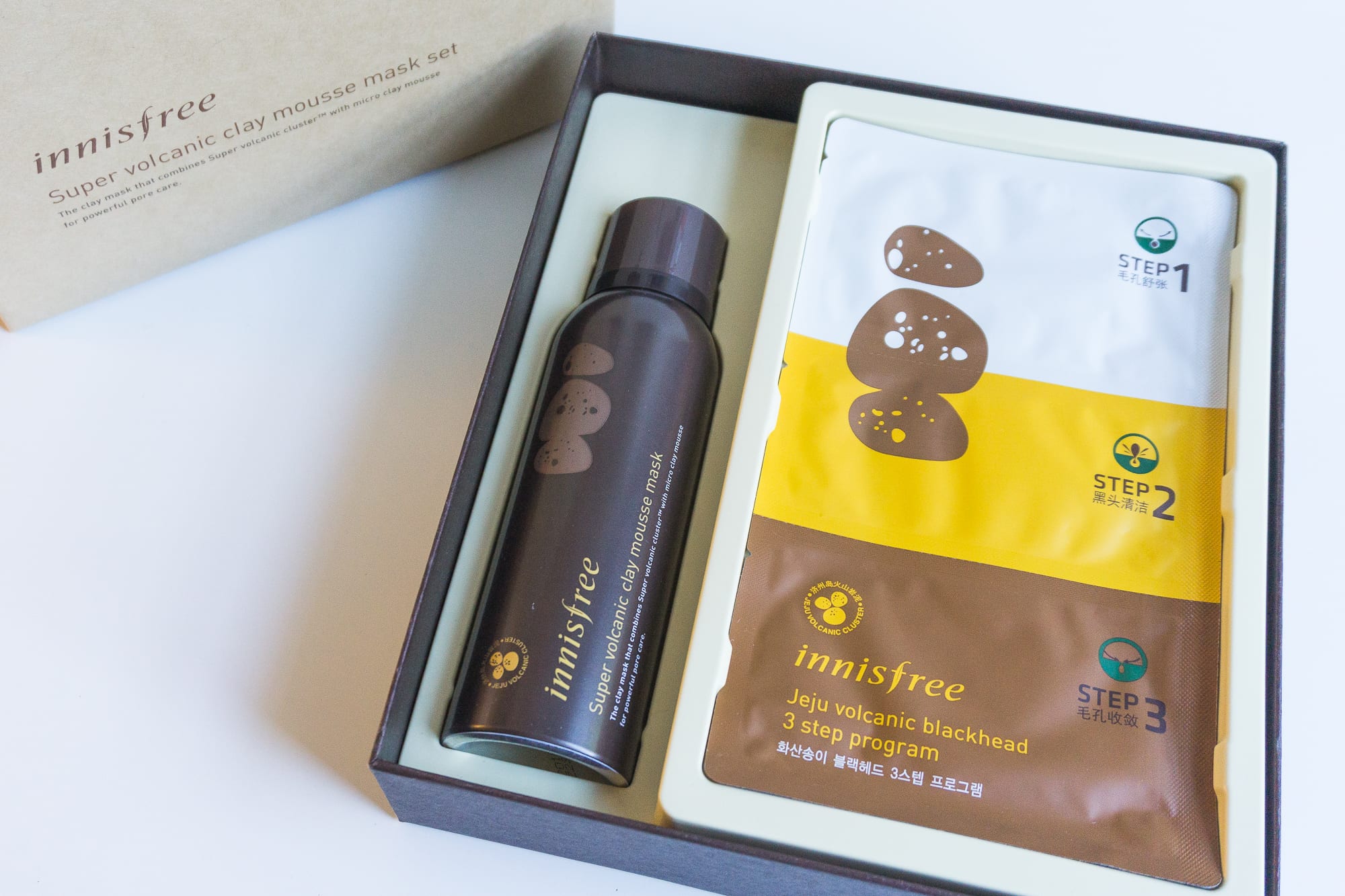 Innisfree Super Volcanic Clay Mousse Mask ($17)
One thing that I did hear about prior to this shopping madness was that Innisfree's volcanic clay line was great for targeting clogged pores and eliminating blackheads. I had read some review online that unfortunately said both the Super Volcanic Clay Mask (for normal to oily skin) and the Jeju Volcanic Clay Mask (for normal to dry skin) were very drying so I had dropped these two to the bottom of my to-try lst. While I was in the store, the associate pointed out the Super Volcanic Clay mousse mask, which he said was a new (at the time) formula for dry skin customers so I made sure to add it to my basket.
I love it! It comes in an aerosol can that dispenses a mousse version of the volcanic mask which, true to the associate's word, is really comfortable to wear. I'm not a huge fan of clay masks because I find that the tightness as they dry down irritates my face, but the mousse texture of this mask makes it easy to spread a thin layer all over my face that dries down comfortably without cracking. I realize in retrospect that I purchased the Super Volcanic Mousse which is for oilier skin types, but it's really such an airy formula that it's not noticeable for a different skin profile than my own. As for effectiveness… I can't say that it's done much for my blackheads to be honest, but it's a nice cleansing mask to use because it feels like it's really drawing the impurities and buildup out.
(PS: The mousse versions of the Volcanic Clay masks are not sold on the Innisfree World website, but it's likely due to shipping restrictions regarding aerosol cans. Your best bet is to try a local distributor & I've linked to a listing on Amazon above!)
· · ·

Innisfree Jeju Volcanic Blackhead 3-Step Program ($3)
To celebrate the launch of the new mousse masks, the Innisfree shop was promoting a special kit that came with 2 sets of the Jeju Volcanic Blackhead 3-Step Program (and 2 pack of tissues lol). I'm going to do a much more in depth review comparing these to the Holika Holika Pig Nose Clear Blackhead, but this was a cool experience! The 3-Step Program is a 3-part blackhead treatment that involves 1. a nose sheet soaked in an essence for expanding the pore, 2. rrrrrippppinggg out the clogged bits with a sticky charcoal sheet, and 3. tightening the pores up again with a jelly-like essence sheet ~
Overall consensus… it sort of… works? I think it might be difficult to see in the above photo, but it DID actually make about 30% of my blackheads less noticeable. It didn't make them any less dark, but a few of them do appear smaller! Unclogging was around 50/50 – perhaps I didn't leave the first step on for long enough or I should have prepped with a hot cloth. I think I was also quite impatient with the process – each part takes 20 minutes so you have to set aside an entire HOUR's worth of time to finish all 3 steps. Still, with a few adjustments & a few more sessions, it might actually make a significant difference so I'm willing to try it again~
· · ·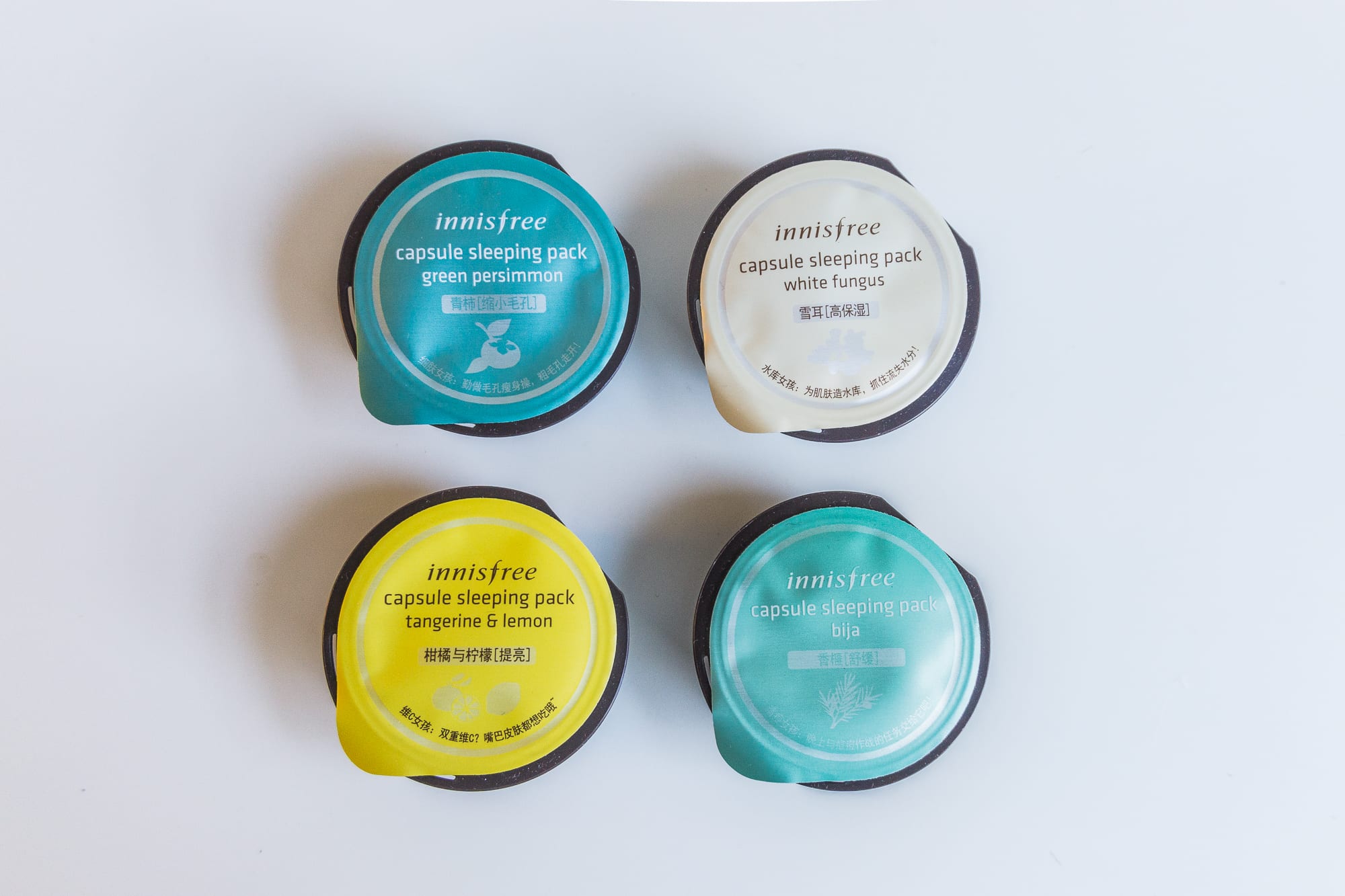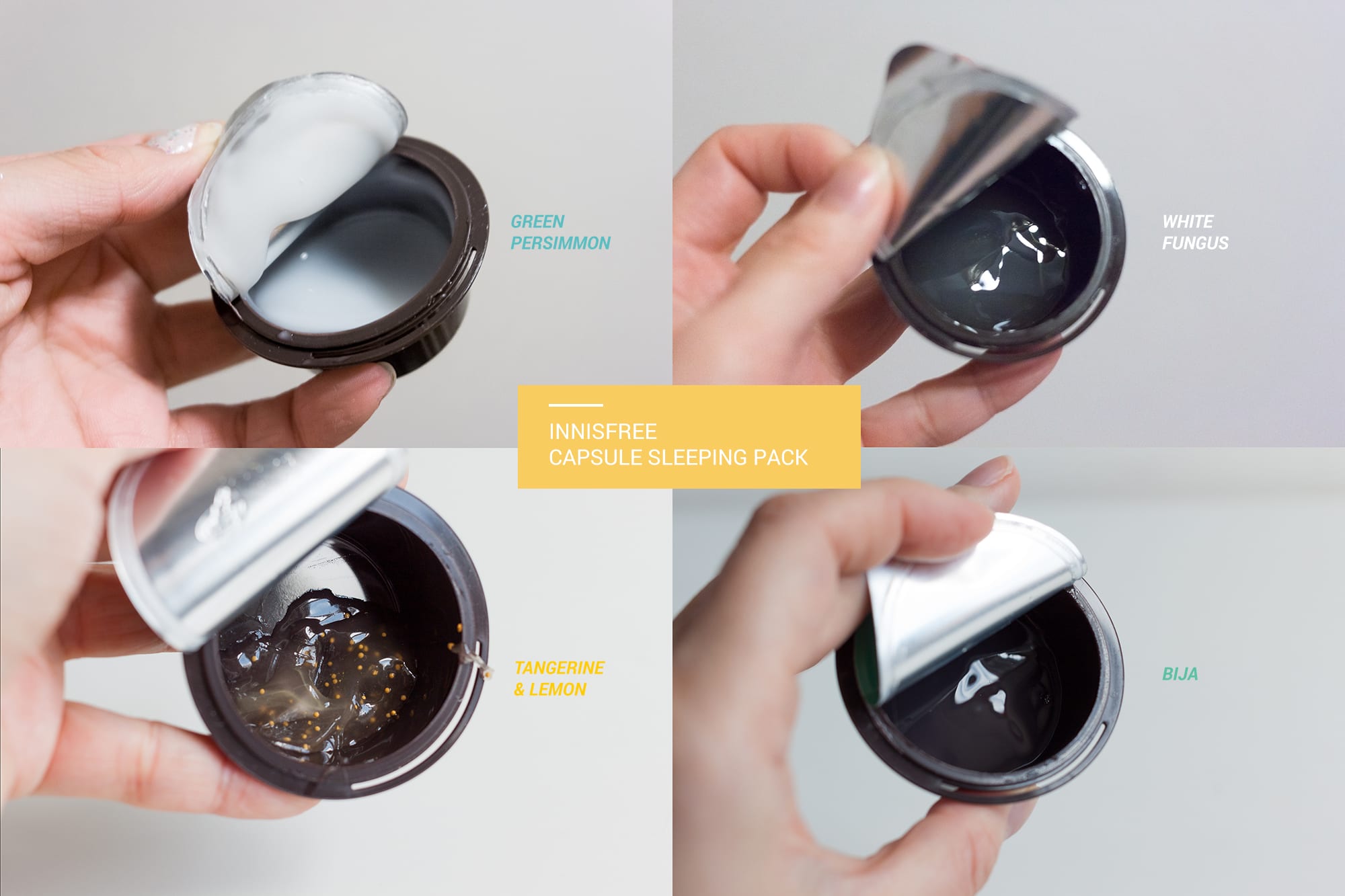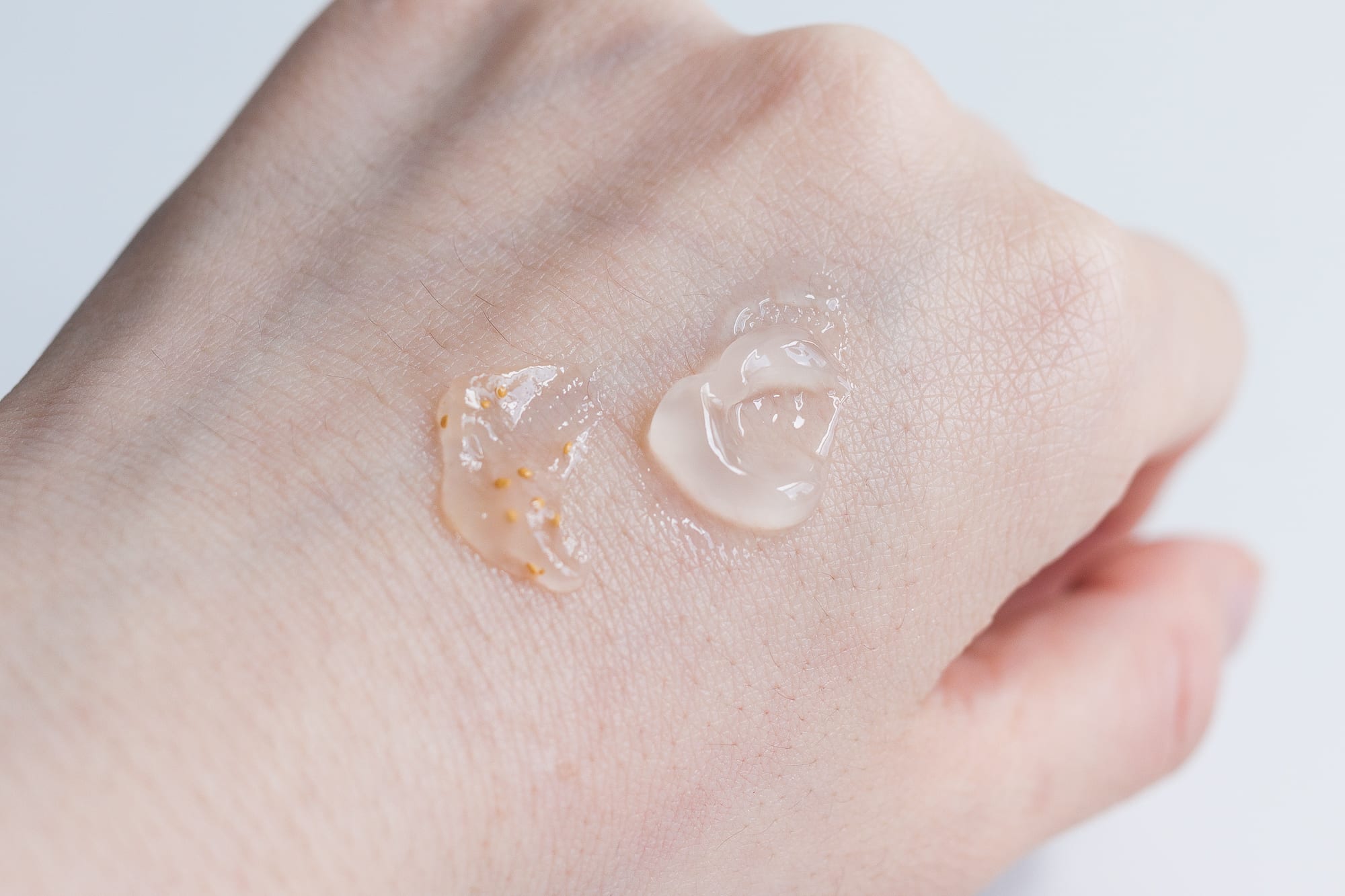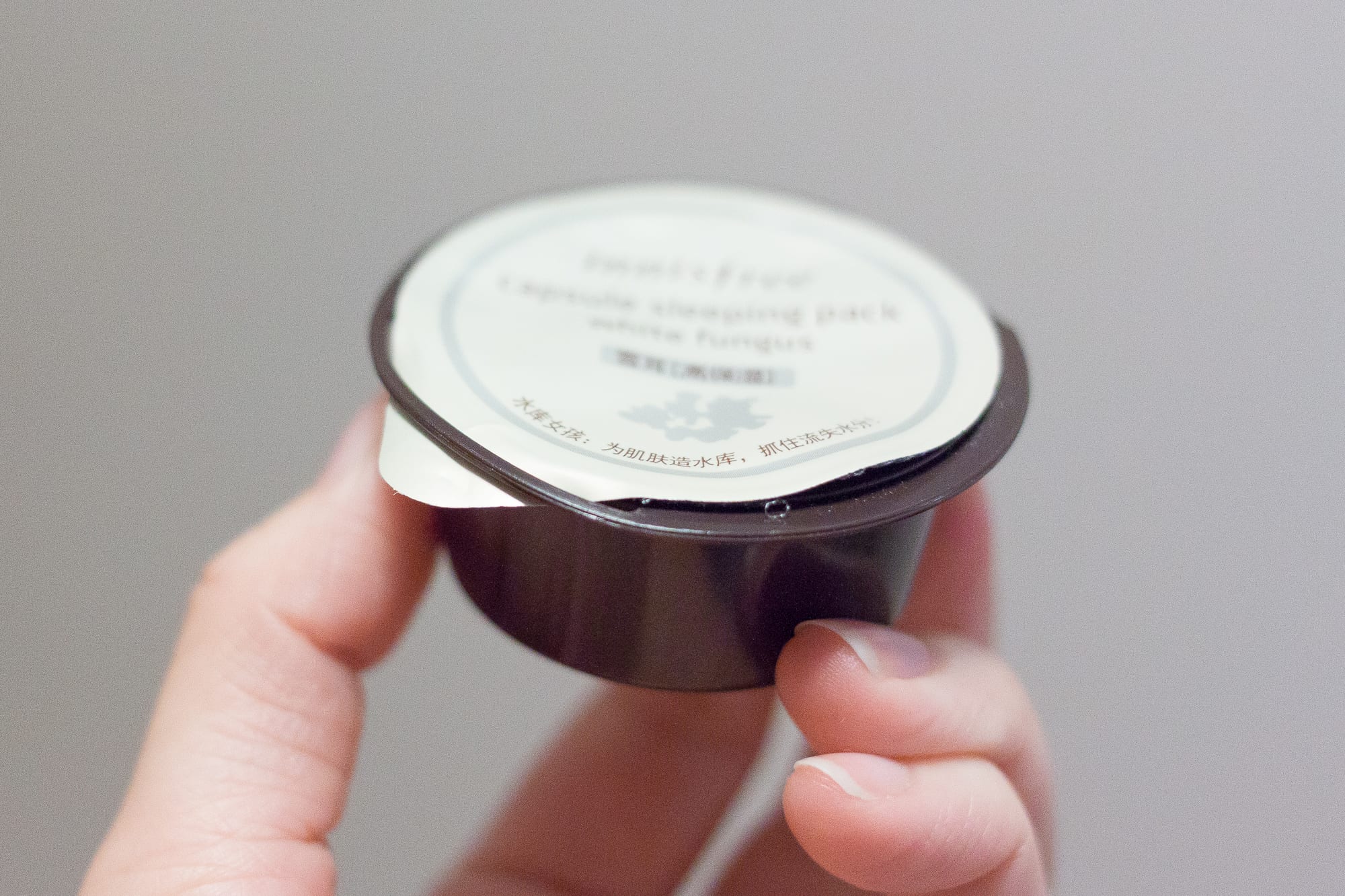 Innisfree Capsule Recipe Sleeping Pack
Versions: Green Persimmon, White Fungus, Tangerine & Lemon, Bija
(WHY DID I GET SO MANY MASKS????) Now these I've definitely heard a lot about! I love capsule masks because they're a great way to try a mask without having to commit to a full-sized container's worth of product. I don't believe Innisfree carries any of the capsule masks in full-size, but each capsule has about 2-3 uses worth of product so it's not a bad tradeoff for the price. Each capsule also comes with a unique packaging feature that lets you tuck the corner into the container so you can keep it for future uses.
The masks come in regular wash off type and sleeping type. I didn't realize that I had picked all sleeping masks until I checked afterwards; I was only picking scents and ingredients that I had not seen before in other masks and these smell so good! My favorite was the green persimmon for how fresh and fruity it smelled. In case you're wondering, white fungus is nothing like you'd expect (probably because white fungus doesn't smell like anything) – it's more of a light generic floral scent. The bija mask is like a watery nondescript fruit scent – as if you were smelling the skin of a freshly washed fruit. Weird I know.
As you can see, each mask also has a slightly different consistency although I would describe all of them as gel-type masks. They sink into the skin fairly well and are not particularly sticky, but if I'm being honest, as much as I liked using them I realized they didn't do much for me in terms of moisturizing or brightening although it did leave my face pretty soft. I think my skin is far too dry to accept just a gel mask at night and it wouldn't make sense to double up on cream & oil on top of a sleeping pack.
· · ·
Innisfree Color Glow Lipstick
Shade: #3 Romantic Autumn Rose
Real Talk – I was originally in the store looking for the Cream Mellow lipstick line, but the store hadn't received a shipment yet so I ended up settling for something in the Color Glow lipstick line. I love the color range at Innisfree! All the shades are so lovely and wearable even for people who may not be brave enough to wear a super pigmented color. The staff recommended a fairly safe shade for me, but I was missing a rose pink so I was very happy with the choice.
I used it as soon as I got it, (which is why the photo shows a used product U_U), because it was so pretty and such a nice everyday color. I found that the color came across pinker on my lips than it was in the tube perhaps due to the yellow undertones in my skin. The hydration of the formula is not worth writing home about, but it didn't cause excessive drying or flaking so it's a win in my book. The wear time is decent around 4 hours and I'm a chronic lip-licker at that. Despite the "glow" in the name, the Color Glow line has a satin finish.
It seems from perusing the Innisfree website that this particular line may be getting discontinued in lieu of expanding the Cream Mellow line which has nearly identical packaging, but with slightly more vibrant shades. The Cream Mellow is the high-gloss counterpart of the Color Glow line, which I'm stilly really excited to try, but I do hope they bring the Color Glow line back simply for the shades & for fans who like a more muted cream look. In case you DO like the Cream Mellow look, the equivalent shade is #3 Cream Coral.
I want to briefly mention here that the lipstick I bought is almost identical in name, packaging material, shade & finish to one that I spotted (and purchased) at Nature Republic! The similarity is much more uncanny in person when you're actually holding each brand's lipstick in your hands, but even from a distance, they look oddly similar.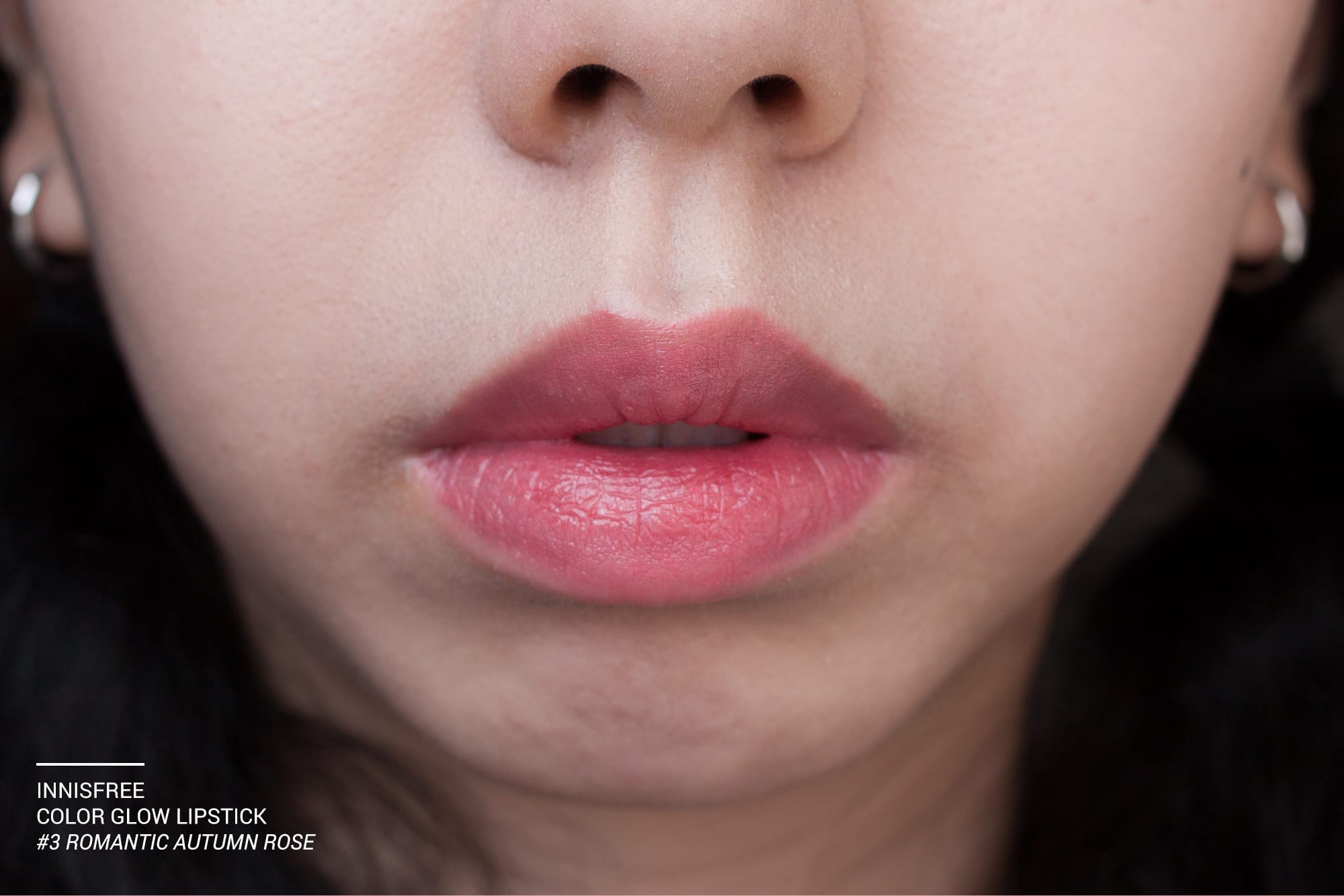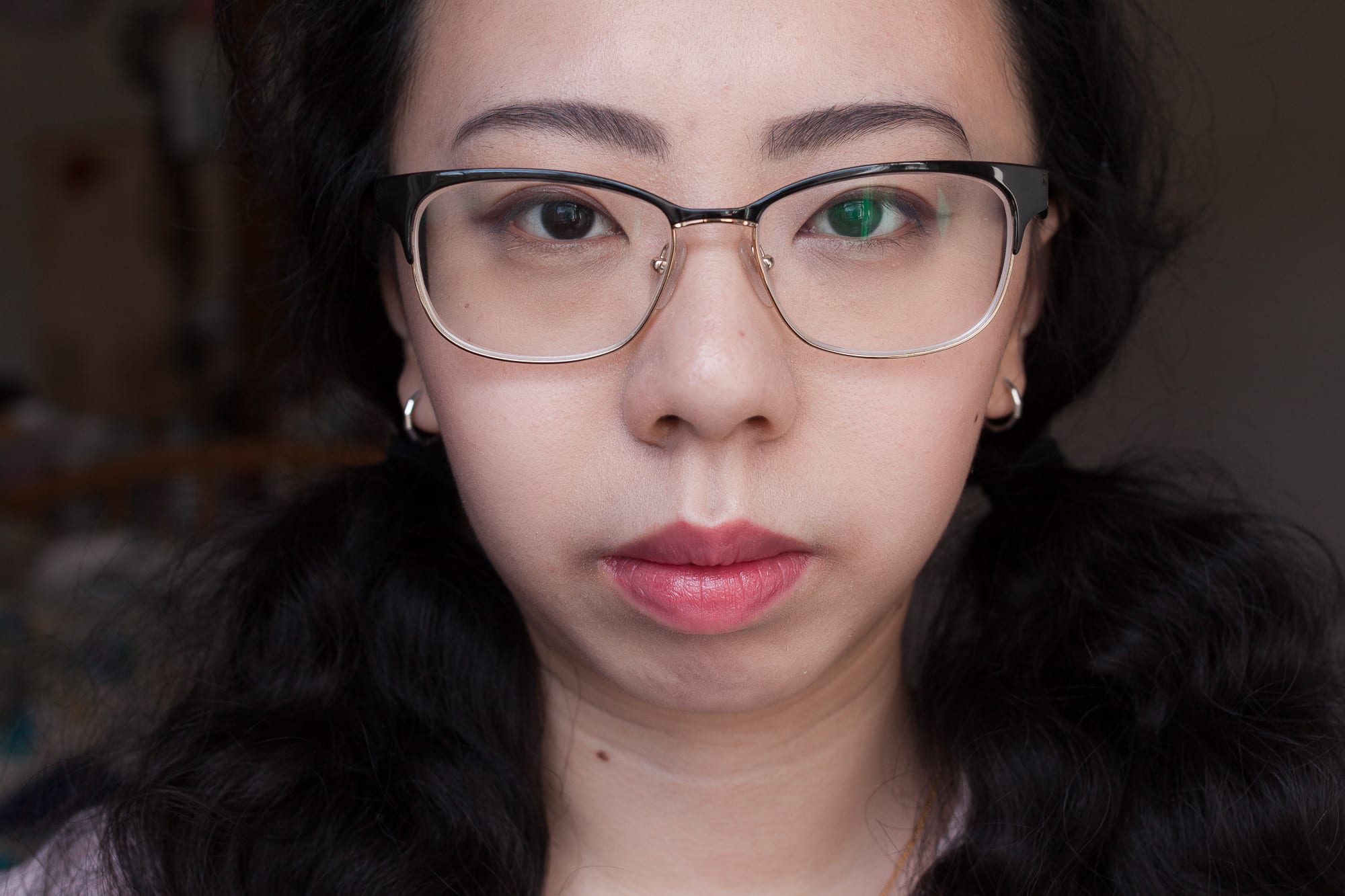 On my face: Iope Air Cushion XP in N21, Maybelline Age Rewind Under Eye Eraser in Light, The Face Shop Lovely Me:ex Eyebrow Pencil Auto in #5 Dark Gray, Etude House Play 101 Pencil #48, NARS blush in Deep Throat, Innisfree Color Glow Lipstick in #3 Romantic Autumn Rose
· · ·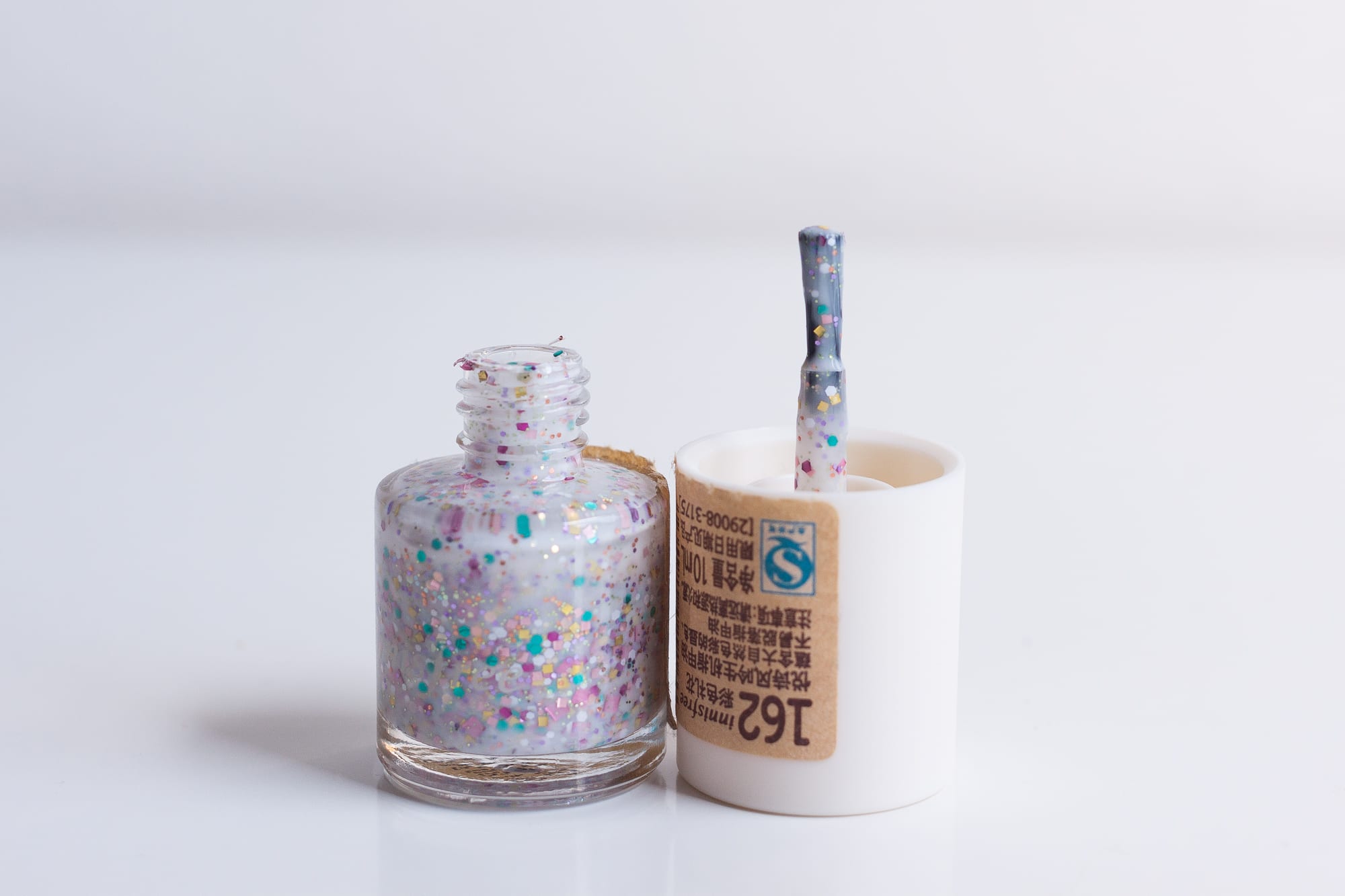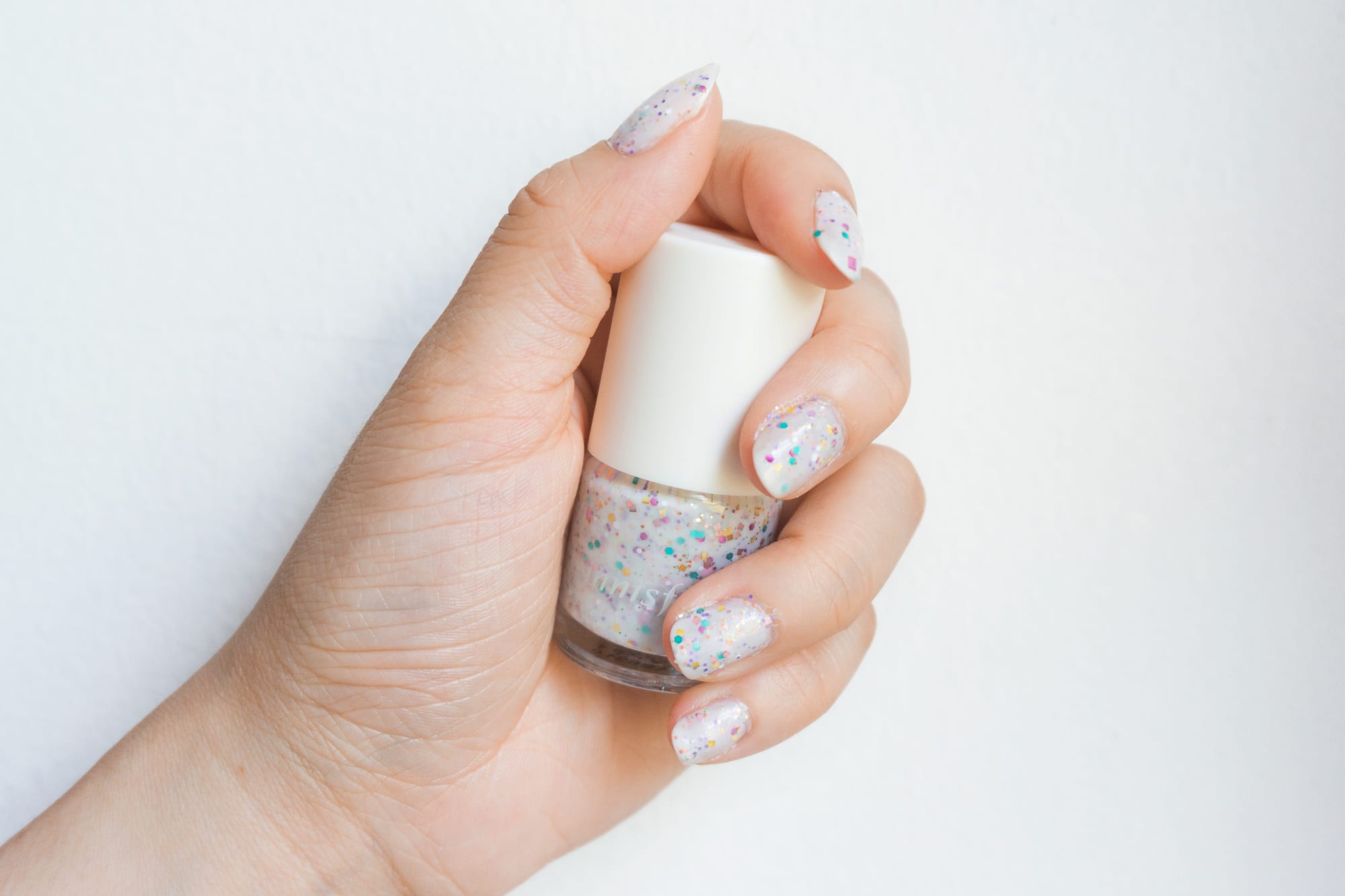 Innisfree Eco Nail Color
Shade: #21 Birthday Party (Korea) / #162 Rainbow (China)
This is my favorite color in the whole entire world!!!!!!!! I wanted everyone I know to have this nail color so badly that I spent 30 minutes scouring the internet to find somewhere to buy it. Alas, the only place it's still available is on the Chinese website and it's already been removed even from the Korean site :(
The shade is known by 2 different names depending on where you got your bottle, but it seems like the color is the same regardless of the label. It is a creamy white (slightly lavender-tinged) base with suspended pink, teal, yellow, gold, silver, holographic square/circle/hexagonal glitters and it's the LOVELIEST POLISH IN THE WORLD. I've been looking for a "milky" type nail polish for ages and nothing I came across had a complimentary base & glitter combination. I've worn it this shade a bunch of times and have gotten so many compliments on it! The application was a breeze and the polish wasn't particularly poisonous in scent. Wear time was at least a 4 days without a top-coat. I really think Innisfree has some of the prettiest glitter coats I've ever seen. If you ever come across another bottle of #21/162, get one for yourself and then also GET ME ONE.
The Innisfree World website doesn't stock the nail polishes, again probably due to shipping restrictions, but you can try the Yesstyle website.
· · ·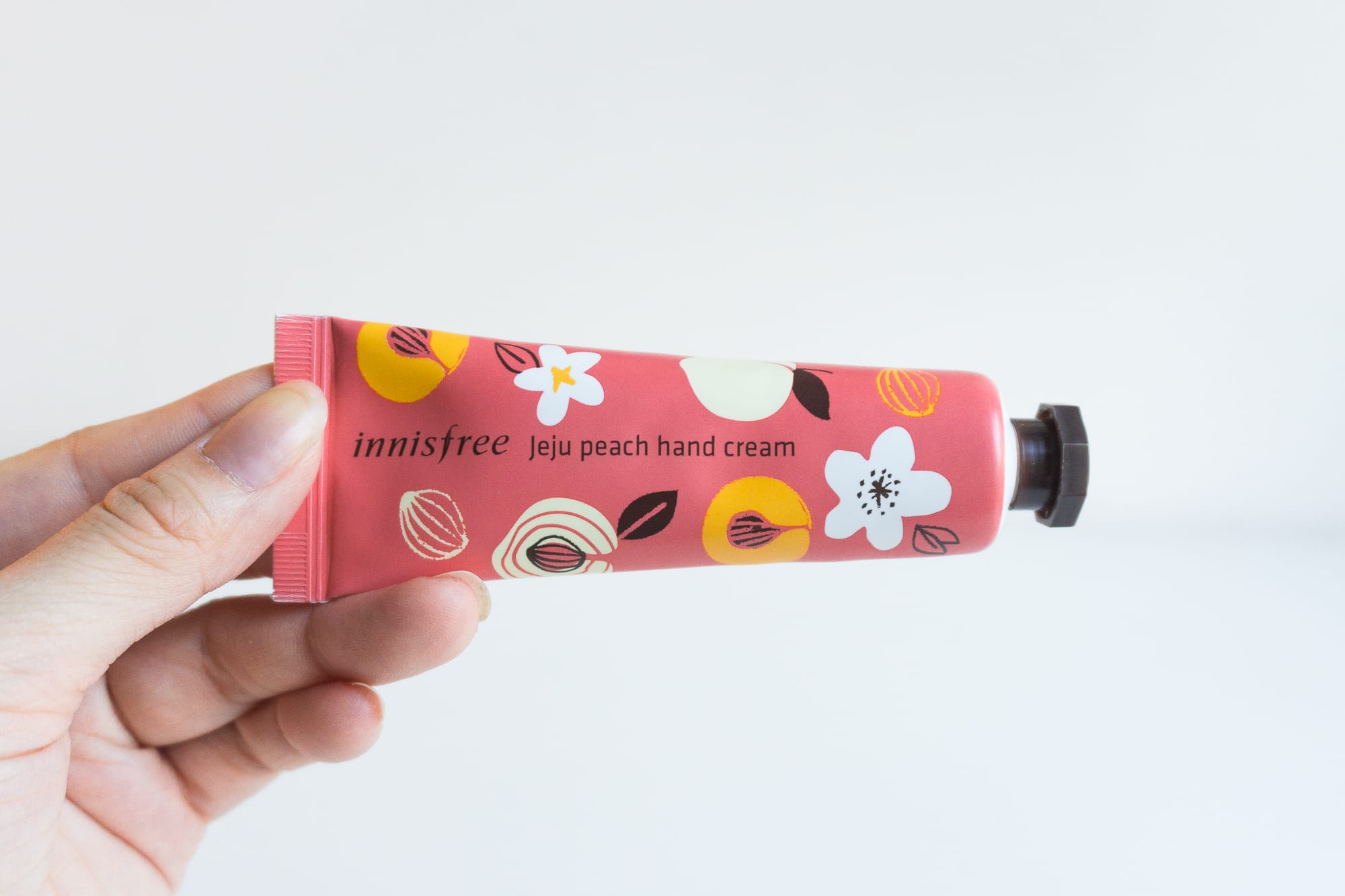 Innisfree Jeju Peach Hand Cream ($4.50)
Innisfree recently rebranded their entire hand cream line by trading in the illustrated packaging for a more minimal design aesthetic. I've linked to the new peach version of the hand cream, but I haven't had a chance to try the new formulation so I can't say for certain whether the product itself was reworked, but I think the scents are very likely the same as they were before. I'm sad to see that the fig scent isn't available – it was the hand cream I actually wanted to buy, but was unfortunately sold out in store.
Here's another shoutout to the Innisfree v Nature Republic situation. If you've ever used the Nature Republic hand creams, you've basically used the Innisfree ones as well. They are both incredibly similar in terms of the (original) packaging and also the actual formula of the hand cream itself. Both smell nice, are non-greasy, and sink into the skin without leaving a film over them. I believe Innisfree has more floral-centric scents in their collection, while Nature Republic's hand cream line has an equal mix of both (I find their florals to be slightly more heavy & perfumed).
I like both the Innisfree & Nature Republic hand creams multitudes more than the very expensive hand creams from L'Occitane which never dry down for me (so I walk around with claw hands the entire time I have it on). I do however, prefer my personal favorite, the Crabtree & Evelyn hand creams, because they absorb quicker than Innisfree/NR, but since C&E has one retail shop in the city, I usually content with my Innisfree & Nature Republic Hand Creams. TLDR: Innisfree for the floral scents if you can get it, otherwise just get something from Nature Republic which is more readily available in the states.
· · ·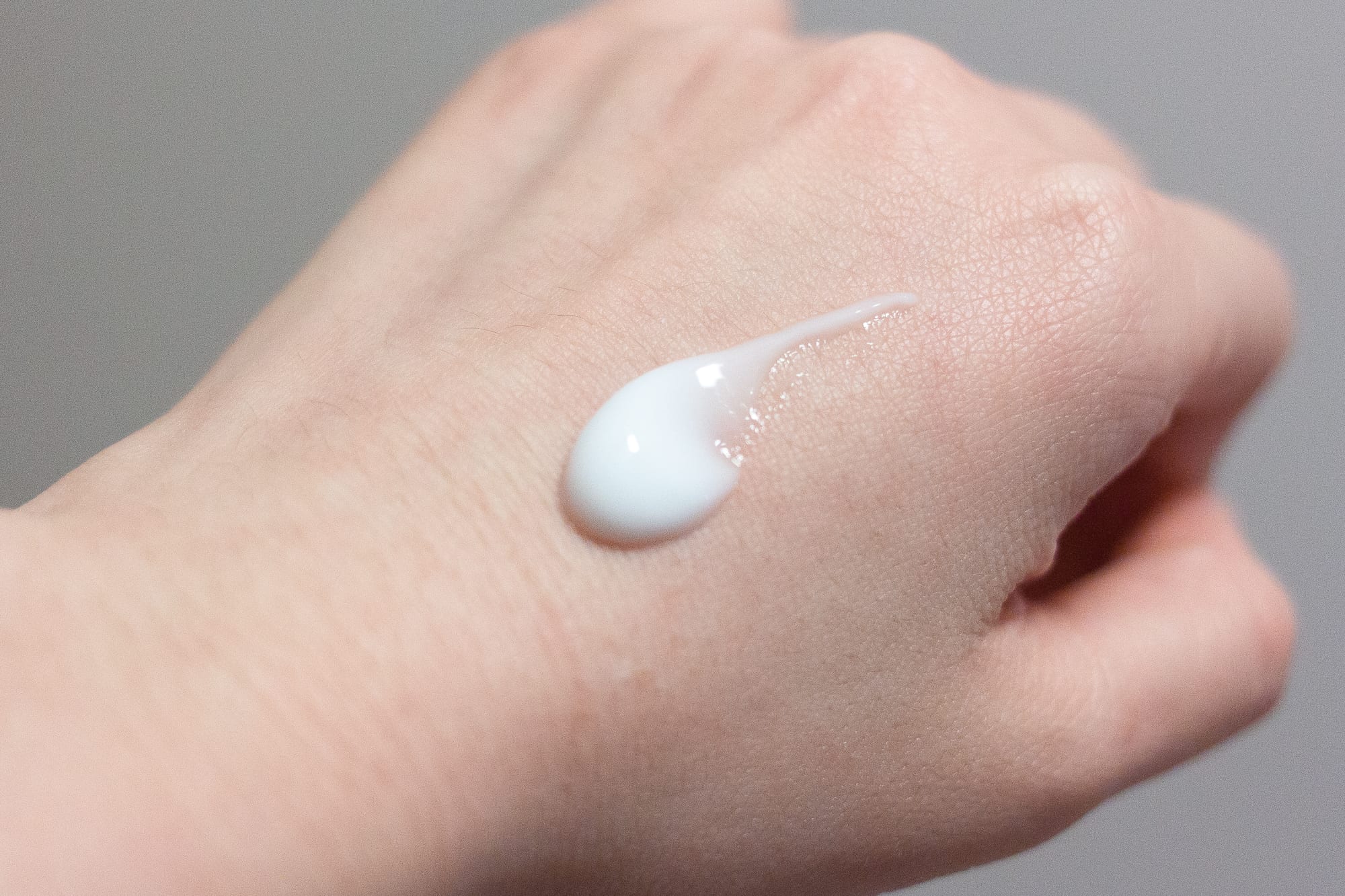 Innisfree Bija Anti-Trouble Lotion ($15)
The penultimate in this collection post was actually sent to me by my friend Catherine! It's a watery lotion that's part of Innisfree's bija line for acne-prone troubled skin. I currently use this on my back where I have a lot of breakouts and it seems to do an okay job. I haven't run into any issues of it causing more breakouts, but it is a pretty light lotion. It dries down well and absorbs quickly into the skin. I can't say that it's very moisturizing, which is fine for me since I use it on my back only, but it may be a better fit for someone who has an oily skintype and plans to use it on their face.
My biggest complaint about this lotion is the scent! The website describes it as an herbal citrus smell which sounds like it would totally be up my alley, but instead the herbal factor is more of a spicy pepper if anything… The bija fruit in the trouble skin line smells nothing like the bija capsule mask which was a light watery fruit smell. Bija is actually a fruit/nut born by the Torreya tree which is sometimes known as a nutmeg-yew and the spiciness I smell is likely due to its similarity with nutmeg. Fortunately because I don't use this on my face, I can avoid smelling it too much, but you might want to reconsider if you're not a big fan of spicy scents.
· · ·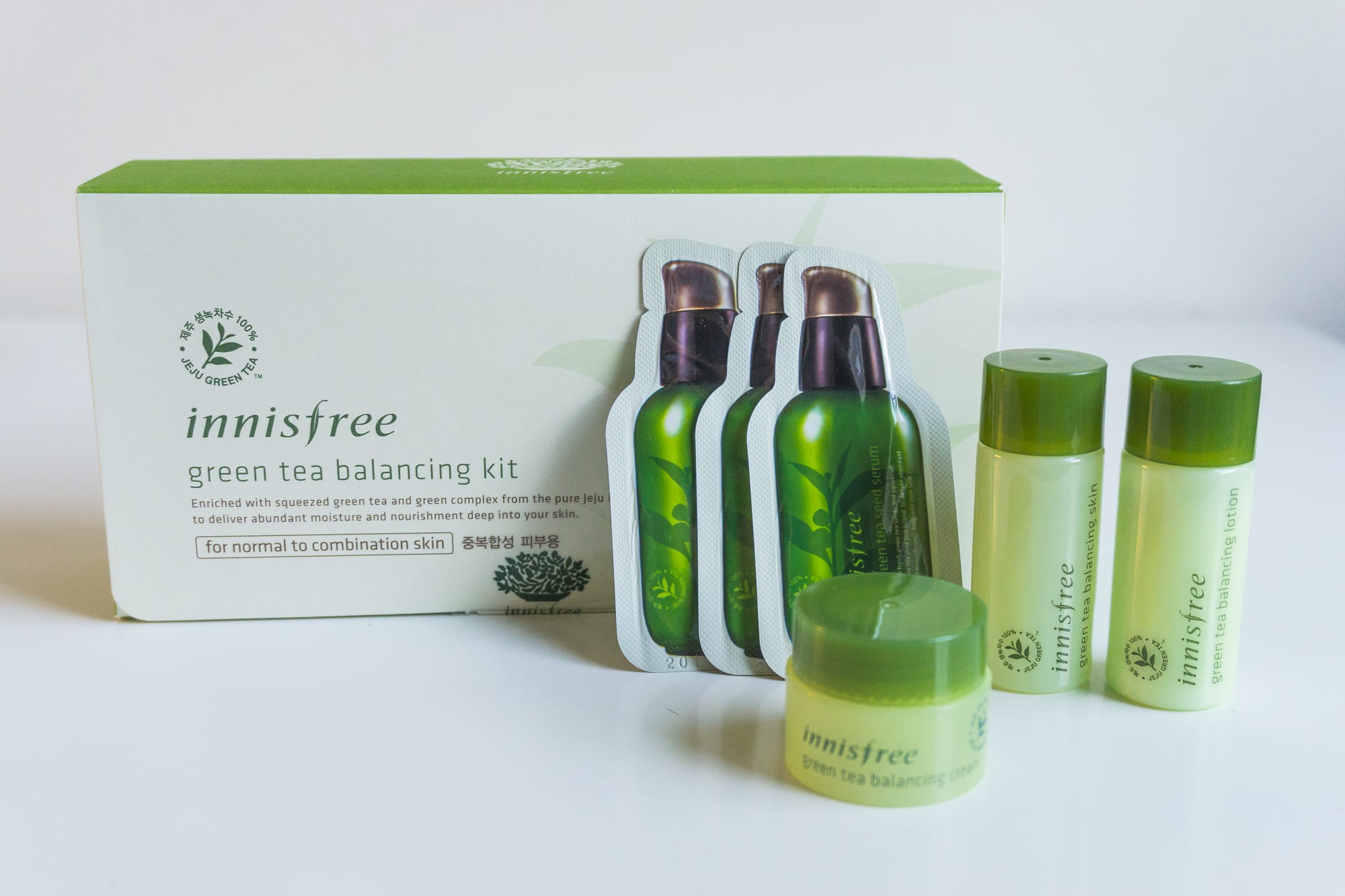 Innisfree Green Tea Balancing Special Kit ($10)
Green Tea Balancing Skin (15ml)
Green Tea Seed Serum (1ml) x 3
Green Tea Balancing Lotion (15ml)
Green Tea Balancing Cream (5ml)
The final item in the collection is a freebie that I received for exceeding a total purchase value – a Green Tea Balancing Line kit! The kit includes travel sized samples of the Green Tea Balancing Skin, Lotion, and Cream, as well as 3 satchel samples of the Green Tea Seed Serum.
The Green Tea Balancing line is Innisfree's best-selling and most popular skincare line focusing on the idea of "balanced" moisture for normal to combination skin. Essentially, it's moisturizing without being too heavy for the oily parts of the face and it performs just as the name suggests. All the products were heavily water-based and very light including, surprisingly, the serum! It's the runniest serum I've ever come across and so it absorbed incredibly quickly into my skin – I can understand why this is a fan favorite. The "skin" product is similar to what we're more accustomed to thinking of as a softener/toner, but this one is surprisingly thick. It slips very easily on the skin, but it also wasn't as liquid as expected. The lotion is a basic emulsion and probably the one I was least excited about. The cream comes in second place because despite it being similarly water-based, it actually had some drag when I applied it so there was some texture to it after all.
What I wasn't cool with was the smell of this entire line! It smells nothing like green tea or leaves or anything remotely similar. It's more perfumed than anything and although the scent fades, it's disarming when you're exposed to it. I didn't find the balancing line to be effective enough for my dry skin and I know that there's a similar green tea seed line for higher moisture, but I don't think I'll check it out if they all smell like this. Considering checking the nutri-moisturizing olive line instead.
· · ·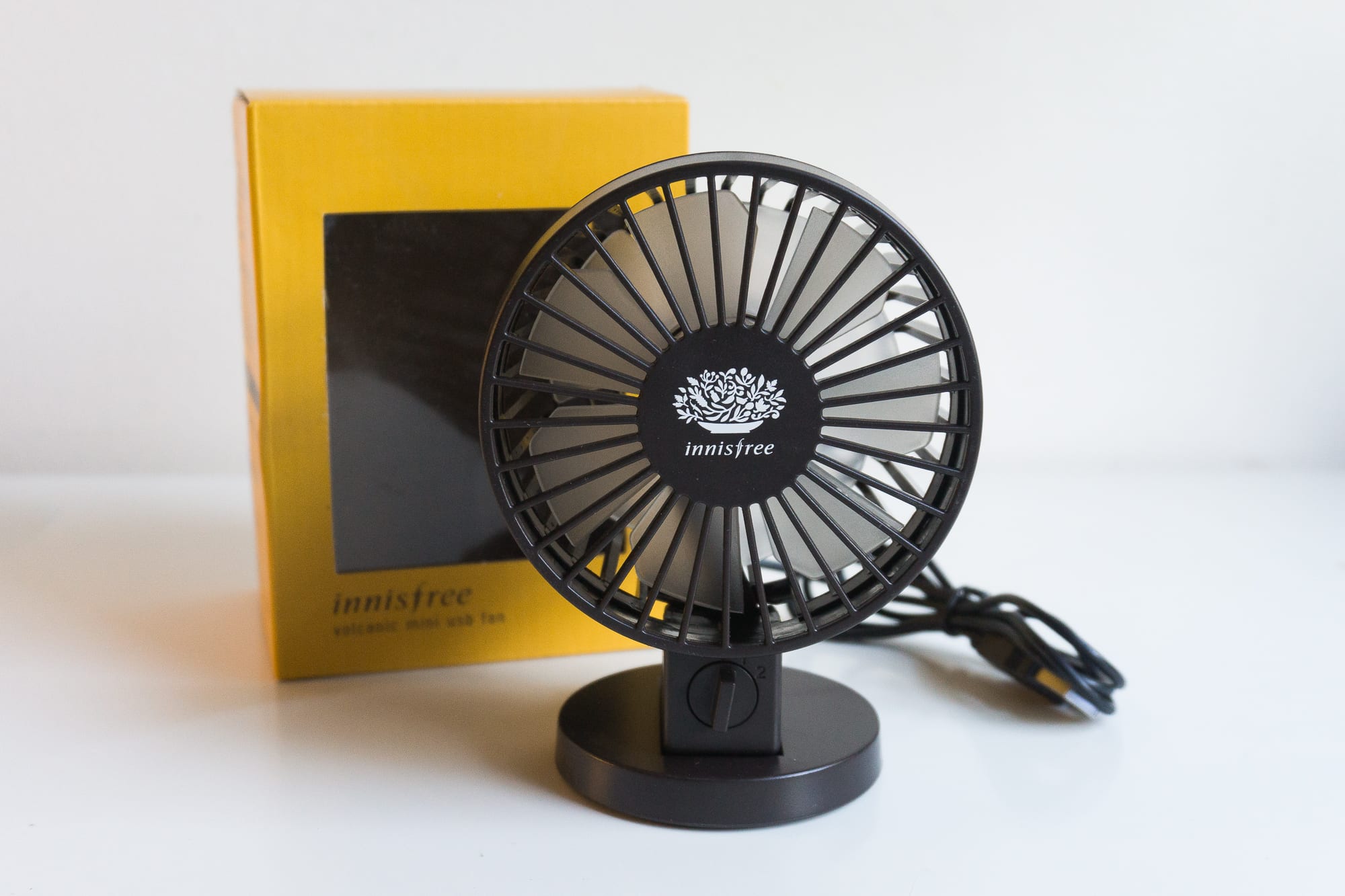 And speaking of freebies, here's the full loot which included a tote bag, a USB powered fan, a fluffy hairband, two bonus It's Real Squeeze sheet masks, and the aforementioned green tea trial kit.
I found a lot of use out of the tote bag – I basically carried my lunch & laptop around in it all of last year. I unfortunately left the headband behind in my hotel room so that sucked, but I LOVED THE USB FAN. It was useful in the summer when I didn't want to turn on my overhead fan or use the AC. I only wish it were in any other color but brown so it could better match my decor 🏡.
· · ·
Some final conclusions regarding the brand!
I started my experience with a positive outlook and I think my impressions thus far remains positive. To be more specific, I am now tentatively neutral – positive simply because I think that while the products are great, it feels as if a majority of the products I tried weren't moisturizing enough for my skin type. To be fair, I did get products without any prior research and made purchases at a store located in Guangzhou which has a warmer and more humid climate than here in New York – you wouldn't expect heavy creams to be stocked locally when it's averaging 90°F with 80% humidity. I hope I'll have a chance to try some of their heavier moisture products and see how I feel then. My takeaway is that I'm still looking forward to try more from Innisfree! I'd love to get my hands on either the Ampoule Intense or Water Glow cushion and I think their lip products are so lovely and pretty that I'd definitely buy some more!
(For anyone curious, I visited two Innisfree shops both of which were in Tianhe District. The first is on the ground floor (B1) of TeeMall [广州市天河区天河路天环城B136号商铺] across from Sephora. The second location is a few blocks away at Grandview Mall in Tianhe District [广州市天河区天河路228号正佳广场西北门1F-1C069铺]. There are a BUNCH of locations though including one in Liwan and Haizhu Districts & on Beijing Road, but if you're going to be a posh shopping lady then you'll probably be in TianHe district anyway~)