I hope everyone had a lovely Christmas! 🎄 WHO'S READY FOR SHOPPING. I saw an email in my inbox about Etude House's 30% off Christmas event and wanted to share some pictures/reviews about some of the Etude House presents I've bought myself this year. The event started a few days ago, but lasts until December 27th so make sure you use the code CHRISTMAS2015 to get the discount!
I've made 3 Etude House purchases in the last year so I've split them up into two posts. Part two should be up in a few hours!
Now that I think about it, I think my first Etude purchase was back in late late 2014. IIRC my friend Catherine, the #1 enabler and fellow Etude House fanatic, told me about a sale and free shipping on a $30 order so I got a little bit of something in each beauty category & a free mini cleansing oil to try as well.
· · ·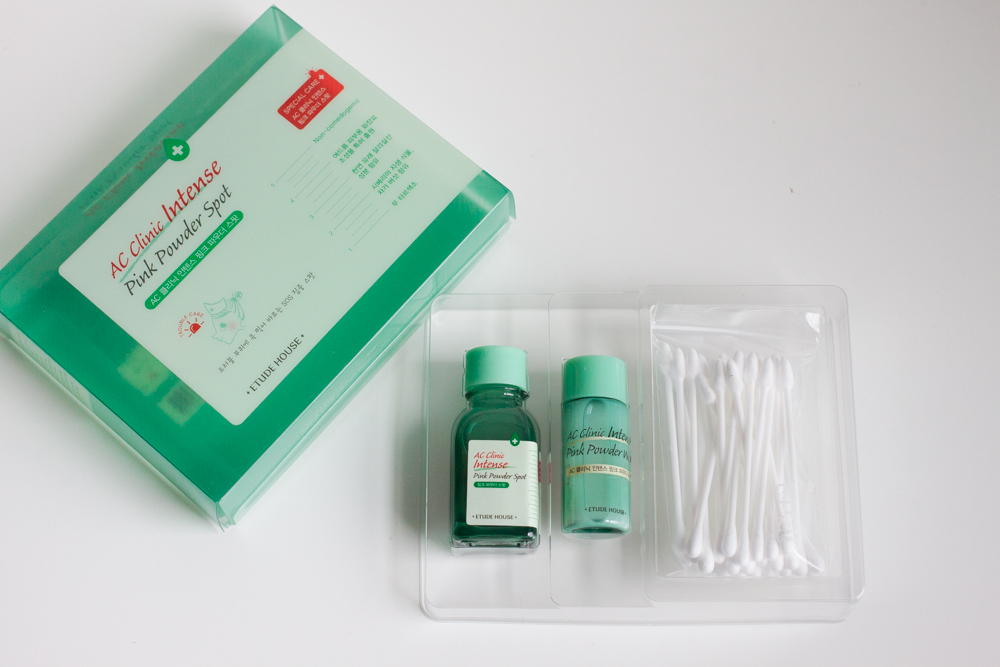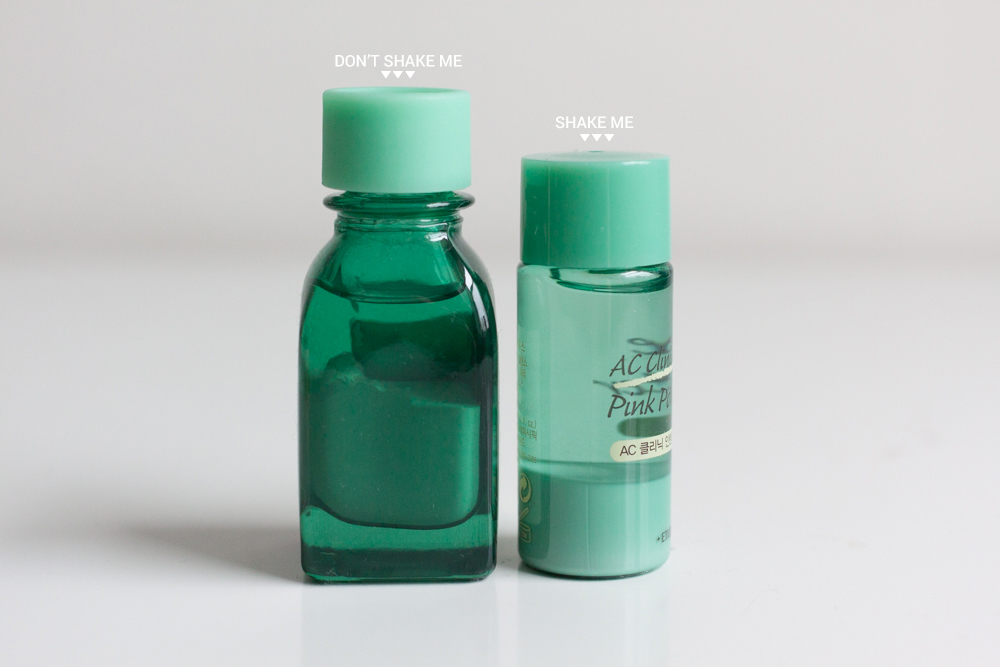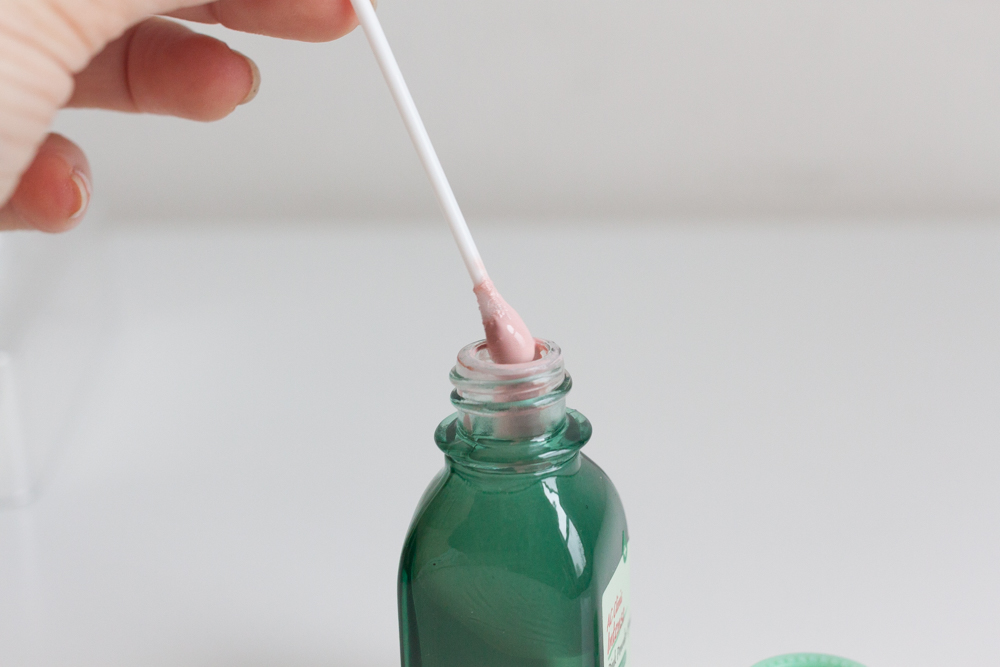 AC Clinic Intense Pink Powder Spot – $13.20
This is my #1 Etude House product of all time and it's the one I recommend everyone to try if they don't see much success with typical drugstore pimple creams. It's very similar to the Mario Badescue Drying Lotion ($13) and the Ciracle Pimple Solution Pink Powder (~$25) which use a mix of salicylic acid and calamine lotion to dry out pimples and reduce redness & swelling.
The kit comes with the AC Clinic Intense Pink Powder Spot (the square bottle), the AC Clinic Pink Powder Water (the cylindrical bottle), and a pack of double-ended cotton buds. Both of the bottles in the kit are used for spot treatment, but only the square bottle is referenced in the name and it's the only item that actually has pink powder. A sales associate once explained to me that the Pink Powder Water and the cotton buds were just gifts that become a permanent feature.
The difference between both bottles is that the Pink Powder Spot is opaque so it's best used at night or for when you plan to lounge around in pajamas indoors. The Pink Powder Water on the other hand can be used during the day since it dries down to a satin-y clear finish.
I use this when a pimple has defeated my first line defense pimple cream and has risen from the depths of hell becoming swollen and painful. Personally, I find that the pink powder spot works so effectively that I forget to apply the water the next morning so I'm usually left with much more of the pink powder water than I am with the pink powder spot.
· · ·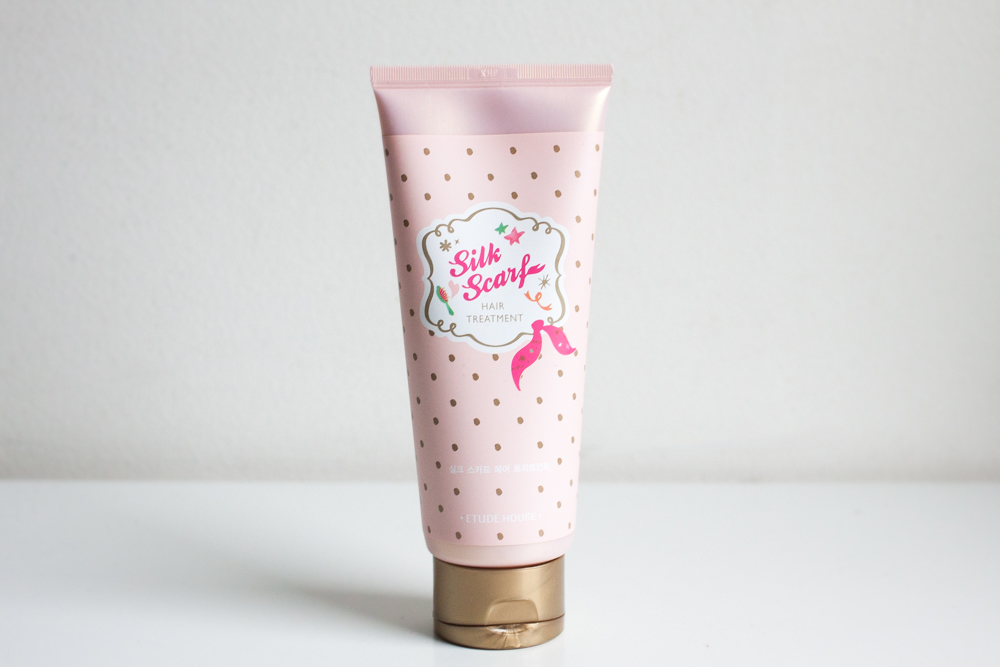 Silk Scarf Hair Treatment – $9.10
I was deciding back and forth about picking up one of Etude House's Bubble Hair Coloring to try dyeing my hair and I kept coming across rave reviews for the conditioner that is packaged along with the hair dye. I unfortunately couldn't find it as a standalone product on the site, but review searches brought up the Silk Scarf Hair Treatment as an alternative.
I used the entire bottle in a month before realizing that I never took some product photos – sorry! It's was a light pink gel like consistency and it SMELLED SO LOVELY. Unfortunately, my hair is just too unruly and while it smelled very nice for a few hours, the scent would fade and I wouldn't get much softness out of it either. I'd only recommend this to someone who has fairly straight hair (mine is wavy and very frizzy). There are some other nice hair products on the site which I may check out later.
· · ·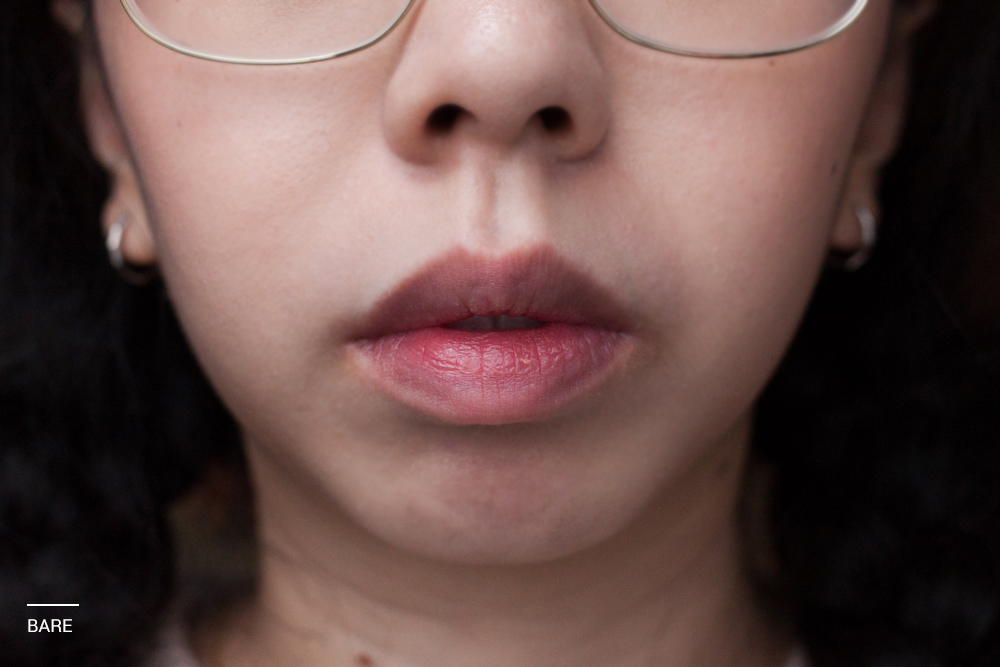 Dear My Wish Lips Talk – $12.40
Shade: RD302
My #2 favorite Etude House product of ALL TIME. I don't need more lipsticks, but I want more Etude House lipsticks because the formula, color selection, color payoff, and packaging is fantastic. The finish is slightly glossy which you can blot out if you like, but it applies so smoothly and pigmentation is seriously A+. I picked up the darkest shade, a deep burgundy/wine color because Catherine and I have a sort of similar skin tone and it looks amazing on her. I put this on when I want to Intimidate and to tell people not to talk to me.
(I look very unimpressed, but it's because of the foundation and not my lipstick)
· · ·
I Need You! Sheet Mask (2014) – $1.20
Type: Aloe, Collagen, Hyaluronic Acid, Royal Jelly, Pearl, Green Tea, Lemon, Pomegranate, Tea Trea, Vita Complex, Olive, Coenzyme Q10, Mugwort, Korean Ginseng, Mango, Acai Berry, Bamboo, Rice, Honey
I KNOW…. Whenever I discover a new brand, I like to try out the entirety of at least one of their sheet mask lines. The I Need You sheet masks were on sale for $0.48 each so I got all 20 of them … lmao.
They smell GREAT. My favorite was mango and I love the more unusual versions like mugwort and bamboo. The sheets are of average thickness – nothing to write home about – but my biggest issue with these is that they just didn't fit my face. I had a lot of trouble getting it to fit around my jaw area and ended up making some cuts in the mask to get the fabric to sit better. That said, I find a out of sheet masks are a bad fit for my weird face so it may be just a issue people like me with zero jawline have. They were a great value for 60% off and worth picking up if you're running low.
· · ·
Real Art Cleansing Oil (Moist) – $16.60 Full Sized
Freebie! Etude House was running a promotion at the time where all orders would receive a free mini of their Real Art Cleansing Oil. I love cleansing oils and this one was not bad! I finished it up this year while I was out of the country and thought that it was a very nice light cleansing oil. I can't recall if it had a scent, but I do remember that it couldn't put up a fight against waterproof eye makeup which isn't a deal breaker if you use a separate remover.
· · ·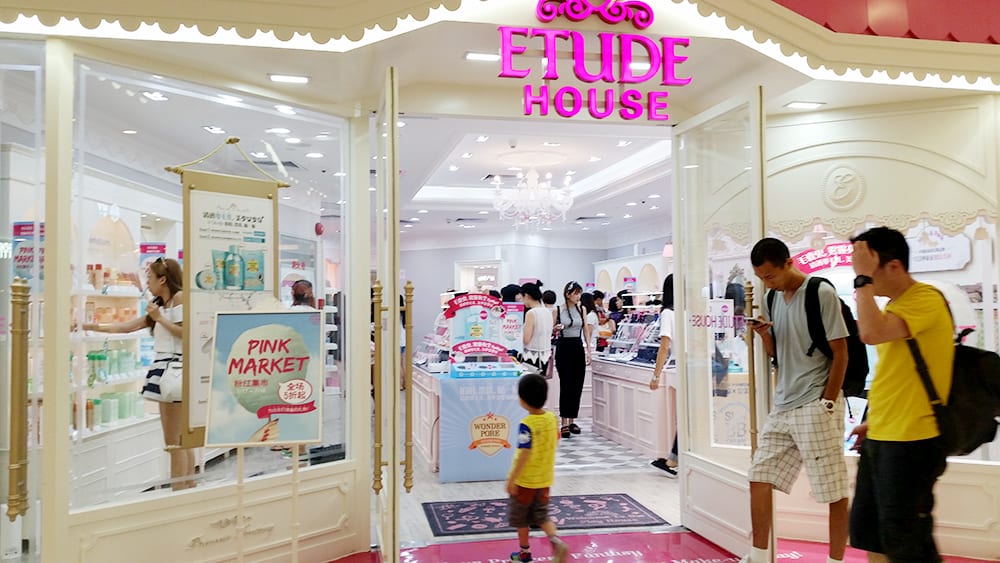 My second Etude House purchase was in July of this year. I was in Guangzhou this summer for a personal matter and at the end of my trip, I wanted to stop by a Etude House retail store since we don't have one in North America. After Struggling with the Chinese website, I finally found one in Grandview Mall in Tianhe District (广州市天河区天河路228号正佳广场西北门1F-1C070铺) and it was so dreamy. Everything inside was lovely and pink and white. It's the most beautiful place.
Look at all the free stuff! I spent approximately $70.00 USD in total. The prices in China are much more expensive in comparison to how much it costs to place an order here online. Some were already marked down for a 50% off sale. Still, it was a pretty good deal for me since the same items purchased online would have been around $75.00 before taxes and without any freebies.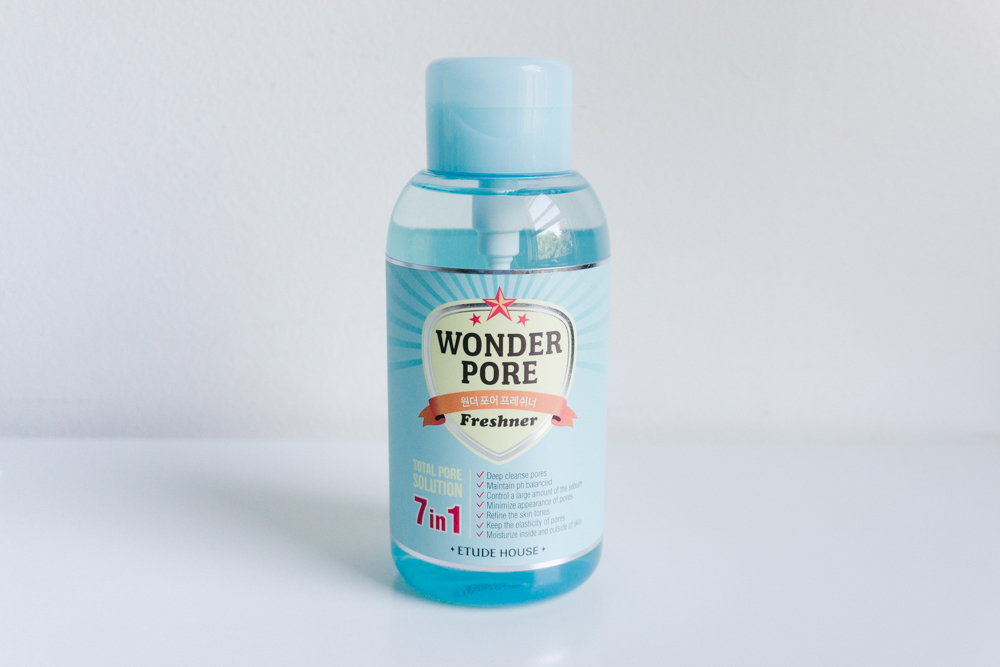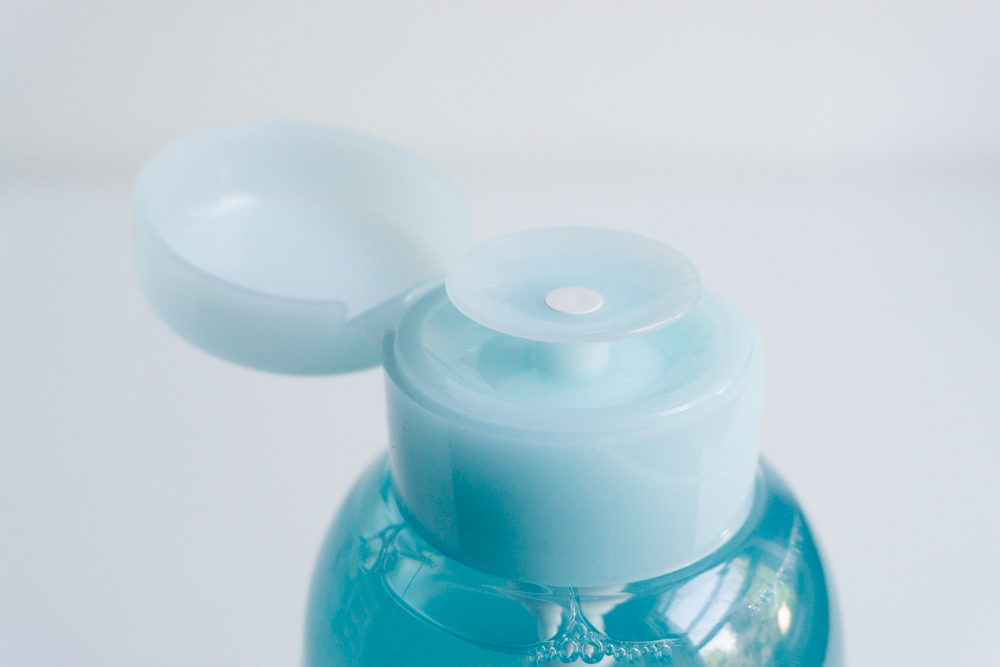 Wonder Pore Freshner (500ml) – $18.00
I grabbed a HUGE bottle of the Wonder Pore Freshner and paid for it before realizing it was a rookie traveling mistake. I spent the day carrying it around and then had to find a way to pack it securely in my luggage so it wouldn't spill during the flight. The store was doing a promo with the item so NGL I had my eyes on the freebies.
My pores need some serious work (see below cushion review) and I was willing to try anything/everything. The Wonder Pore Freshner is a toner that's supposed to be a "7-in-1 Solution" to deep cleanse and tighten pores, control sebum, maintain ph, provide elasticity, moisture, and clear skin. Does it work? I don't know yet. It's such a huge bottle that I'm only really starting to make a dent in it, but it's one of their bestselling items and has great reviews. I do like that it's fragrance-free and it does feel very refreshing on my skin. The larger bottle also happens to have a reverse pump which is very useful.
With the Wonder Pore Purchase, I received two boxes of cotton pads, a 10ml bottle of Wonder Pore Freshner, and a travel sized tube of the Happy Essential Foam with Hyaluronic Acid. I have far too many cleansers so I gave the foam to a friend, but the reviews online are fairly positive.
· · ·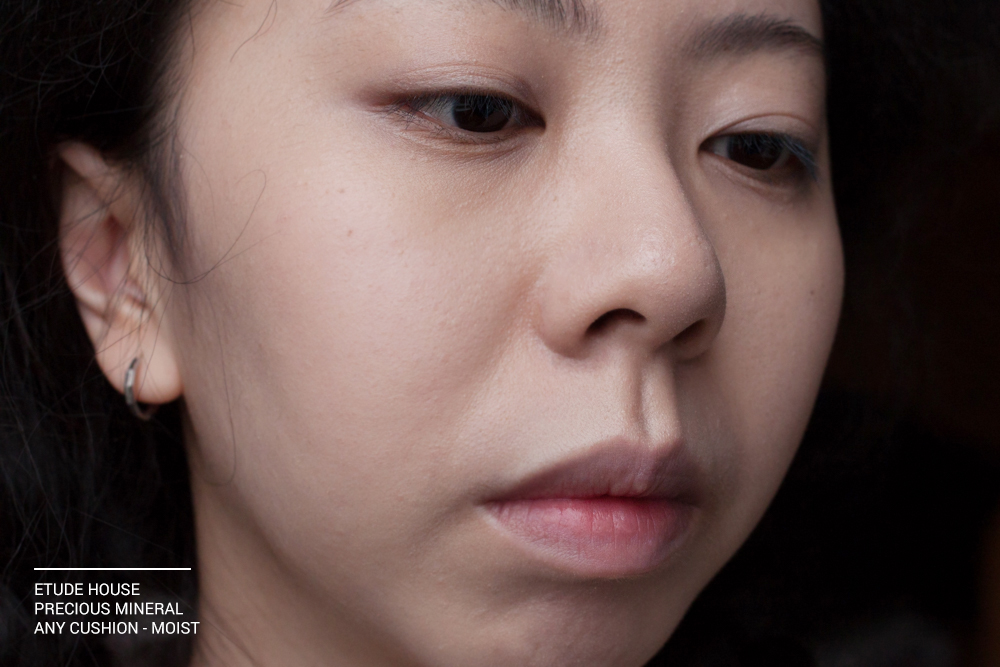 Precious Mineral MOIST Any Cushion – $21.60 / $12.00 (Refill)
Shade: W13 Natural Beige
I really wanted to try the Etude House Cushion since I've heard rave reviews about it online and I was extra excited when I realized they had a moisturizing option as well for dry skin folks.
I tested this in store and really liked the finish & shade, but I definitely made a mistake. I didn't take into account the store lighting and that Guangzhou was H O T. Where is the MOIST (ew I know) because all I see is a Very Dry Face. To be fair, the cushion does apply with a really nice glowing finish, but it fades pretty quickly and my skin is Too Dry to deal with it. The closeup photo is about 2 minutes after application (bathroom break) and you can already tell where it's drying between my eyebrows and my laugh lines. The picture of me looking very unimpressed is about half an hour after applying and I just look bad.
One major reason for looking so terrible is because it's obvious that my face doesn't match my neck! To be fair, I've applied sunscreen liberally to my face over the last few years and neglected neck care so my face actually is lighter than my neck. The natural beige shade is a good match for the my face, but what I need to be doing is purchasing bases one shade darker and not matching to my face. Unfortunately, I think all of the shades have a white cast so even the darker shade (Honey Beige) might not work for anyone who doesn't fall into the "fair/light" category. My skintone irl is …ghostly and I purchased the second shade which is too light! What! The one thing that saves it is that it will oxidize slightly during the day (about 6-8 hour staying power) and become slightly more natural so I can get away with wearing it with a lot of bronzer.
It has light coverage which you can maybe build to a low medium coverage, but the more you apply, the heavier it looks. From the full face shot, you can tell that it doesn't cover up hyper pigmentation or dark circles too well so you'll need to use a separate concealer. There is some fragrance in it, but the scent is very light and clean.
Go for it if you are fair-skinned and have normal to oily skin!
The cushion & refill came with a mini version of the Baby Choux Base in berry pink & mint green as well as a mini version of their Dream On Loose Powder which oddly is not available for online purchase from the global website.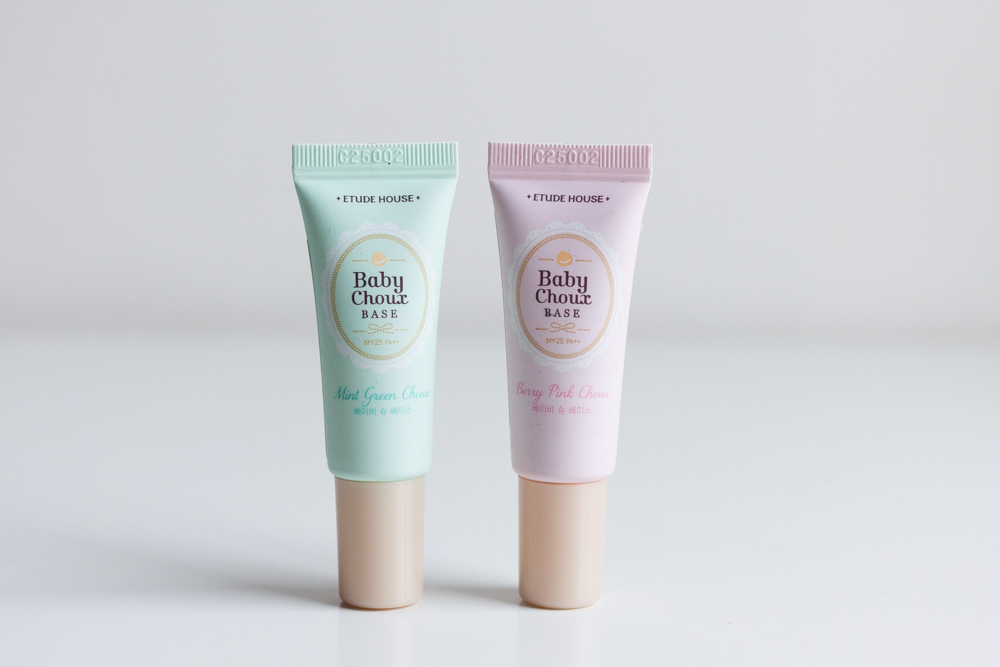 Baby Choux Base – $13.20 Full Sized
Shade: Berry Pink, Mint Green
The Baby Choux bases came out in 2013, back when the beautiful Sulli was Etude House's spokesperson, and I've been wanting to try them since. They're supposed to work the same way that Make Up Forever's colored bases work – use a different colored base to counter skin discoloration so your foundation is one uniform color. Unlike the MUFE bases, these have a white cast so have more of a brightening/whitening objective behind them. Using them under foundation will take your skin tone down an entire shade so I only ever use them sparingly underneath foundations that are either too dark or ones that I know will oxidize during the day.
The Berry Pink tube is used for brightening dull skin and has a berry/strawberry scent while the Mint Green is used for redness and smells like springtime laundry (I don't know …). As you can see, when they're blended in, they're imperceptible, but if you look long enough you can see a faint glow from where it's been applied. The scent does linger so if you're sensitive to smells then it may be a pass.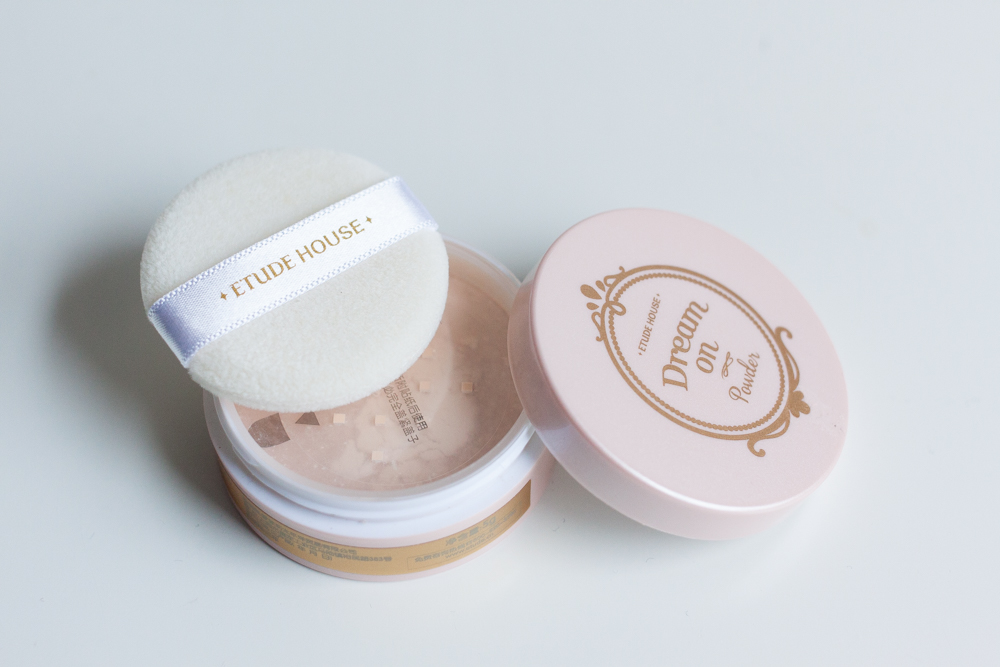 Dream On Loose Face Powder – 128RMB FULL SIZED
If you clicked the link above you'll realize that I sent you to the Etude House China website. I didn't realize that this item wasn't sold on the global site or even listed on the Korean site until the writing of this post. I'm not sure if it's simply part of the local product availability or if it's discontinued and still being phased out in some countries. The Etude House Global site only has the Baby Sweet Sugar Powder available.
I got a generous travel sized version of this powder along with my cushion purchase. I received shade #2 which has pigmentation whereas #1 looks like it's a white/translucent powder. When blended in, it doesn't really look like anything which is why I haven't included a picture. I don't believe the shades matter all that much. It has a natural finish and is a fairly nice setting powder if you can live with the smell which is very perfume-y.
I Need You! Sheet Mask (2013)
Scents: Xylitol, Korean Ginseng, Dandelion
I don't really know why I bought more face masks when I already knew that I wasn't a big fan of how the Etude House ones fit. The alphabet line was part of their 2013 I Need You! collection and I think I just fell for the cute packaging. I bought two pack of 10 masks each and received one free pack of 10. They smell great though – none of them are overwhelming strong and in case you're wondering, xylitol smells just clean and fresh. There are a few scents that were available in the 2013-2014 edition that are not in the 2014-2015 masks, but they're not being made anymore so you will have to look around for them.
I also got a few satchel samples from the Baking Soda and Moistfull Line. I've used the moistfull line before and liked the quality (especially the eye cream!) so I distributed those samples to friends. I did however, keep the lego calendar! Look how cute!
Okay! Shipping from Etude House from the global website is free on purchases $50+ and arrives via USPS from Korea to New York in approximately 7-10 calendar days. I usually get my order by the 8th day. Heads up! You will need to sign for your package so make sure someone is at home to open the door.
There are some other great promotional events so make sure you check them out!
PS: No affiliate links / bought everything myself.