My beauty partner-in-crime, Catherine, and I recently decided to make some mistakes ordered some items from 3 Concept Eyes, which happens to be one of my top 3 favorite brands Of All Time 💯. While I get my greedy hands familiar with the new products, I thought I would share swatches & reviews of the products I already own as a brand collection post for the start of April.
3 Concept Eyes was started in 2007 as a cosmetic line for South Korean clothing brand NANDA (originally an online-based brand known as STYLENANDA). Their cosmetics are modeled by beautiful dream girls like Park Sora wearing high-glossy skin & vivid lip looks.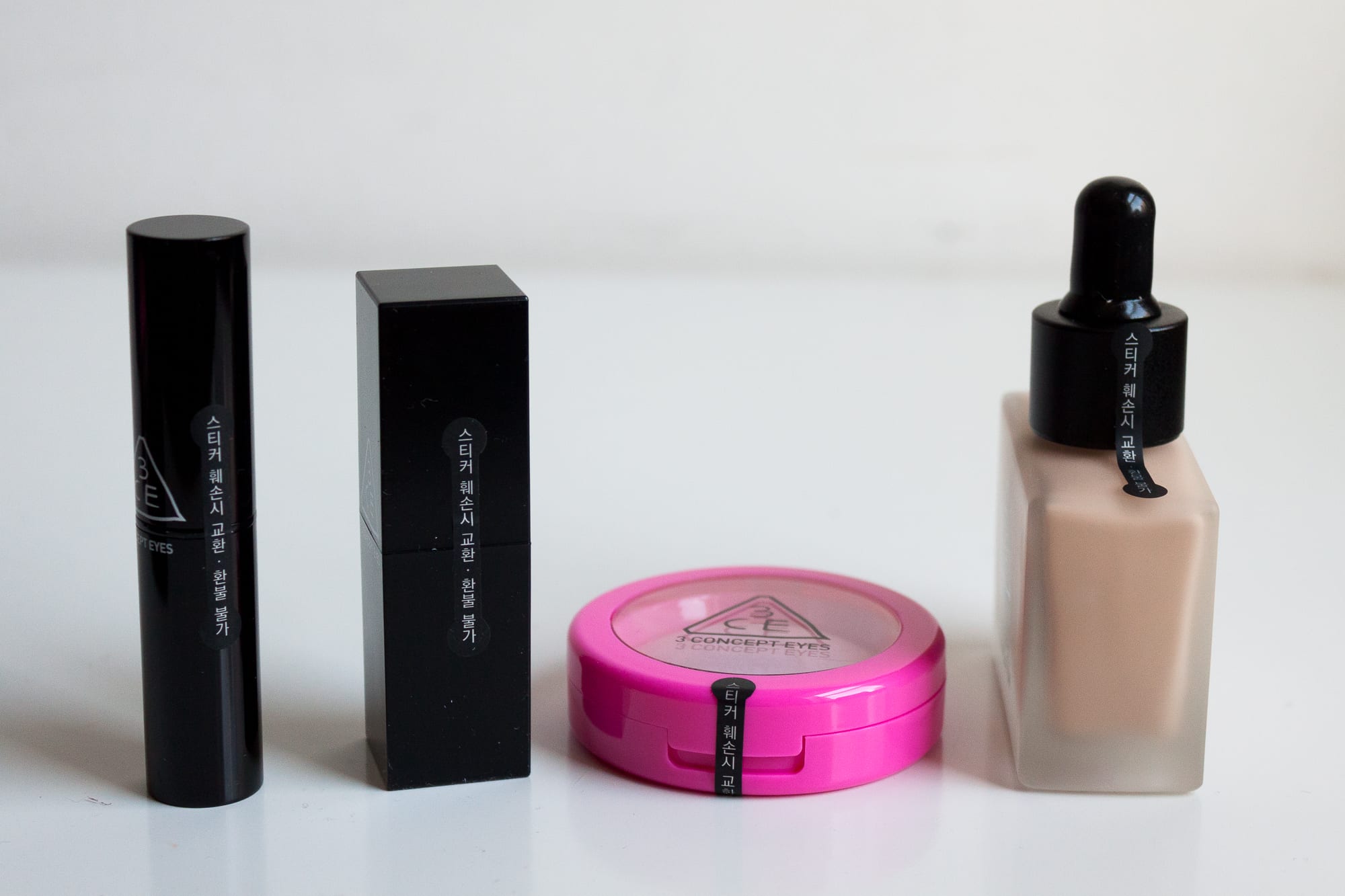 The brand has a cool girl look with most items being packaged in matte black boxes and the packaging itself being a mix of black or hot pink. The quality of the packaging itself is cheap for the price although a few items will come in glass jars. Price-wise, think of what you might find at MAC – lip products coming in at $16 to $20, blushes in the $20 range, and foundation from $20 to $30. Online orders cost approximately $1 USD more than their price in store in Korea ($13 USD vs 14000 won). Unfortunately, shipping is a bother as you have to place an order for over $200 worth of products before qualifying for free shipping, which luckily (????) ships EMS so the entire order/process/ship/delivery process only takes about 3-4 business days.
· · ·
3CE Glossing Waterful Foundation
Shade: NUDE BEIGE
The 3CE Glossing Waterful Foundation has been my favorite base makeup discovery in the last few years – I'm on my second bottle! The foundation comes in a frosted glass jar with a glass pipette, which is not particularly travel friendly, but it's one of the more nicely packaged products from the brand.
Right off the bat, coverage is light so it's not going to be for everyone. There's only enough coverage to even out discoloration and you'll need a separate concealer for hyperpigmentation scars, dark circles, and birthmarks. You can see in in the swatches below that the spots I have between my eyebrows and my dark circles could use some extra help.
It has a glowy and dewy finish, which fades in about half an hour on my dry skin, but gets better with wear time as more of my natural oils surface. I was working with a dry skin day so barely any glow appears on camera, but check out some of the full-face lipstick photos further in the post to see how good it looks after an hour or so. Heads up that in real life, it's not nearly as oil-slicked as the swatches on the 3CE website make it appear.
" width="2000″ height="1334″ class="aligncenter size-full wp-image-6114″ />
One of the biggest downsides to the foundation is that it's got a pretty narrow selection of shades to offer, which unfortunately, is fairly common with Asian cosmetic brands. Although there are four shades – more than any of the other foundation items by 3CE – they all fall into the light to light-medium range. For reference, I'd say these fall in the NC/W 15-25 MAC shades.
That said, one of the reasons I reach for this foundation so often is because in addition to the aforementioned ~*glow*~, the shade NUDE BEIGE happens to be one of the best/closest matches I've come across for my skintone. I jumped onto the cushion trend last year and most, if not all, of the brands only carry foundations in two shades: No. 21/01 which is very light with a pink undertone, or, No. 23/02 which is a shade up with a yellow undertone. Occasionally, you'll see a shade No. 25 which is often light-medium with a pink undertone. The Waterful Glossing foundation shade range has two shades in a warm and cool undertone, which is (slightly) refreshing to see. With the exception of the natural shaddow below my jawbone, you can see the above photos that my face matches my neck almost perfectly.
The foundation has SPF 15 so you may get some flashback in flash photos, but I've found that it's so little that it's negligeble and its probably better to rely on a sunscreen/block with a higher SPF factor for your daily sun protection. As for scent-sensitive friends, the foundation is unscented!
· · ·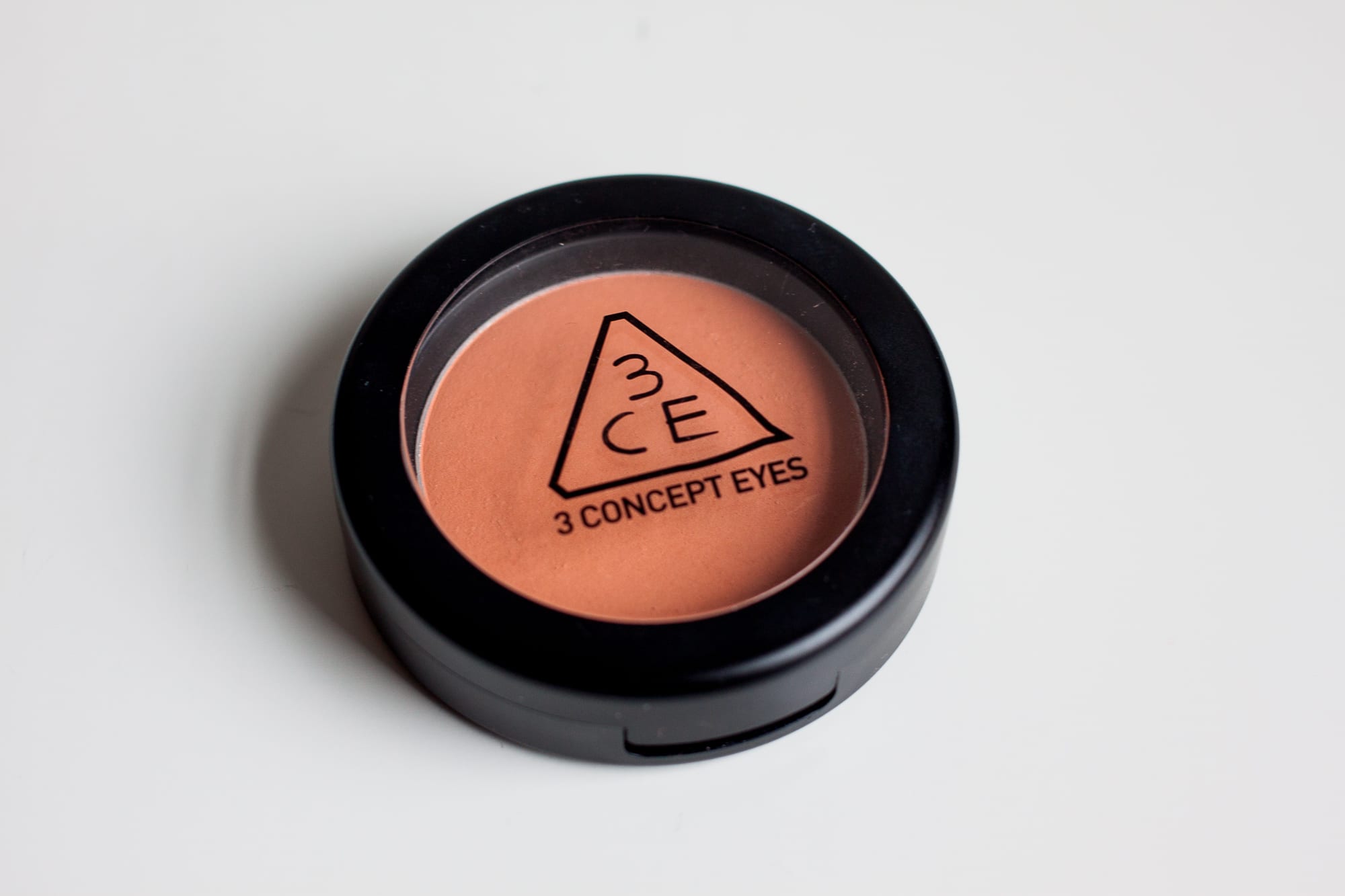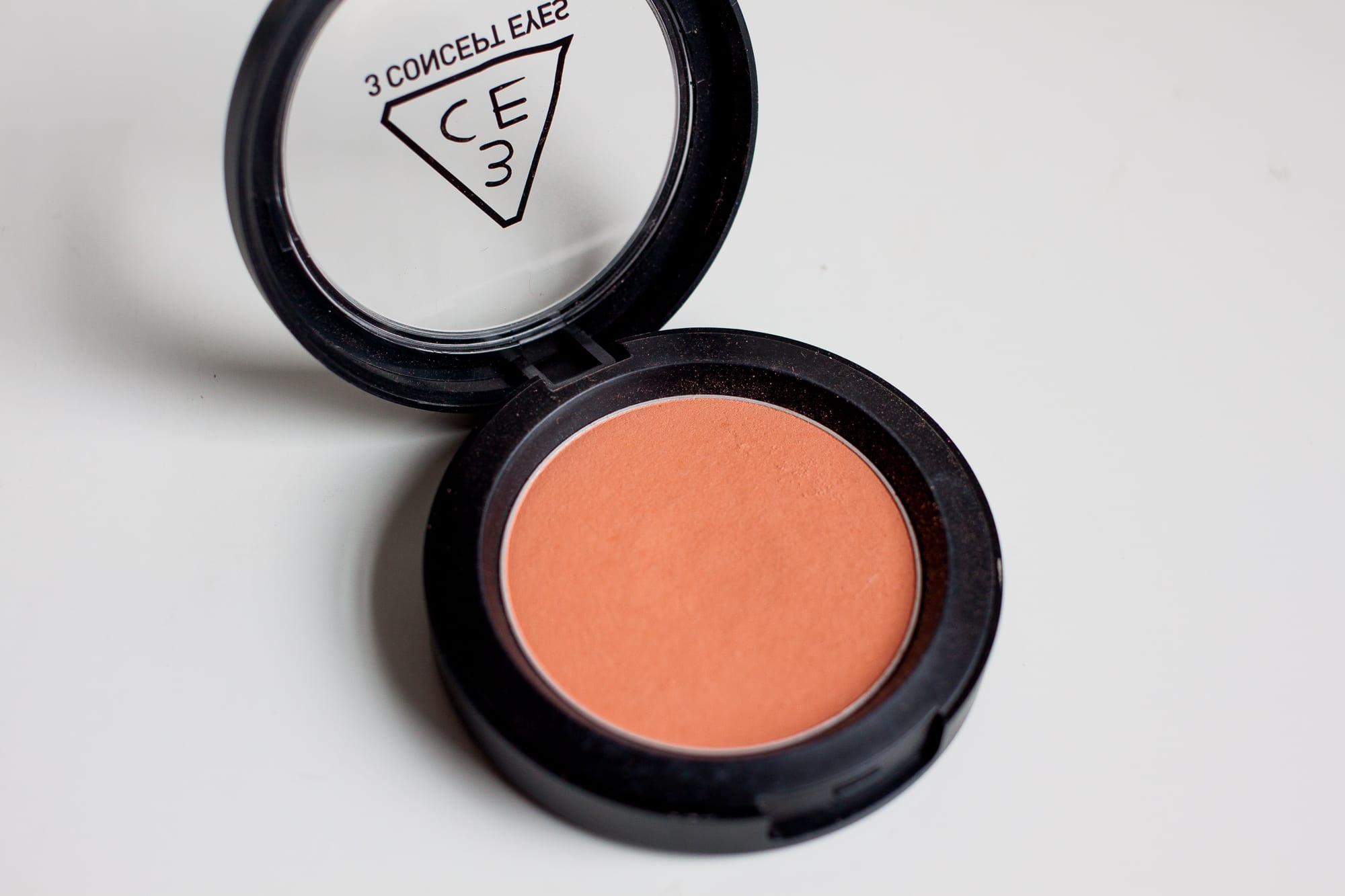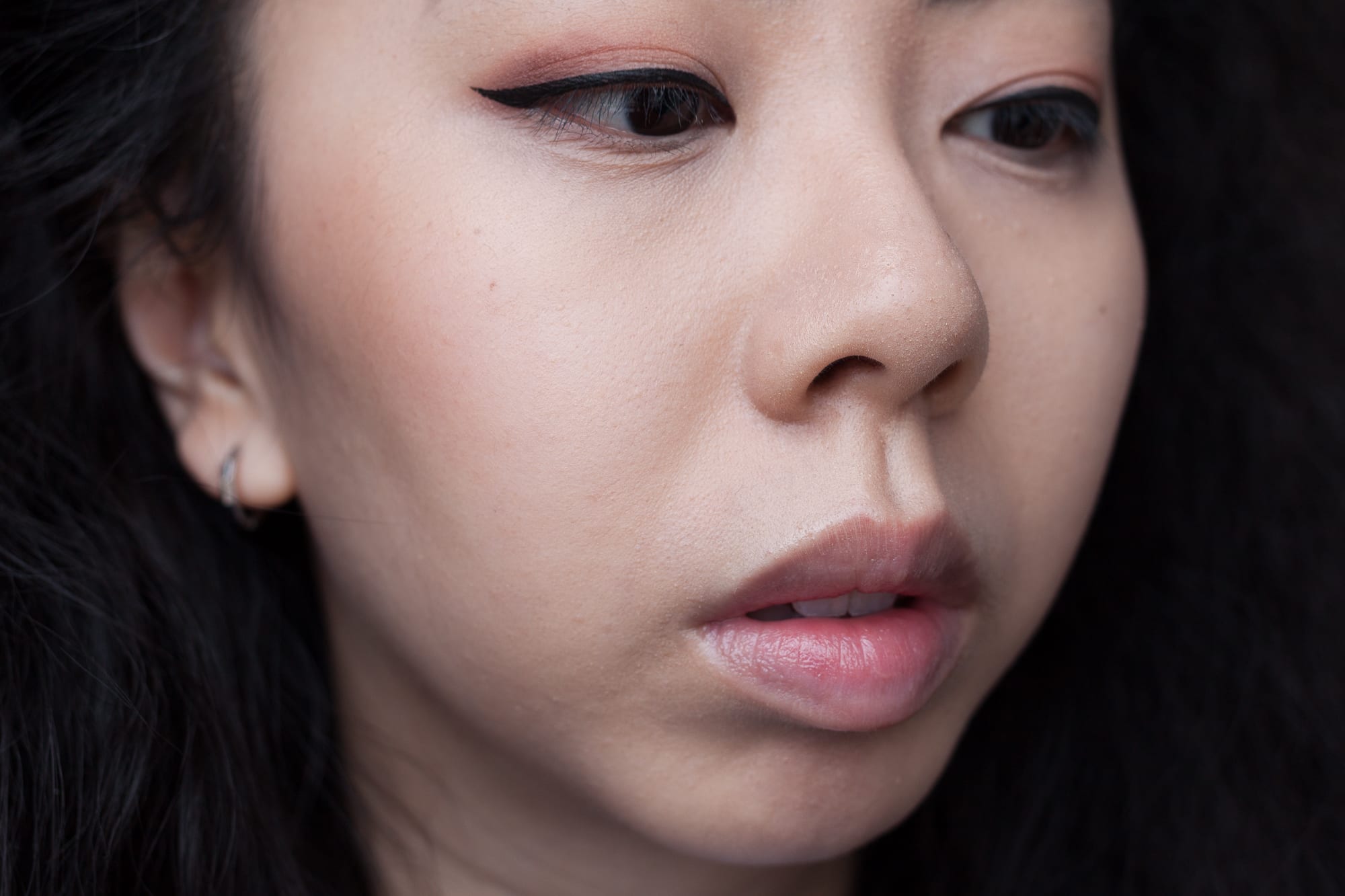 3CE Face Blush
Shade: All That Peach
All That Peach is a "matte calm apricot" shade in 3CE's original blush line and as much as I love this blush, I have to admit that it looks like nothing! It's a light orange in the pan, which unfortunately doesn't translate as well OUT of the pan. Pigmentation is quite low, but you can get better color payoff if you use a brush versus using your fingers. However, I'm pretty light and it barely shows up on me, so I can't imagine this being anything on someone darker than I am.
I will cut this blush some slack because I think the lack of pigment makes the rather unusual shade easier to wear. I like using it as a contour color when I don't want to do the whole blush & bronzer look because I'm getting into the non-blush blush look (RME I KNOW). I have, however, had the chance to swatch the other shades in person and they've all been a letdown in terms of color payoff so if you're looking for a punchy shade that will translate onto the skin, save your money for something else.
· · ·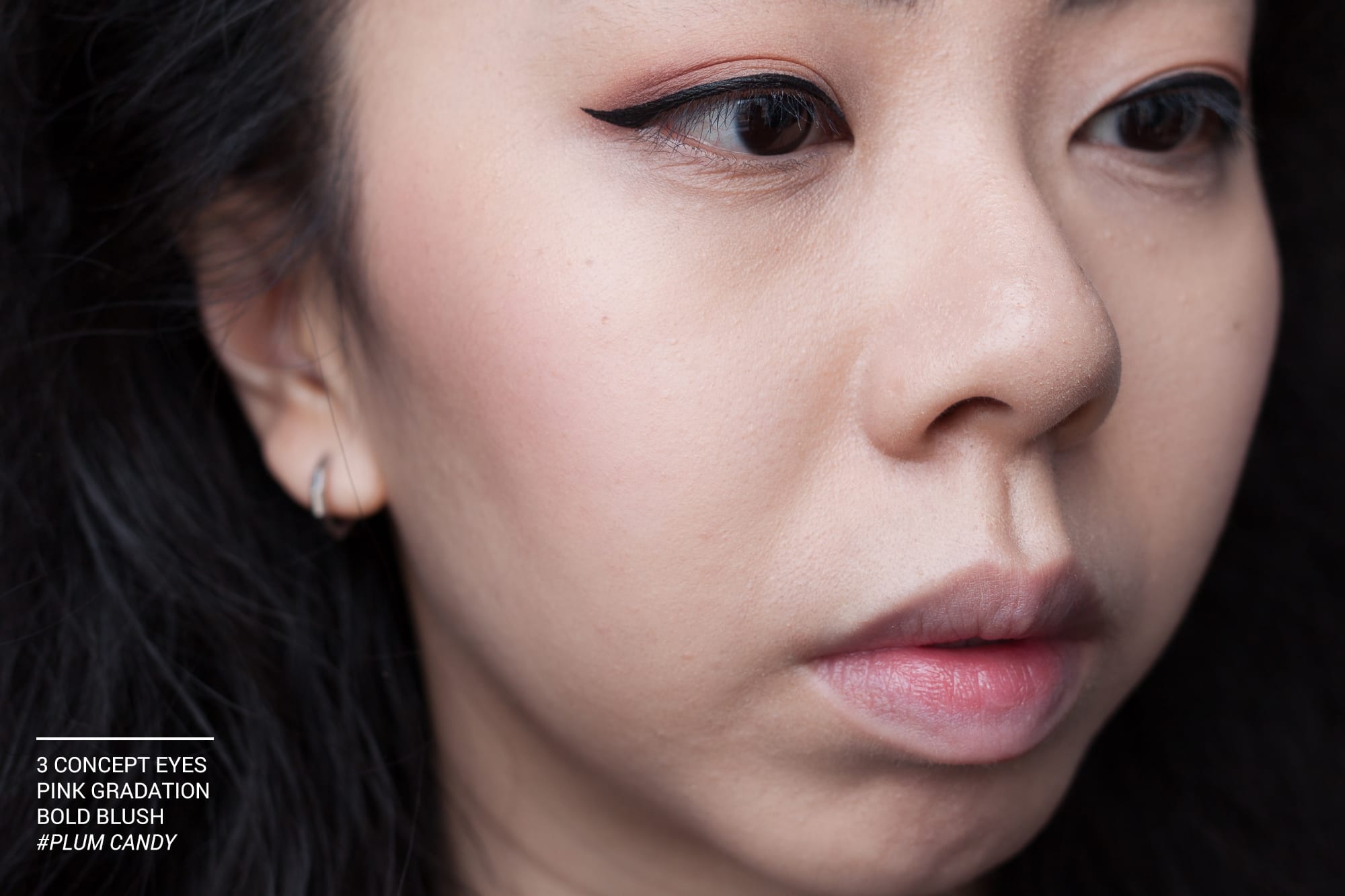 3CE Pink Gradation Bold Blush
Shade: Plum Candy
This blush was the biggest disappointment T_T PLUM CANDY is a pink and lavender gradated domed blush from one of 3CE's "bold" color blushes in the glossy hot pink packaging. It has a satin/shimmery finish without any noticeable glitter particles on the skin.
With a beautiful name like PLUM CANDY and the loveliest gradation, it fared the same as the matte blush in that pigmentation was 'meh'. In particular, it was the lavender portion that was a letdown – can you tell which of the two swatch photos is the lilac shade? which is the pink shade? The lavender is the first photo, but you can barely tell right? When swirled together, the lavender is lost entirely.
Overall, I expected a lot more out of something in the "bold" range. To their credit, 3CE uses words like "transparent" and "clear" to describe the look this gives and it does yield a very pretty color, but at $25 each, even the #AESTHETICS doesn't cut it. You can probably get a very well-pigmented blush in pink, lavender, and a combination for less.

· · ·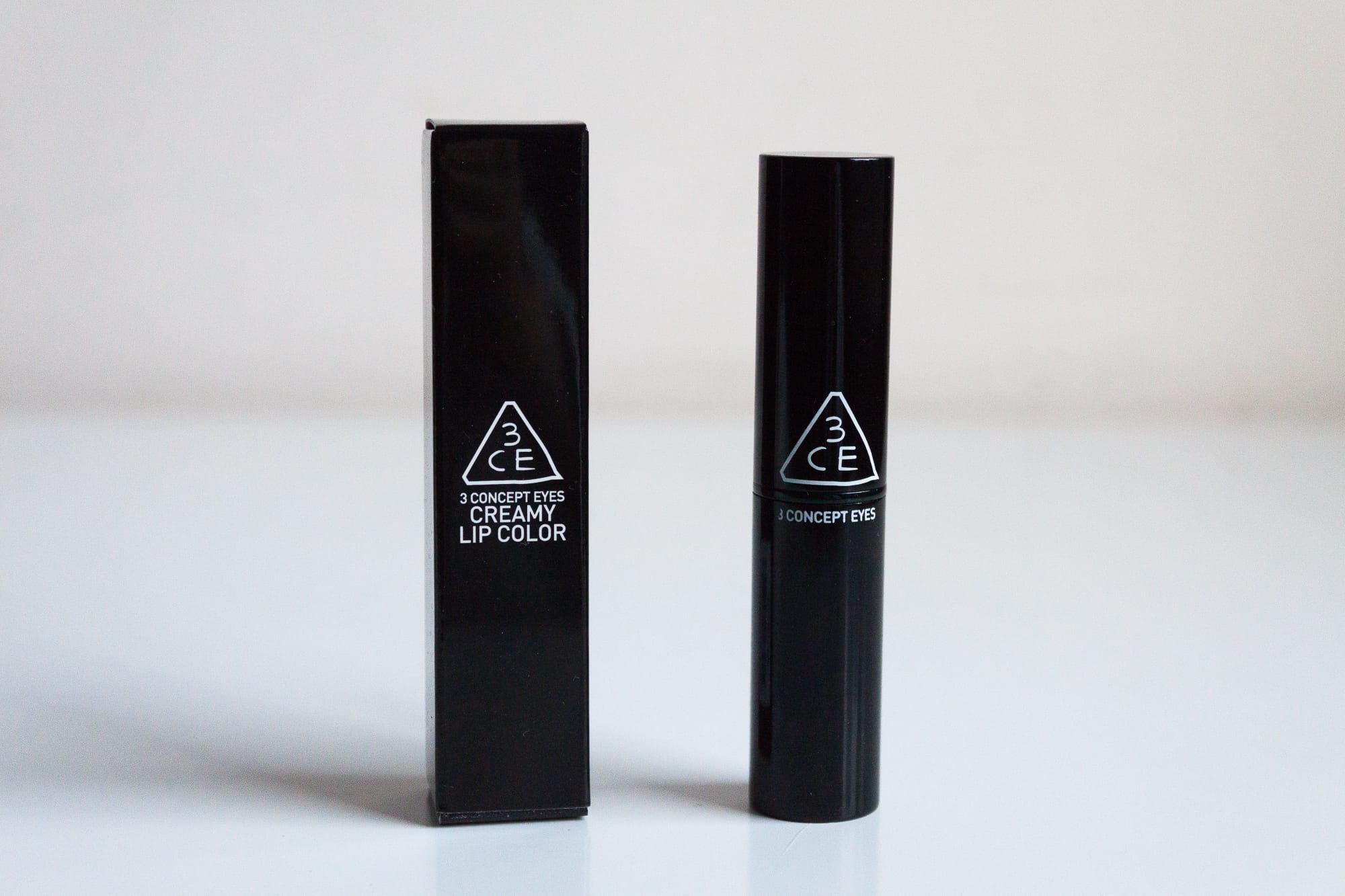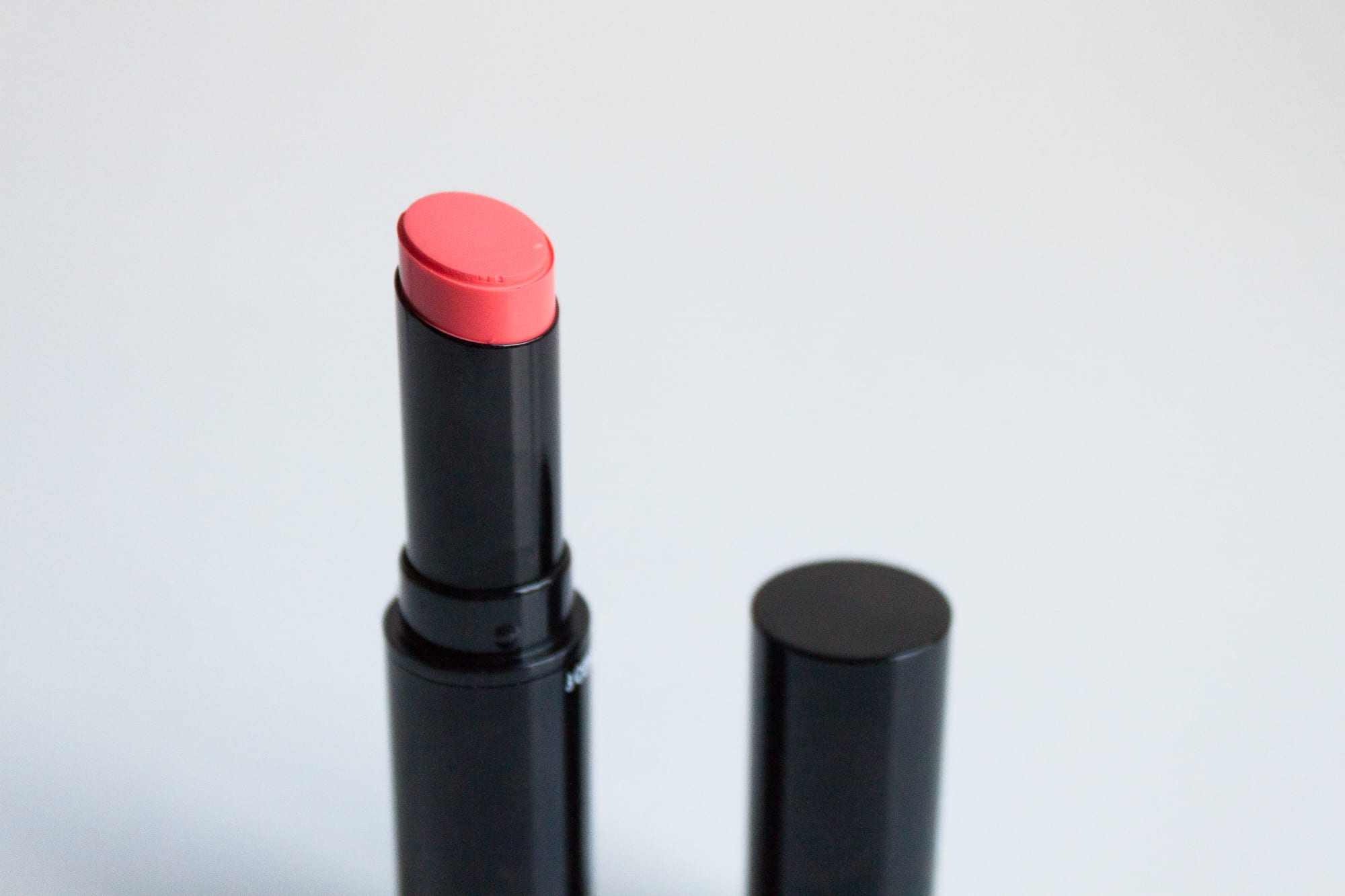 3CE Creamy Lip Color
Shade: #4 Joyce
(I need to stop buying peachy lipsticks because they don't look good on me :c)
JOYCE is a coral pink lipstick with a high-gloss creamy finish. Like all of the lipsticks I've used from 3CE, it has amazing pigmentation and it looks on the lips almost exactly like it does in the swatched photos on the website. The creamy lipsticks are formulated with argan oil and cupuacu butter so they're rich, glide on, and are super comfortable to wear. I usually have to blot this lipstick out because the color is too vivid and washes me out.
The downside to the cream formula is that they're almost too creamy. There's a bit of slip and slide because of the moisturizing ingredients and for someone whose dry skin includes chapped lips, the formula clings to dry patches and only highlights them more. This is probably made worse because this particular shade is a very milky baby peach color and these shades always happen to look that way.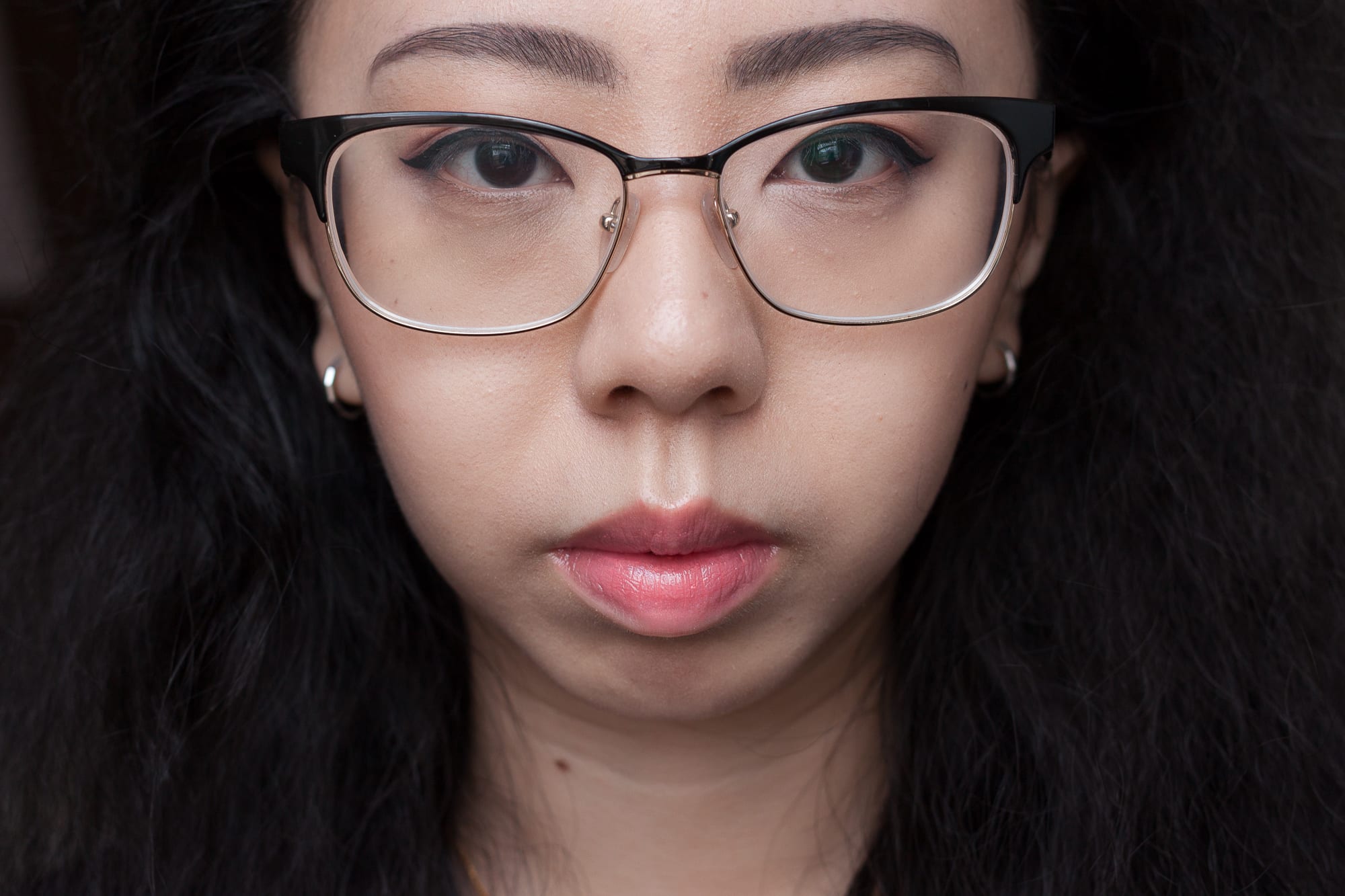 Seriously why won't I give this color up lmao
· · ·
3CE Creamy Lip Color
Shade: #6 Jazzy Pink
JAZZY PINK on the other hand is such an amazing color and despite my hesitations, turned out to be a welcome addition to my collection because I don't have anything quite like this shade. It's described as a "vivid fuschia pink." Against my skintone, it's a tad warmer, but still preserves that touch of blue in there. The swatch above was applied with a lip brush to the edges of my lips and then finished with a single swipe from the bullet – LOOK AT THAT COLOR! Color payoff 🔥🔥🔥
Since it's still a cream formula, it suffers the same fate as JOYCE in that it also clings badly to chapped lips, but this is less obvious with a darker shade. Another downside to the formula is that it's just too soft! I twisted the bullet up once to see how much product there was and a chunk of the softened product stuck to the side of the tube and slips out every time I twist it up or down!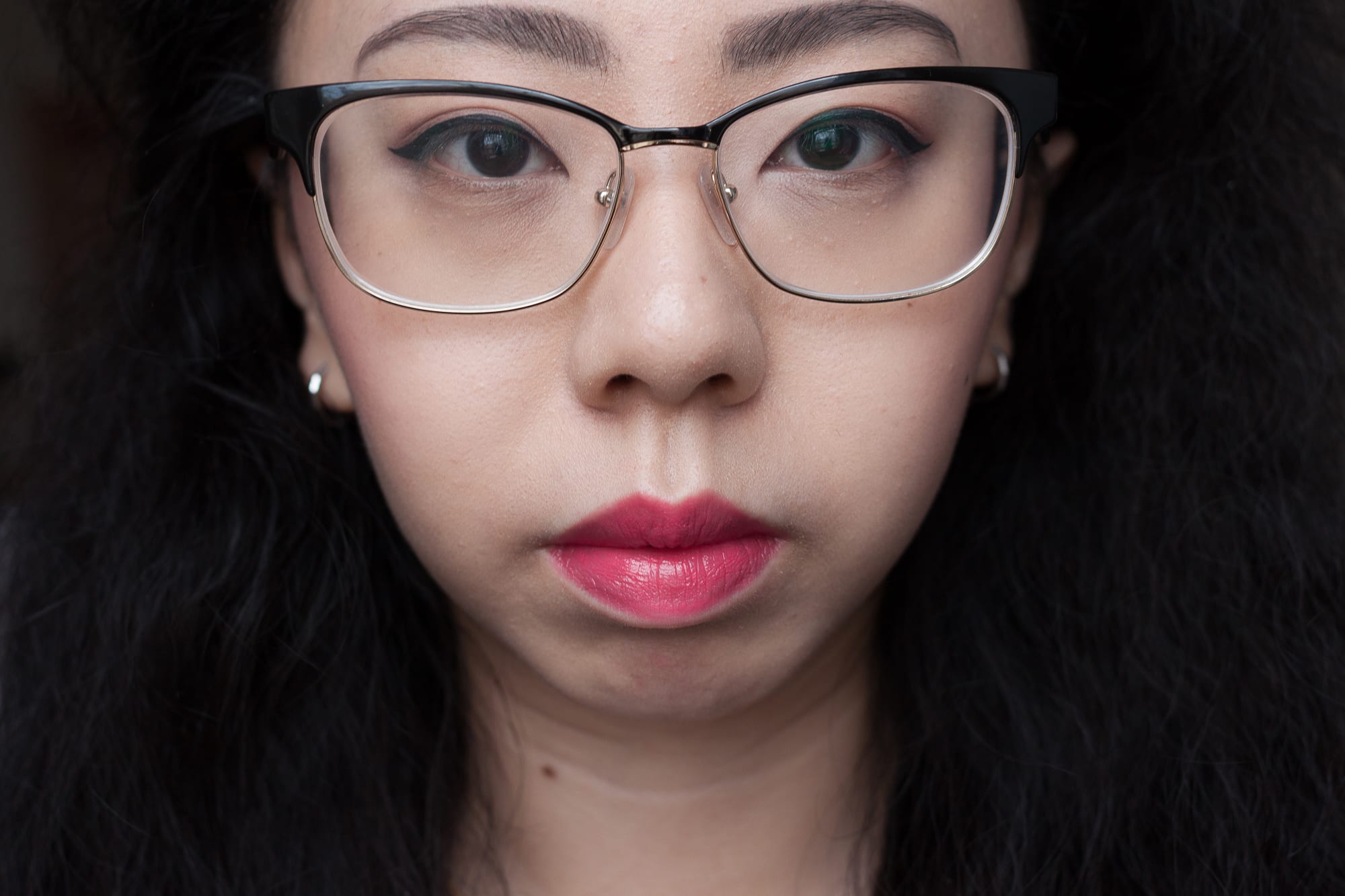 · · ·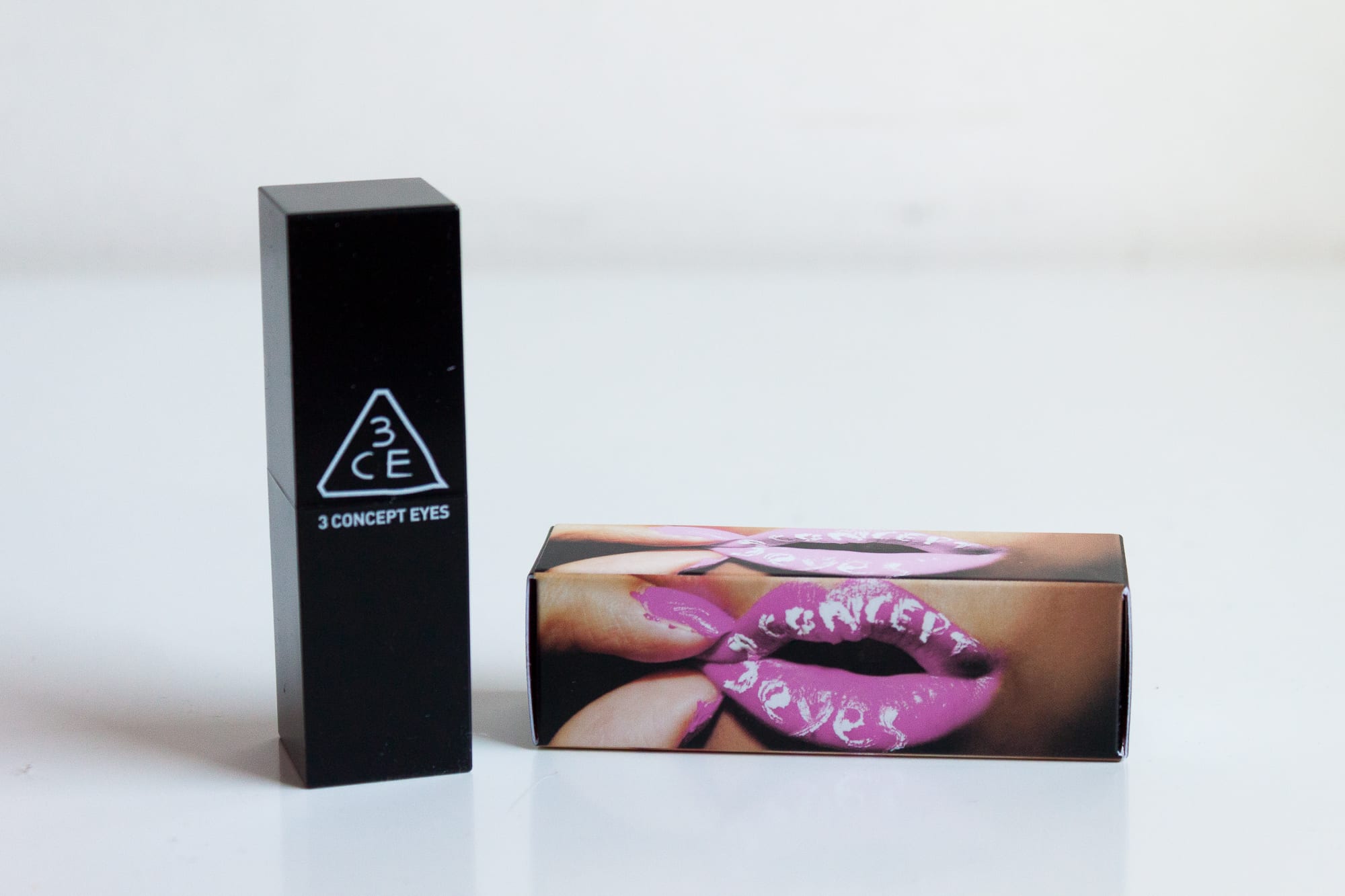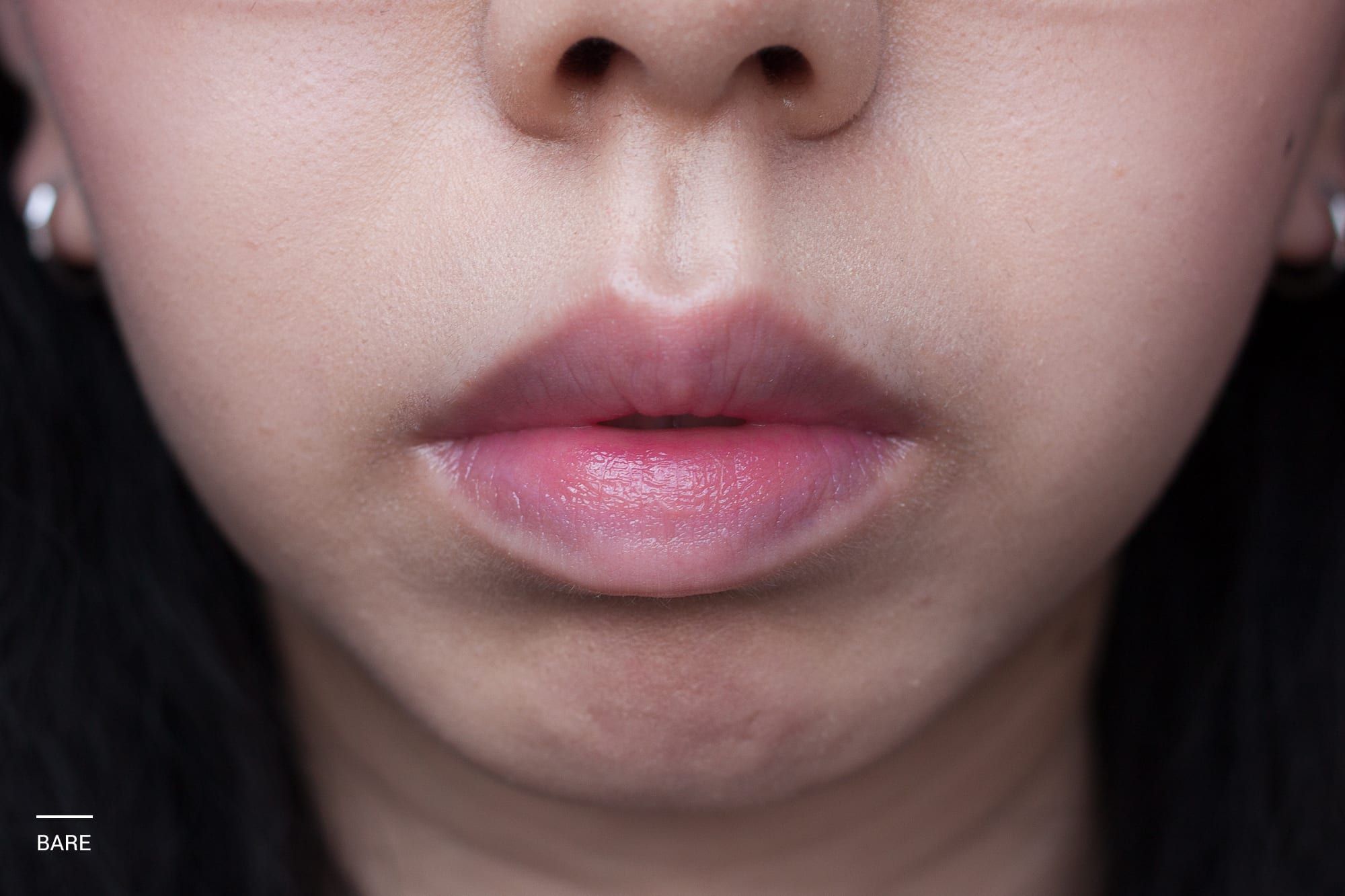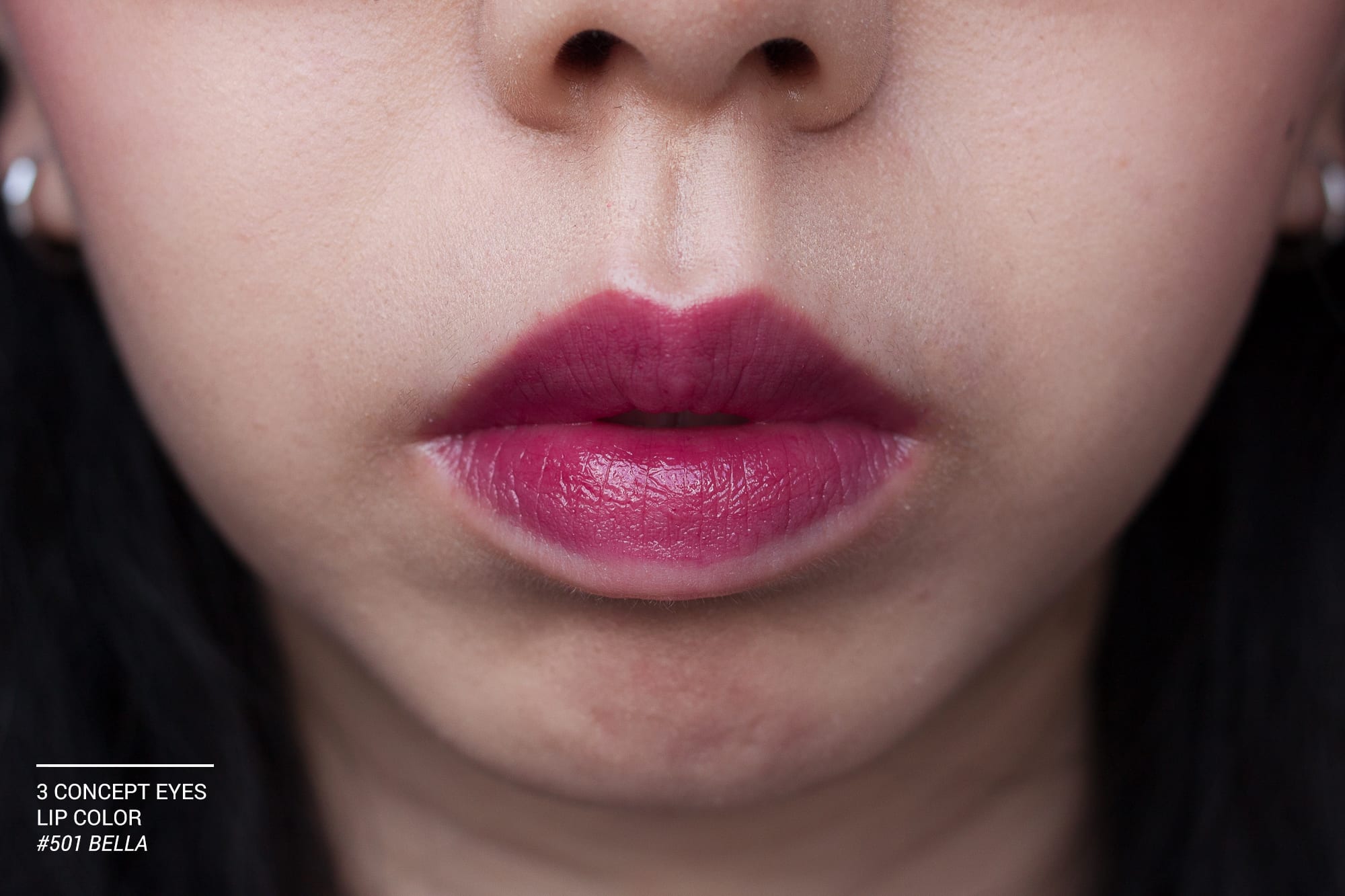 3CE Lip Color
Shade: #501 Bella
BELLA is warm burgundy shade in the "original" finish housed in 3CE's usual square black packaging – these are identical to the bright pink square tubes so go for it if you like a shade and want the pink tube. This is my favorite color out of the four that I purchased and the one I've gotten the most wear out of since I've been on a burgundy kick for the last few years. It's not nearly as vampy as the website makes it out to be especially since darker lipstick seems to be the trend these days.
The original finish is best described as a satin non-glossy formula. It's really comfortable and wear and despite not having the "essential oils" that the creamy lip color has, it's surprisingly moisturizing and doesn't dry out the lips.
It was a welcome addition to my berry/wine lipstick loves although I have to admit that it doesn't differ enough from MAC Rebel and the Etude House shade for me to need all three. Rebel in particular is pretty similar once it's on my face despite it leaning quite cool. Still, it's a great formula and the color payoff as usual is incredible – it's been one of my favorite autumn/winter colors since I've gotten it 💖
· · ·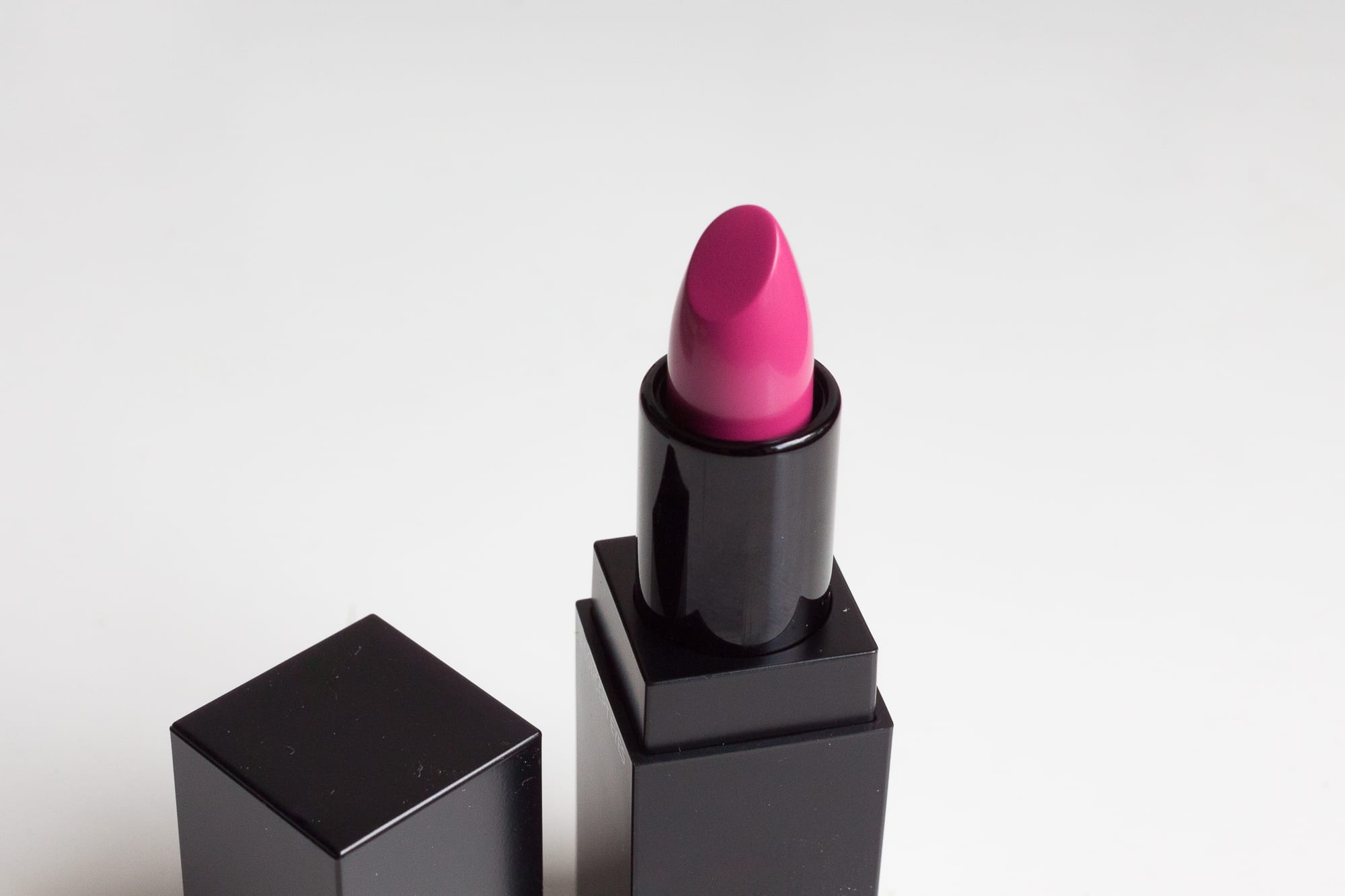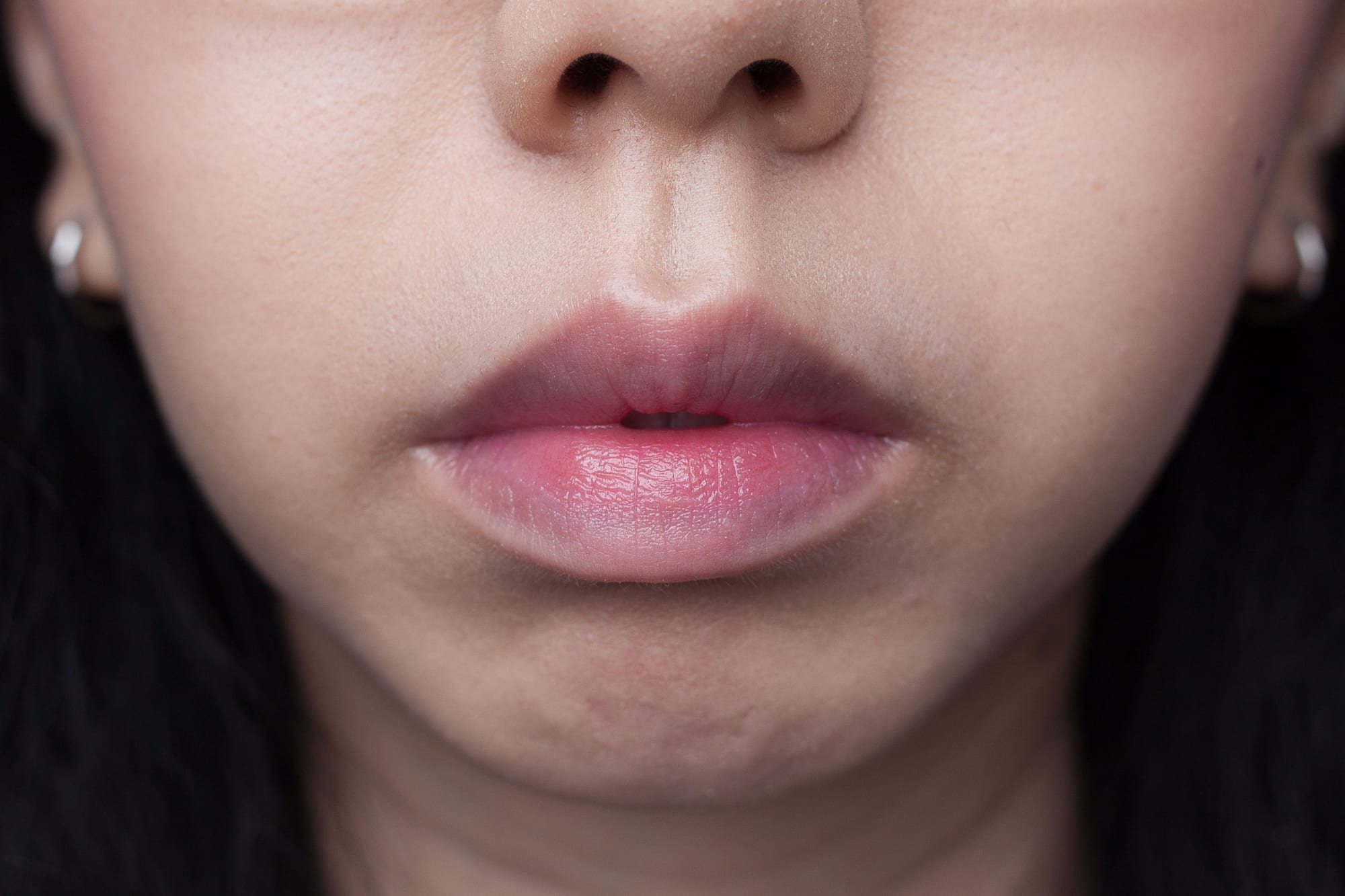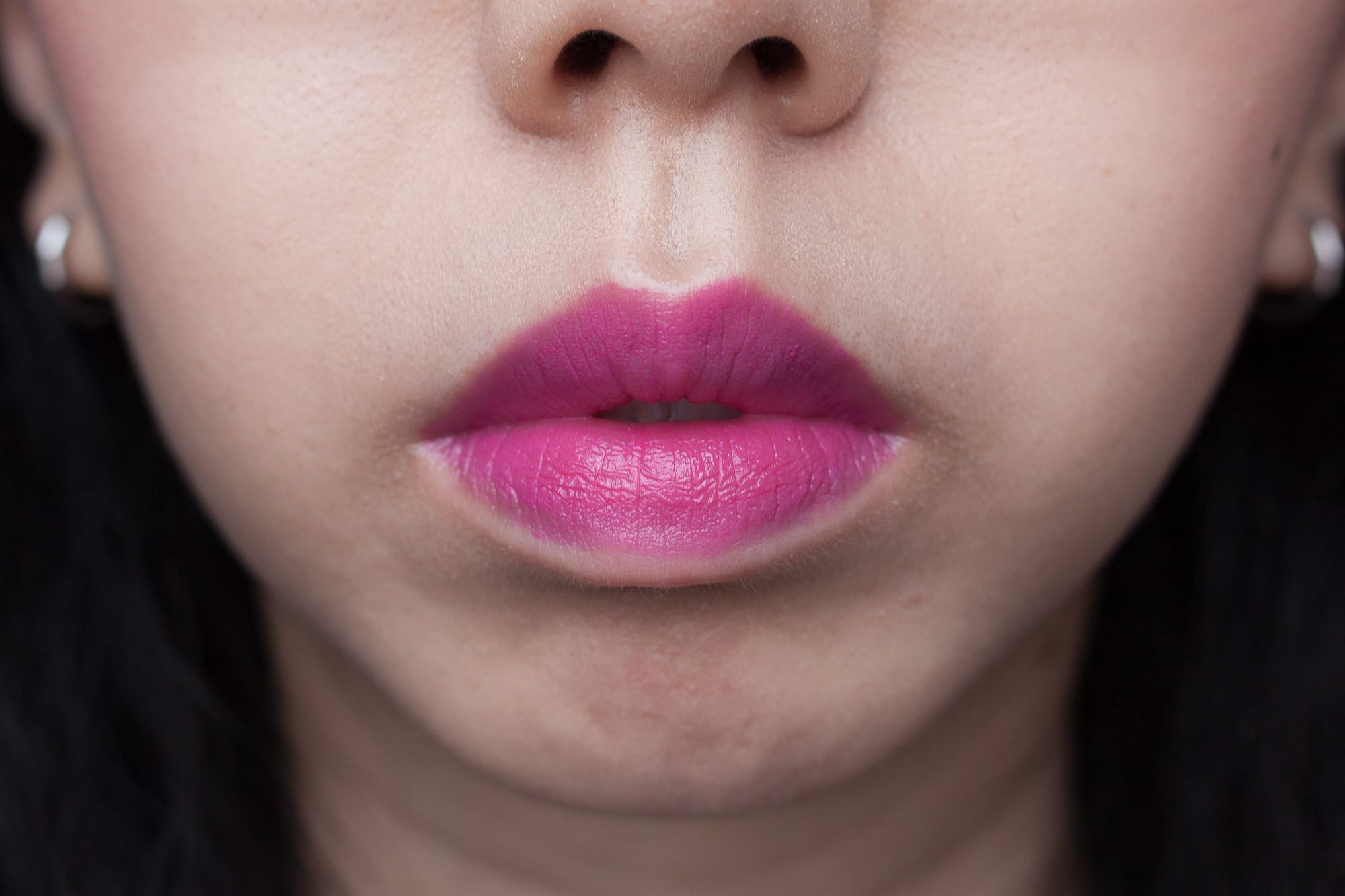 3CE Lip Color
Shade: #509 Violeta
VIOLETA was a last minute choice that I got mainly because of Catherine's persuasion (and so she could live vicariously through me!!). I don't usually lean towards such cool-toned colors, but I was pleasantly surprised by how much I was into it~ VIOLETA is a blue-toned magenta which is available in the original/satin finish. It is much cooler on me than the models in the photos, but I've found that 3CE's product shots tend to be too warm (for example, their reds/pinks/oranges are often hard to differentiate).
I've got a few similar shades in my collection, but many of them are closer to purple or much pinker in comparison. It's such an interesting color and makes my face look so much brighter in a healthy way (vs my usual pale pasty look) because it counteracts the underlying yellow undertone in my skin. This one is another really great summer color!
· · ·
I think 3CE's lipsticks are just incredible and absolutely worth a try if you can find them for a somewhat reasonable price (ugh shipping). I have very dry sensitive lips and the lipsticks are all really comfortable to wear and don't cause any additional drying. The pigmentation is the BOMB especially with the more vivid shades and the color payoff is excellent. One thing to keep an eye out for is to really look at the swatch photos provided on the site & look up reviews of colors that you like because the color balance tends to be a bit off. Overall, I definitely recommend the original formula lipsticks (black or pink square packaging) and I've included some info at the end of this post of where you can try/get some shades in person!
And now for something new!
· · ·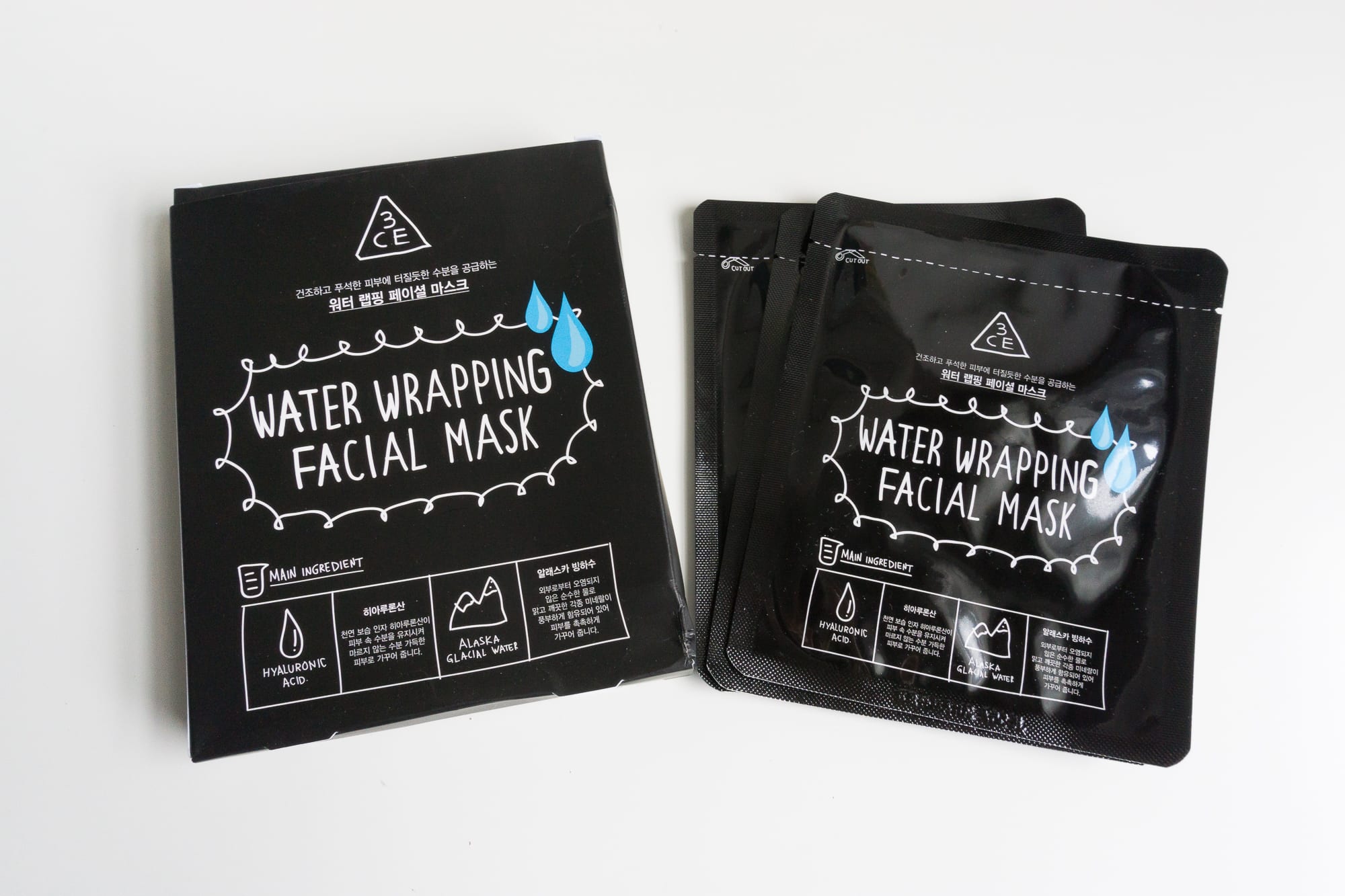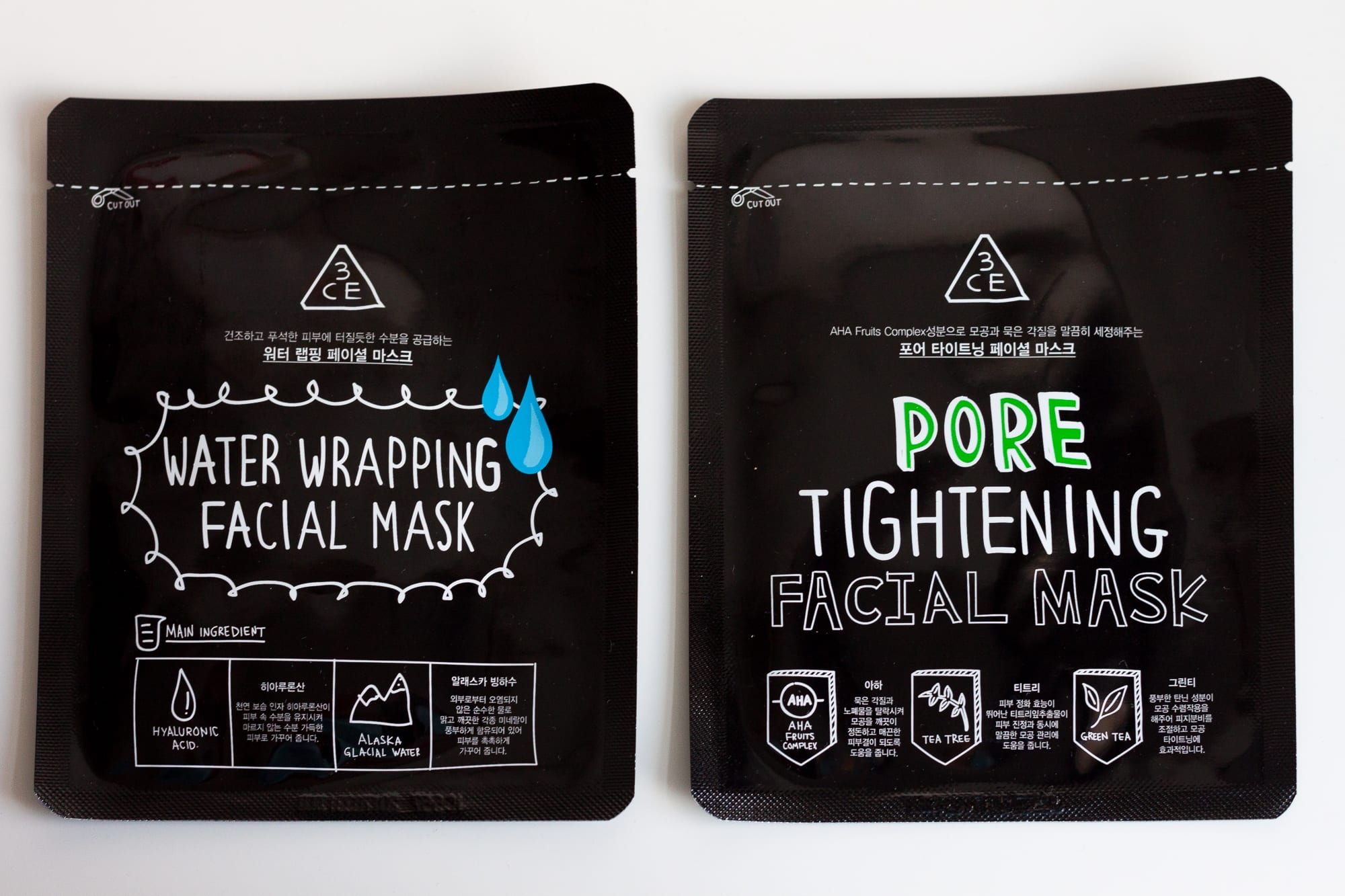 3CE Facial Mask
Option: Water Wrapping Facial Mask, Pore Tightening Facial Mask
I had a small minor heart attack when I saw sheet masks on the 3CE site because I love. sheet masks!!! I ended up getting a box of 5 of the Water Wrapping type and traded with Catherine who got a pack of the Pore Tightening masks. The masks are made out of some sort of fiber that gives it a very smooth feeling and an opaque white appearance. This makes it feel thicker even though it's likely not much thicker than the traditional ones that are translucent. This fiber, however, makes the mask stronger and it's less prone to tearing (even when it was intentional – I tried!). Despite different ingredients and functions, both masks have the same Generic Asian Cosmetic Scent which fades quickly.
The Water Wrapping mask "wraps skin in comforting moisture" and is focused on rehydrating the skin with ingredients like hyaluronic acid and glacial water from Alaska. I noticed that other than phenoxyethanol (a preservative), there is no alcohol listed in the ingredients which is always a good sign! I can't count the number of times I've seen alcohol in products aimed at hydration and moisture.
The Pore Tightening mask on the other hand does have alcohol, but also includes a ton of fruit extracts like grapefruit, grape, orange, apple, lemon, lime as well as camellia leaf and tea tree extract.
· · ·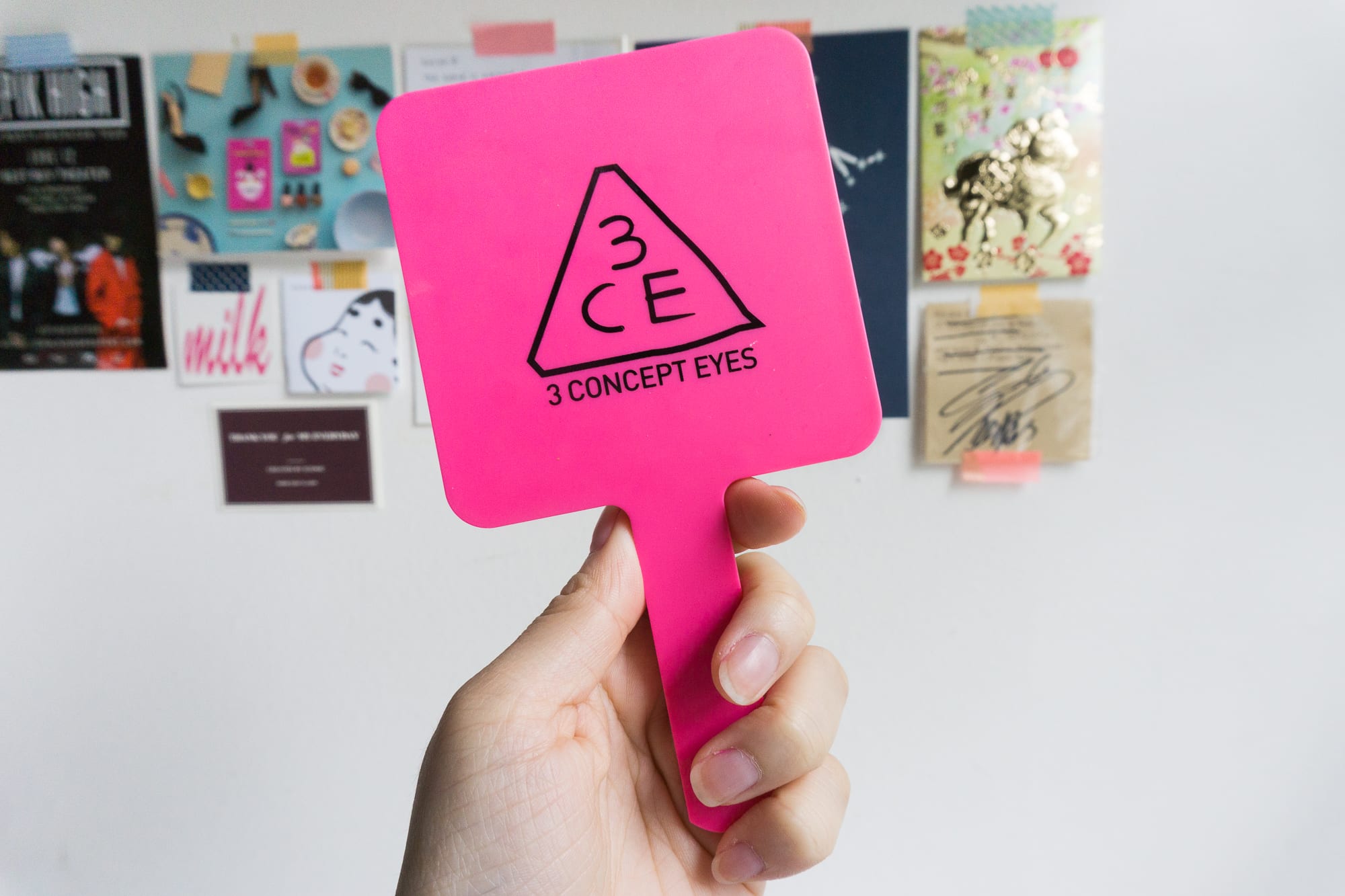 3CE Mini Hand Mirror
Color: PINK
I decided I need some more 3CE branded swag and picked up a small hand mirror for applying my makeup in the morning. I'd been using a magnifying mirror which was a HORRIFYING way to wakeup & the mirror over my vanity is in an area where there just isn't enough natural light. The build on this mirror is plastic, but sturdy – I can't count how many times I've dropped it right onto the mirrored surface or on one of its corners. I love it! The mini size comes in 5 colors (pink, black logo on black, white logo on black, neon orange, neon yellow) and the mirror also comes in a larger size (pink, black logo on black, white logo on black).
· · ·
I asked my partner-in-crime for some thoughts on her favs & hates since we tend to lean towards different products and she was kind enough to give me a rundown. For reference, Catherine is very very fair and usually uses the lightest shade in foundations. She has dry sensitive skin and like me is a fan of the glossy dewy look:
Best Item: Cover Cream Foundation had good coverage and matched her skintone.
She also loved the lip gloss in hot pink because the formula was pigmented, moist & glossy without any stickiness. It felt like an "adult lipgloss". Catherine was also a fan of the eyeshadows – "they are just as sparkly mermaid princess in real life as they look on park sora." The blushes in baby chou and lavender were strange color choices, but they really worked & looked surprisingly natural/not at all weird.
Worst Item: Cream Blush because the tube fell apart and "was the most bizarre color/formula combo ever. like a SUPER pale baby pink color" that sat on the skin and didn't blend out.
Catherine was also similarly not a fan of the creamy lip color which just didn't settle properly on her lips and color-wise didn't really fit with her. The honey face chiffon fluid was too dark & broke her out.
Finally! As I mentioned earlier, there are a few places in New York City that you can try 3CE products out. I think there are some places in Chinatown, but since Flushing my regular haunt, the few places I have are Flushing centric:
The Yeon
136-62 39th Ave
Flushing, NY 11354

Products carried: Limited selection of the creamy waterproof eyeliner and eyeshadows. Both shades of the liquid & cream foundation in addition to the eye brightener and face highlighter. Most (if not all) of the black blush line and the bold gradation blushes. A very small selection of the lipsticks in the original formula. This is the only place I've seen the mini brush travel kit.

Missha/Everyday Beauty
136-20 Roosevelt Ave – Suite 202-205
New York, NY 11354

Products carried: Every once in a while, a few lipsticks will pop up, but they tend to be more unusual shades (orange, light pale pink, etc.) Mini hand mirror. Face highlighter. Creamy lip color in limited shades.

Everyday Beauty
136-20 Roosevelt Ave – Suite 213
New York, NY 11354

Products carried: Occasionally some tools & accessories.
There were, until recently, a few more independent beauty shops in Flushing that carried their products, but have recently gone out of business. I love beauty hunting so I'll swing by with updates if I come across a good spot. Heads up to avoid buying 3CE from the other beauty shops in New World Mall – I came across multiple stores that carried an extensive selection of very obvious counterfeits. Stay smart and safe!
Hopefully this was a helpful intro to some of 3 Concept Eye's products! Stay tuned for an upcoming post featuring some purchases including eyeliner and 3CE's new balm products~