This past summer my friend Liz introduced me to Glossier, the skincare/cosmetic brand of Emily Weiss, founder of Into The Gloss. I was so excited about the Cool Girl Aesthetic™ that I went ahead and ordered a few things to try out.

The focus of Glossier is that beauty = healthy happy skin; "skin first, makeup second, smile always" is printed inside of all the boxes that the products are shipped in. The product line is fairly small and the focus is on simple products that are good for you. A majority of their products are paraben-free, fragrance-free, not tested on animals, and either hypoallergenic or allergy tested for sensitive skin.
I picked up most of the skincare line – the moisturizer, face mist, both versions of the balm, and one of the two masks. I passed on the face tint because it didn't seem to offer enough coverage for me.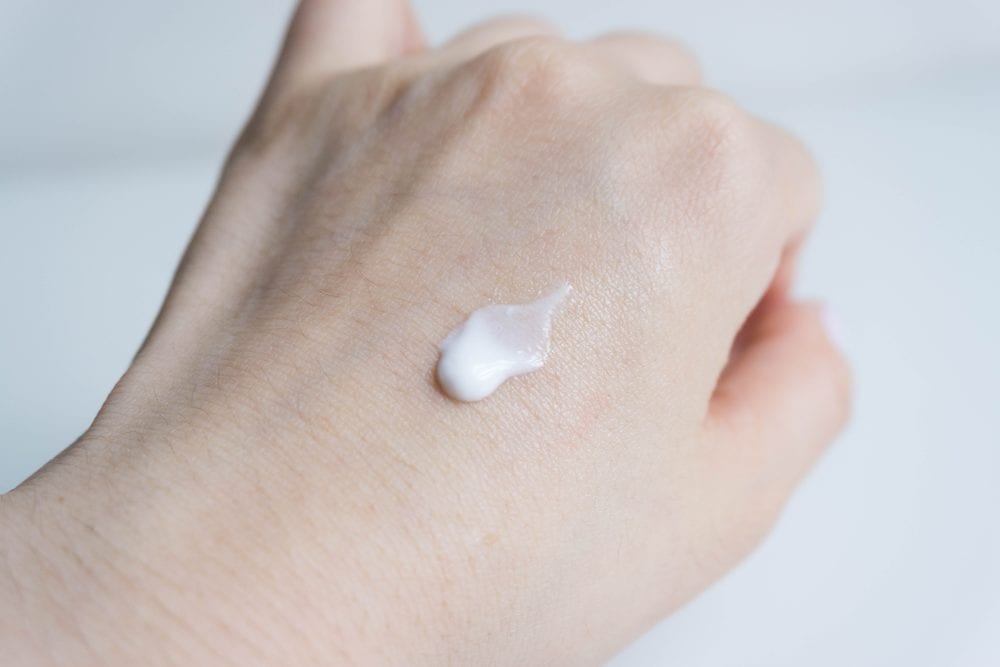 Priming Moisturizer – $18
The product I was most excited to try was the Glossier Priming Moisturizer… because I was under the misimpression that it was also a makeup primer. HAHA OOPS. It's a moisturizer that features ingredients that calm, soothe, and hydrate so your skin is "primed" for the day. Ah… I get it. Despite my misunderstanding I still like this a lot! It's super lightweight, sinks into the skin quickly and leaves no residue. I use a separate sunscreen and it's light enough so that I can wear both without my face feeling heavy. It's advertised as a morning & night moisturizer, but people with dry skin might want to try something else for nighttime moisture.
· · ·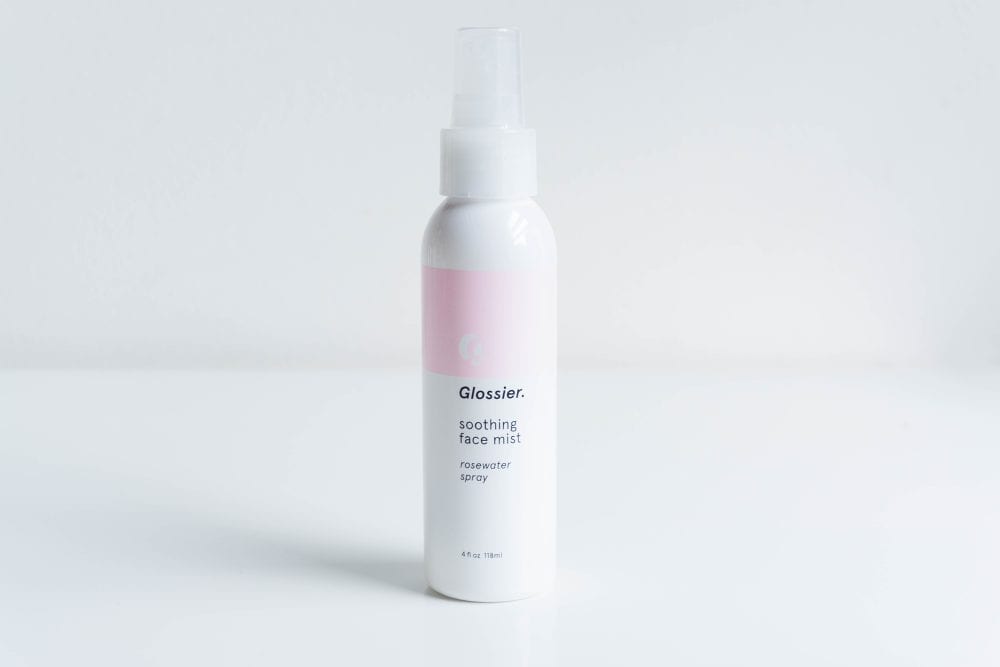 Soothing Face Mist – $18.00
I really didn't need this, but I bought it anyway because I'm a slave to consumerism!!!! The Soothing Face Mist is a ~*skin refresher*~ made with rosewater, aloe, and glycerin to tone, calm, and moisturize with every spray. It's got some great ingredients, but I realized that I don't reach for it nearly as often as I reach for my Evian Facial Spray, which by all accounts is just pressurized water in a can. Part of it has to do with the spray itself which dispenses more like a spritz than a mist – I kind of get a blob on my forehead and nose rather than an overall mist. I just didn't seem to get any soothing or moisturizing out of it. I did confirmed that my eyes are sensitive to aloe vera in high concentrations, which is .. unexpected but the_more_you_know.gif I guess.
· · ·

Moisturizing Moon Mask – $22
Ya'll know I bought this because it said MOON MASK. ✧ Moon Goddess Dreams ✧ The Moisturizing Moon Mask uses sweet almond oil, shea butter, and hyaluronic acid to hydrate and brighten the skin. It's ACTUALLY fragrance free! I often find that when products say they're fragrance free they still faintly smell synthetic, but the Moisturizing Moon Mask doesn't smell like anything. It's creamy and soft on and my skin feels lovely afterwards. I liked tossing it in the fridge so it's extra refreshing when I put it on. I like that it doesn't dry the way a standard clay mask would so it's comfortable the entire time you have it on. A few times, I forgot that I had it on because it felt just like a moisturizer. Love it.
· · ·
Balm Dotcom – $12
The star of the show for me is the Glossier Balm Dotcom, a all-in-one product for dry, irritated, rough skin. The wax base is a mix of beeswax and lanolin and the moisturizing agents are seed oils and plant extracts. It have petrolatum in it, which isn't great for everyone, but it's worth a try if you haven't had any trouble with it. I've been using it all summer on my lips and cuticles and it's seriously great. I have an occasional tough time squeezing it out of the tube and I don't think it's the best packaging for it, but I get that it makes it more sanitary to use. Once you manage to get it out of the tube, it spreads easily without any greasiness or stickiness. Go for it!!

Coconut Balm Dotcom – $12
This summer, Glossier released the Coconut Balm Dotcom to add to their permanent collection. I picked one up during a contest and was surprised by how much I like it. Coconut is generally a hit or miss for me, but this SMELLS. SO. GOOD. Every time I use it, I'm disappointed that it doesn't taste like it smells because it's heavenly. Formula wise, it's the same as the original, but if you love coconut you definitely need to give it a try.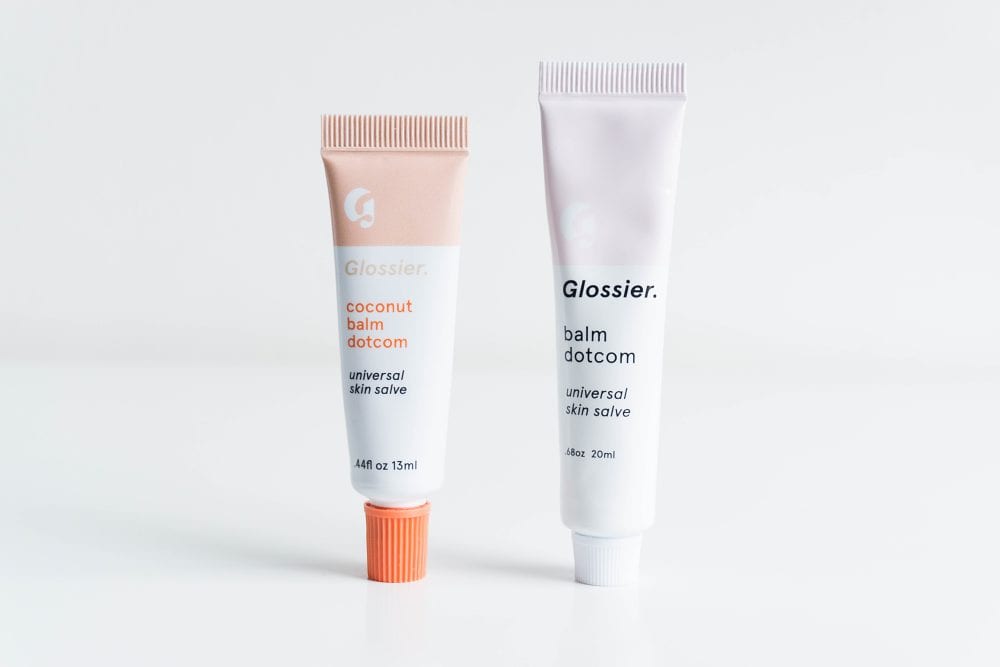 One very noticeable difference between the Coconut Balm Dotcom and the original is that the Coconut is sold at a smaller size for the same price. At 13ml, it's nearly 30% smaller than the 20ml original. To make things more confusing – Glossier also repacked the original balm to 15ml .. for the same price. So customers who buy the original balm dotcom now are getting 5ml less than what they would have gotten a few months ago. If they get the coconut, they're regularly getting 2ml less.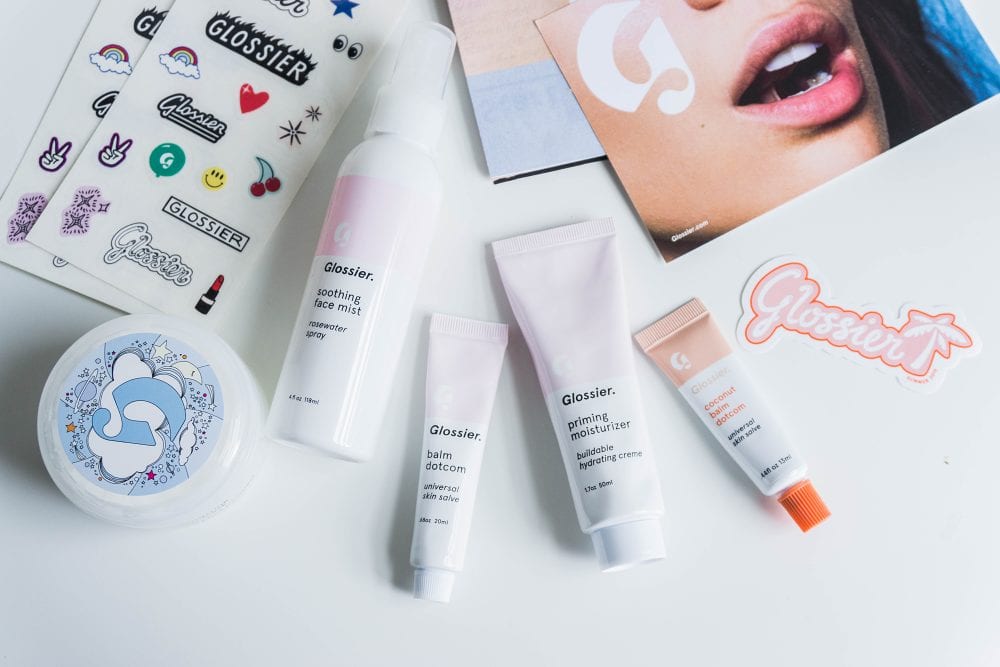 Overall I'm excited about this brand! I love the concept and the quirky style & chill factor about it. I'm in love with the packaging, but I'm on the fence as to what value it provides the customer – my package arrived in two boxes banded together because just one box was too shallow to hold all the items. Instead of plain plastic wrap, everything is zipped into their "it bag" which just … seems .. excessive. Just give me a regular sized box, some standard bubble wrap, and knock a few dollars off your production costs. :[ Fortunately, I think the products are good and I especially like the curated catalog which makes it much easier to try a new brand. I'm looking forward to what they come out with next!