A few weeks ago I shared a picture of my makeup bag on ✧ Instagram ✧ and heres the followup post! If you're curious, here's a peek into my makeup routine / favorites. Also, as per request of five people (AHAHA), I've included my current skincare regimen, which made this intensely longer, but I hope it's interesting!
I'll admit that I haven't been wearing makeup as frequently lately (ah the perks of being a homebody) so this isn't necessarily everyday makeup. I tried to pick at least one of each product in order to average out the days where I just wear eyeliner and those where I all dolled up. From left to right, top to bottom~
Revlon Nearly Naked Foundation in Shell (Review)
Maybelline Dream Lumi Touch Highlighting Concealer in Ivory
Urban Decay Primer Potion
Majolica Majorca Lash Enamel Glamour Volume On Mascara
Lorac Front-of-the-Line Pro liquid eyeliner
Revlon Just Bitten Kissable Balm Stain in Romantic
Maybelline Color Tattoo Cream Shadow in Barely Beige (LE)
Marks & Spencer Single Eyeshadow in Bamboo
Bobbi Brown Corrector in Light Peach
Maybelline Fit Me Pressed Powder in 210 Sandy Beige
Dior Original Tan Bronzer in 003 Amber Tan (Discontinued)
Victoria's Secret Beauty Rush Radiant Blush in Fresh Love
Benefit High Beam
The Face Shop Luxury Lash Curler
My makeup bag is from Missha; it was a GWP with purchase during a promotion and features an illustration by artist Kim Jihee. It's super cute! It's also a fairly good sized bag, but it doesn't fit everything that I use, (brushes for example) so I will sometimes switch out certain items for more travel-friendly ones.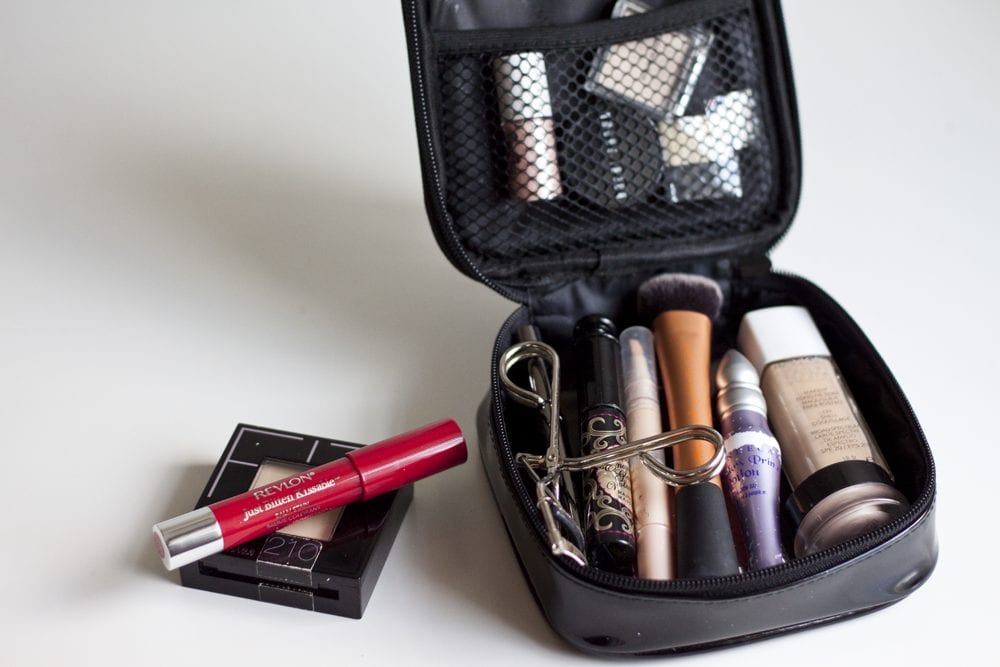 Usually, it's my brushes and loose powder that won't fit into my makeup bag. I keep a sifter jar at home (the pink heart one in the photos) that holds a bit of silica powder. As for my brushes, the ones that I use the most often are the Real Techniques Expert Face Brush, the elf Cosmetics Bronzing Brush, an eyeshadow brush also from elf Cosmetics and a Ecotools powder brush from one of their travel kits. If I need to toss things into makeup bag, I'll just take my foundation brush and a small flat brush from a Benefit kit. I LOVE the Real Techniques brush – can't live without it :'(
Anyway, what's a makeup post without swatches~~~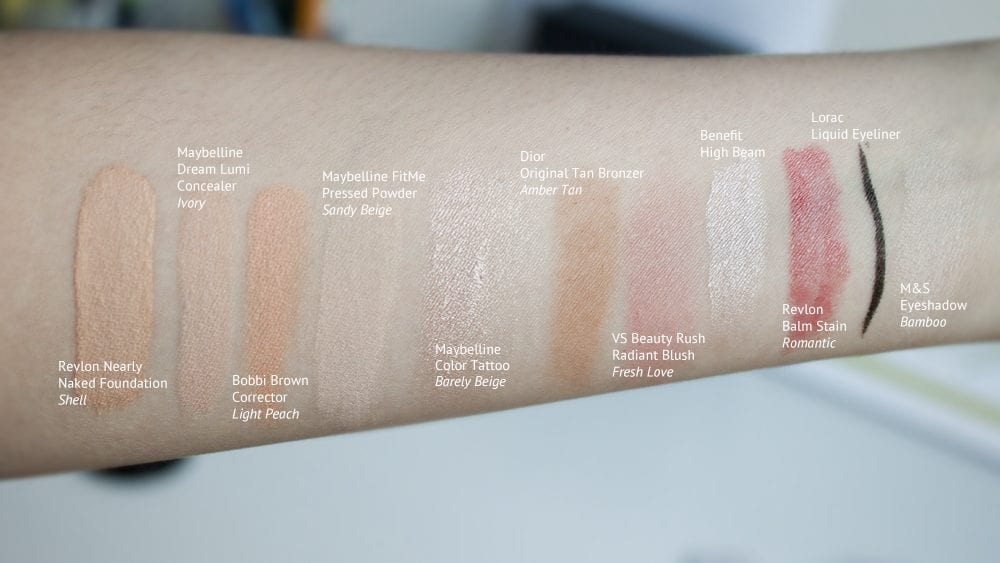 Here's what my lips look like without anything on them.
I would recommend just about everything in my routine but the Maybelline concealer and the Lorac liquid eyeliner. All the powder products are "soft and buttery" (this description always makes seem like I'm talking about food) and I don't have any issues with pigmentation or fallout. My personal favorites are Benefit High Beam, the VS blush and the Majolica Majorca mascara. High Beam is really the perfect glow without any glitter, while the VS blush is such a great all around blush color. The MJMJ mascara took some time to learn how to use the brush, but it's a super strong formulation that holds a curl all day. I ragged about the Revlon balm stain in a previous post, but I still bought another one?! I think the formula is a lot better, however, much less drying on the lips.
As for the unrecommended, it'd have to be the Maybelline concealer and Loral liner because the formulas are just mediocre. The concealer isn't very kind to dry skin and not at all the YSL Touche Eclat dupe that people make it out to be. The shades are limited to light to very light and all lean to the pink end of the spectrum. The Lorac liner is the biggest disappointment because it bleeds!! Liquid liners are about precision and if I wanted subtle and smudgy, I would use pencil instead. It's also just not as pigmented as I would have liked it to be. I still prefer the Kiss Me Heroine Make Slim liquid eyeliner, which is a shame since the Lorac costs twice as much!
· · ·
Onto the skincare! I have so much to say about skincare and yet that's where I cheap out the most about buying nice things????? I try my best to stick to it, but sometimes I slack and then I pay with breakouts that leave scars as a mean reminder. For reference, I have combination dry skin so I tend to look for products that are hydrating. I also like products with brightening ingredients to help my uneven skintone. 
As a disclaimer! I want to say that I don't have problems with using products that claim to have whitening properties; I think most of them rely either on lots of SPF or only have enough of the active ingredients to treat minor discoloration. On the other hand, I find it discomforting that international brands (namely Western ones) consciously develop, market and sell whitening products exclusively to Asian consumers. There's a distinction between creating a whitening line vs a brightening one and to choose to do the former is irresponsible given the erroneous yet prevailing belief in Asia that whiteness = beauty. Choosing not to acknowledge the problem in order to "cater to customer demands" is an weak excuse. If the purpose of the active ingredient in a product is to inhibit melanin production, then yes, it's a skin whitener and companies need to own up to it rather than trying to skirt the issue by renaming the product.
CLEANSE
Olay Regenerist Regenerating Cream Cleanser
A tiny bit drying, but I didn't mind it. Cleanser is the one product I'm uncommitted about
★★★☆☆
TONE
The Face Shop Aloe Fresh Toner
Smells wonderful and feels great, but the alcohol sort of cancels out the soothing effect of aloe extract
★★★☆☆
LOTION
HadaLabo Shirojyun Arbutin Whitening Lotion¹
★★★★☆
TREATMENT
Nature Republic Original Power Whitening & Lineless Ampoule
Haven't used this enough to rate it yet, but 5 stars for the packaging ㅋㅋㅋ~
DAY CREAM
Physician's Formula Hydrating & Balancing Moisturizer SPF15
This has a strange pump situation that I'm not sure I understand, but good all-around moisturizer
★★★☆☆
NIGHT CREAM
Sana Nameraka Soy Milk Cream²
★★★★★
EYE CREAM
Diorsnow White Reveal Illuminating Eye Treatment³
★★☆☆☆
LASH SERUM
L'Oreal Lash Boosting Serum
Sometimes I think it's working and sometimes I honestly can't tell. I just want luscious lashes :(
★★★☆☆
BLEMISH CARE
Eurocin-A 1% Gel
The only thing effective on my spots!
★★★★☆
¹ The Hadalabo Shirojyun Lotion is probably my newest most favorite addition to my routine and it's helped immensely with helping my skin feel softer and bouncier. It's not a lotion at all – the texture is more like that of a toner or the serum in sheet masks. It's meant to be patted onto the face for an added layer of moisture. HadaLabo makes an entire line of products that have super hyaluronic acid to help draw moisture to the skin – their Gokyujun Super Hylauronic Acid Lotion (white label) is so popular that a bottle is sold every 4 seconds in Japan. I bought the blue label Shirojyun version because it was on sale and I was interested in the arbutin (possibly brighter skin but might be self-fulfilling though), but I'm definitely trying the white label next time. 
² The Sana Soy Milk Cream is really nondescript in it's jar, but the formula is so wonderful and comfortable on the skin that I looooove it. The cream is thick and rich which makes it more suited for nighttime use, but it doesn't feel greasy at all and sinks in relatively quickly. The entire Nameraka Honpo line is fragrance-free, mineral oil-free, preservative-free and made from organic soy beans. SO AWESOME. This is my second jar and I still like it as much as I did the first time I bought it.
³ The Diorsnow eye cream is probably the only item on my routine I would advise against purchasing. I really wanted to like this eye cream because it was An Inve$tment, but it really didn't do anything for me besides what a basic eye cream should do – moisturize the undereye area without giving you milia. It's biggest selling point is that it lightens the appearance of dark circles, but I can't say I saw any improvement so for that reason, I would pass on getting another tube.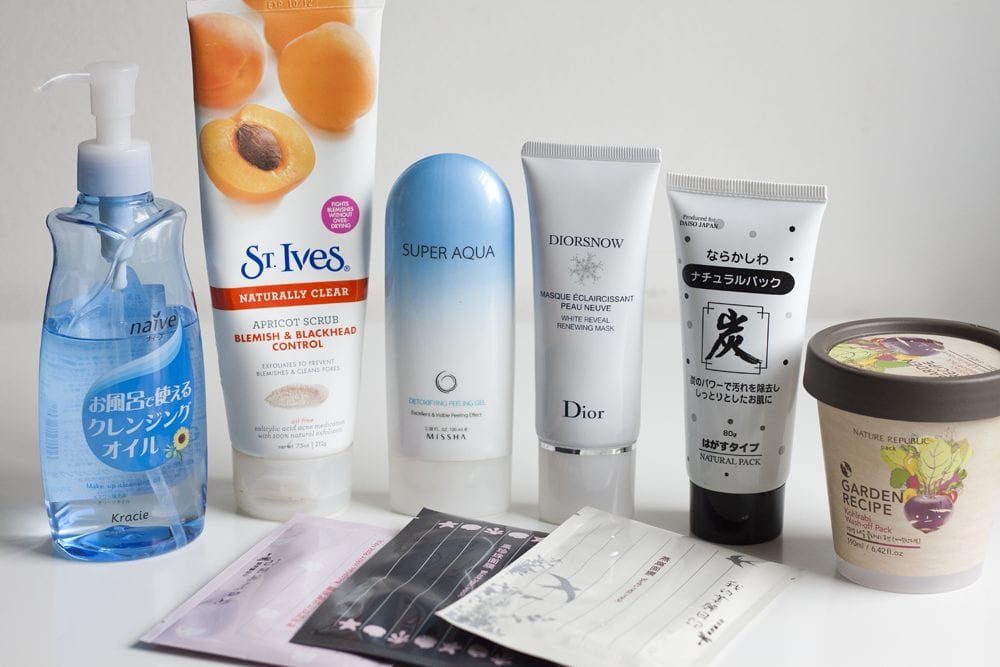 REMOVER
Kanebo Kracie Makeup Cleansing Oil⁴
★★★☆☆
EXFOLIATE
St. Ives Blemish and Blackhead Control Apricot Scrub
I refuse to acknowledge the "micro-tears" rumor if the source is not from a scientific source because I love a gritty exfoliator and this has always worked for me >:[
★★★★★
EXFOLIATE
Missha Super Aqua Detoxifying Peeling Gel Lotion
Gross skin fun is the best fun! I've been rationing this because I like it so much.
★★★★★
PORE CARE
Daiso Charcoal Mask
Nothing like pulling gunk out of your pores!! The charcoal is drying, but the dark mask makes it easier to spot all the gross bits HAHA
★★★★☆
MASK
Diorsnow White Reveal Renewing Mask⁵
★★★★★
MASK
My Beauty Diary Sheet Masks: Black Pearl, Bulgarian White Rose, Bird's Nest⁶
Black Pearl ★★★★★ / Bulgarian White Rose ★★★★★ / Bird's Nest ★★☆☆☆
MASK
Nature Republic Garden Recipe Kohlrabi Wash-Off Pack
A brightening and clearing mask I got recently that I'm liking a lot. It leaves my skin feeling comfortable and soft, which is always appreciated~
★★★★☆
⁴ Kanebo makes my oil cleanser of choice, which is the Kanebo Naive Deep Cleansing Oil, but I picked up Kanebo Kracie Makeup Cleansing Oil version to try because it claims that it works in the shower on wet skin as well. I'm not sure I can agree because I felt it was definitely more effective using it the regular way on dry skin. I appreciate the pump, but I think the Deep Cleansing version emulsifies better for a cleaner rinse.
⁵ The Diorsnow White Reveal Renewing Mask is MY MOST FAVORITE THING IN THE WHOLE WORLD. This mask is a dream to apply, makes my skin look great and is going to break my heart when I run out if it. I'm reluctant to repurchase because it's nearly $60 a tube, but I just love how it feels on my face :c It's a clay-based mask, but it doesn't dry to a tight finish if it's been on the face for over an hour. It's beautiful!!! If you get one thing from the Diorsnow line to spoil yourself, make it this ooooooone.
⁶ My Beauty Diary has so many varieties of sheet masks that I've made it a life mission to try everything. (That's an exaggeration, but knowing me I probably will do it.) Black Pearl and Bulgarian White Rose treat dry/dull skin and are bestsellers. Bird's Nest is new to the lineup and highly raved about, but I don't think I would purchase it again. The scent is artificial and it made my face itchy :/ Adding to the list of lackluster ones which includes Red Wine (itch & scent) and Apple Polyphenol (fumes made my eyes water)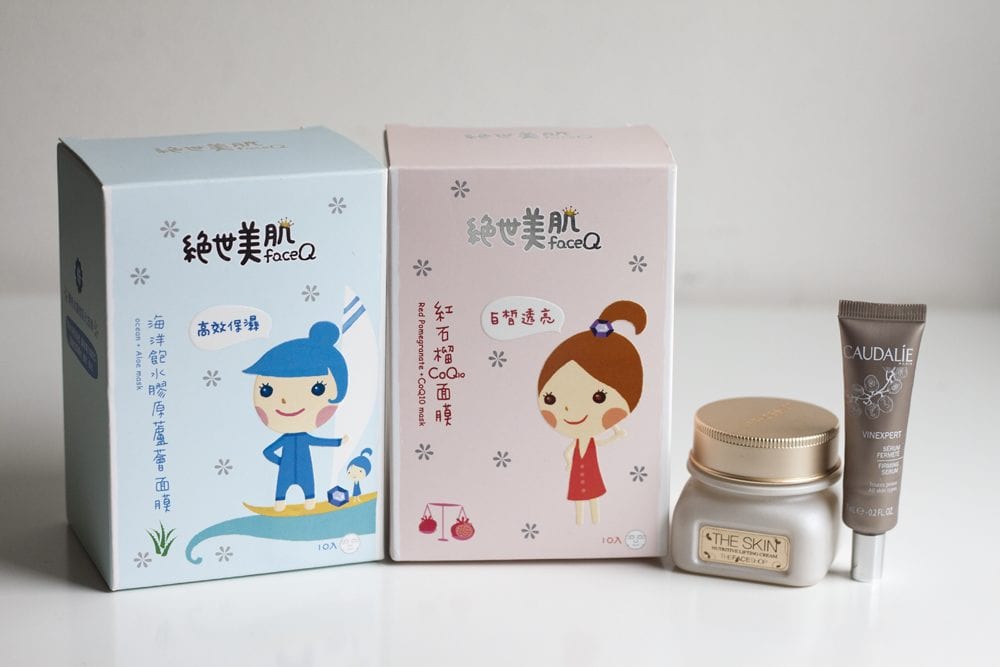 A couple of products that I finished using and thought I would include~
MASK
FaceQ Sheet Masks: Ocean + Aloe, Red Pomegranate + CoQ10
DEATHLY CUTE PACKAGING and great quality since FaceQ is produced by the same company that makes MBD masks. Thicker sheets too! Ocean was very hydrating and Red Pom had a tightening effect for firming.
Ocean + Aloe ★★★★★ / Red Pomegranate + CoQ10 ★★★★☆
NIGHT CREAM
The Face Shop The Skin Nutritive Lifting Cream
Felt really great when it was applied because it's thick and creamy but it never really sank in. I always felt like I was rinsing it off in the morning. The packaging is really lovely though~
★★☆☆☆
TREATMENT
Caudalie's Vinexpert Firming Serum
Smelled fantastic, but since it was a sample, I couldn't really see how effective it was. The tube was also only a third full so that was disappointing :(
WOW I'm sorry I have so much to say. Let me know if you have any questions about anything – I cut out an enormous chunk because it was getting overwhelming. I switch things often so I have opinions! on! everything! In fact, I'm currently hunting down a new day moisturizer and face mist and looking for solutions to the eternal plague of clogged pores. Tell me about the things you use and let me know if you have any recommendations!