I recently picked up the Revlon Nearly Naked foundation after saying good bye to my faaaavorite fancy lady foundation, the Dior Diorskin Nude Hydrating Glow Foundation, and I'm so excited by how much I love the Revlon that I thought I'd do a review on it. Sometimes I like to pretend I'm a beauty blogger!! There are a ton of reviews online already, but hopefully someone with similar skin needs as mine might find it helpful in figuring out if this is right for them.
Despite my love affair with the Dior foundation, I really wasn't ready to shell out another $50 for a new one. Instead, I had my eye on the much cheaper Urban Decay Naked foundation and was ready to make the jump, when Revlon released the similarly named Nearly Naked and the internet exploded with raving reviews. I am so weak to the power of social media… and to the fact that it was on sale at my local drugstore. I managed to snag the last bottle in my shade at $5.99 when I was going to pay $39 for UD, JEEZ.
I went with shade 130 Shell after spending way too much time looking at swatch photos. I've picked the wrong shade on! many! occasions! and I almost went with 120 Vanilla because Shell was so yellow in the bottle, but many of the reviews online from bloggers with a similar skintone (approx NC20-25) said Vanilla was much lighter than they expected. I'm glad I listened! Shell is a great shade to match my face to my neck and chest.
MORAL: LISTEN TO YOUR HEART, THE INTERNET (AND ME).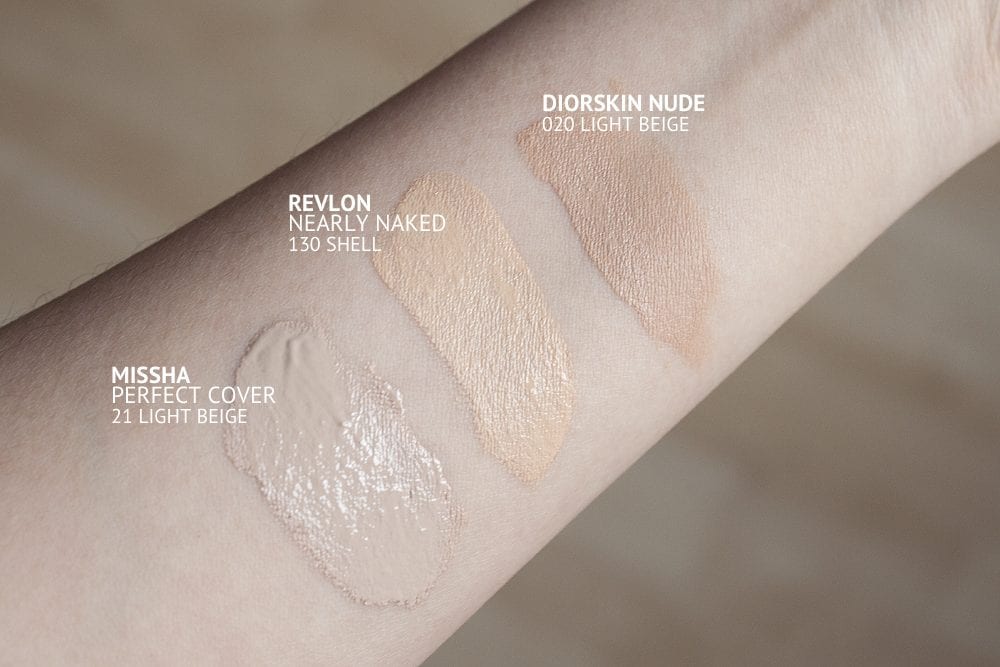 Some heavy swatches for reference. The underside of my arm is much lighter than my face so the swatches lean very yellow, but the Revlon matches perfectly in real life. I can still pull off the Dior if I do some heavy blending, but since it's a neutral toned foundation, the pink in the coloring is much more obvious. I compared both of these to the Missha M Perfect Cover BB cream, not because it's a great match for me, but because it seems like a lot of people own this BB cream. It's much lighter than the other two, leans pink and has a gray cast to it. You can also see how much thicker it is in comparison. I'm hoping to put together a better swatch collective of all my foundations/BB creams so I will ETA it into this post as soon as I can!
The formula itself is relatively watery but surprisingly pigmented. I don't see Revlon advertising Nearly Naked as a water-based foundation, but I'm guessing it counts as one since the first ingredient listed is water and I don't see a silicone near the top of the list. I love foundations and BB creams that are water-based because they're forgiving when my skin is feeling kind of dry and not in the best condition. Nearly Naked definitely had some slip and slide on the back of my hand and it's very lightweight when it's on my face. The trade-off with water-based foundations is that they tend to be sheer and thus don't offer the best coverage, but I think Nearly Naked does a pretty good job.


Not yet brave enough to show you a full face, but this should do the trick. The coverage is great! I'm wearing one layer of the foundation all over and dabbed a tiny bit more on my cheek where my spots are. It's a bit gnarly looking around my nose, but it was a mediocre skin day ;x You definitely have to exfoliate before you apply this foundation – it sits a little over my dry spots and laugh lines whenever I forget to exfoliate first. I was surprised by how good the coverage is, but I personally prefer light coverage foundations. Nearly Naked definitely doesn't have enough coverage to disguise the look of hyperpigmentation scars, beauty marks or severe dark circles.
I'm most impressed by the lovely glow that it gives the skin once it's on. Some people have mentioned that it gives a dewy finish, which I can understand, but unfortunately don't see. I think it has more of a satin finish on my dry skin. There's a nice sheen that I didn't expect at all. My skin looks effortlessly luminous – one step closer to being a Glowing Goddess °˖✧(n◡‿◡)✧˖°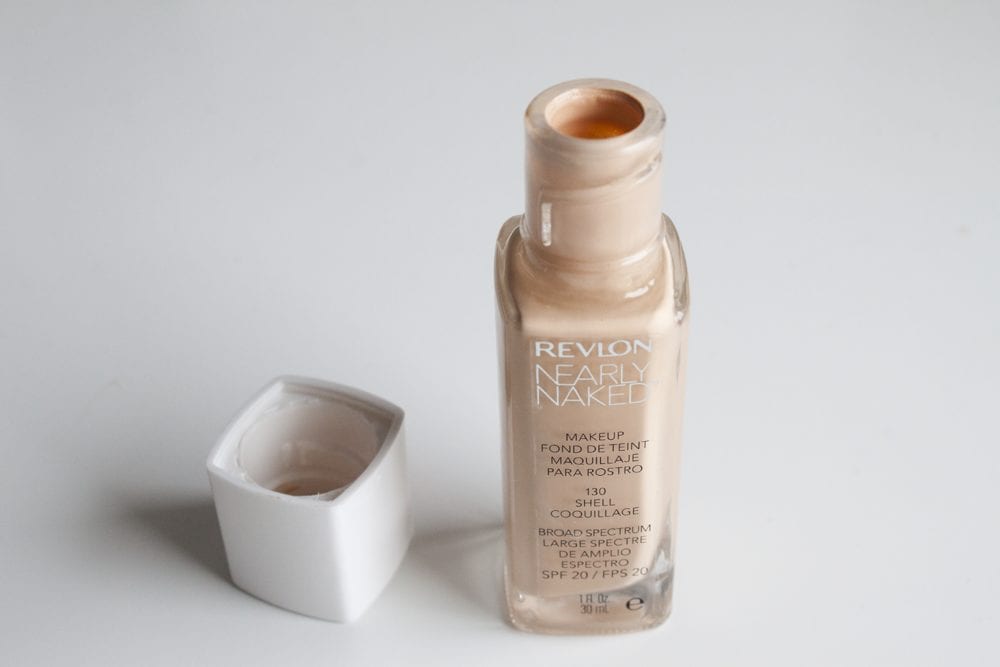 The biggest con I have about the product is the same one shared by bloggers all over, which is the lack of a pump. Pouring the foundation out isn't a terrible experience, but it is an inconvenience because I'll occasionally pour too much and then have to fiddle with it to get it all back in the bottle. I suppose that a pump would have driven the cost up a bit more, but I'm sure Revlon has heard for years that the beloved (and more expensive) Colorstay foundation could use a pump, so I don't know entirely get the reasoning for skimping on one with NN. It's not a deal breaker for me, but it might be for some.
I don't set my foundations with powder because of how easily most powders make my skin look cakey, but Nearly naked isn't transfer-proof even after I do. It lasts approximately 5-6 hours before I notice a significant amount of oil in my T-Zone and some of the product transfers even when I blot lightly. I feel like a low-wear time tends to be common with water-based foundations so I wasn't too upset at the discovery, but it could be bothersome for people who either touch their face very often or want a foundation that really lasts throughout the day.
ETA May 18, 2013
Updating this review to say that I've noticed some oxidation with this foundation on days that are a bit warmer. I'm not sure how I didn't spot it before, but a friend mentioned that the shade looked off in broad daylight. I did a test swatch a few days ago for my Beauty Routine post and noticed that it became several shades darker in a matter of minutes. I can't recall it doing this when I first got it so it may be a result of the warmer weather + more facial oil as a result, but I'll pay attention to it for a while longer to see how it fares in the summertime.
Despite the cons, I actually really love this foundation. The formula, coverage and finish at this price point is just out of this world. The things I find unsatisfactory about it are small concerns for me and I'm just ecstatic about how glowy it makes my skin look. Least amount of effort required! If you haven't already gotten a bottle, GO FOR IT!!!!
Price: $9.99 MSRP
Coverage: Light, Buildable to medium coverage
Finish: Satin / Dewy (oily skintype)
Shade Selection: 16 Shades are decent, but like most drugstore foundations, it might be easier for those who are on the lighter end of the skin spectrum.
Oil Control: Blotted at 3 hour mark (Combination skin)
Scent: None
Lasting Time: 5-6 hours
[toggle title="SO DO YOU NEED IT?"]

YES GET IT / PRO
+ if you don't need much coverage (even out skintone and hide light discoloration)
+ if you like a luminous natural skin finish
+ if you like a lightweight foundation that feels like nothing on the skin
+ if you like THE PRICE
NOPE DONT BOTHER / CON
+ if you prefer something with medium to full coverage
+ if you're big on products being hygienic because the lack of a pump will gross you out
+ if you have oilier skin, this might not last very long on the face
[/toggle]
PS! I'm considering doing a series of reviews on the foundations/BB creams that I own, but I'm afraid that it'll become 2390480 posts (jk I don't have that many) and get pretty repetitive. Should they be full length reviews like this one or short abbreviated ones? I'll take any suggestions!