Back in January, my wonderful friend V was in New York for a week and we embarked on excellent food adventures. In fact, our daily excursions were soley based on food, since V's idea of trip planning was just to make a list of the things she wanted to eat and then made me do the work (!!!) HAHAHAHAAHHAHA
I met V on the morning of the 3rd and after dropping off her luggage at my home, we headed out to Picnic Garden for all-you-can-eat Korean BBQ buffet. YES. Make no plans for afterwards because you'll probably be too full for anything and you'll smell like meat the rest of the day. MMM~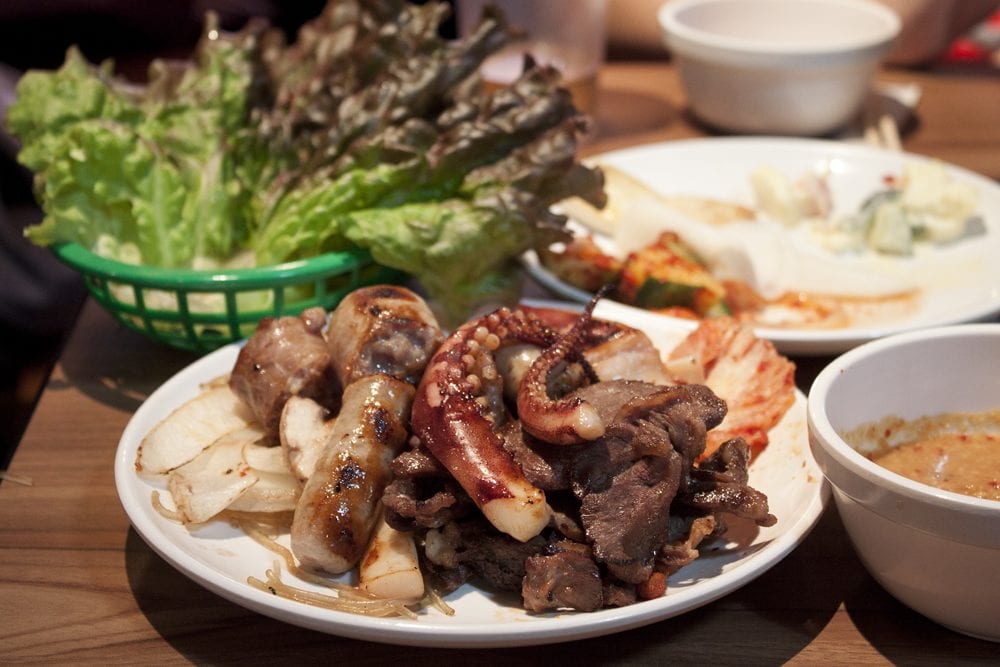 It was great as usual! I love the spicy marinated beef and especially squid legs, but I always make the mistake of eating too much kimbap. I was told that the dinner menu includes kalbi which needs to happen for me nowww. SO DELICIOUS, but definitely a bit harsh on the wallet for lunch. We also learned the hard way that we ate too much because we barely managed dinner that night.
We wanted to walk it off, but we only made it halfway to Skyview Mall before we had to turn around because of the cold. Actually, the weather during the entire week that V was here was an awful bone aching cold and this was just first our taste :/// So instead we got drinks from Kungfu Tea in Queens Crossing & V took hostage of my phone to chat with Liz (HAH).
There's a small shop near MNG by Mango that stocks some great makeup brands that are tough to get in brick-and-mortar stores like the beautiful Paul & Joe beaute collection. Among them were Deborah Lippmann nail polishesm so we took the opportunity to try two of the Holiday 2011 shades: Shake Your Groove Thing (gold) and I Love the Nightlife (graphite).
It was pretty late before we decided to brave the cold and grab something for dinner. We ended up going for a noodle dish at Xi'an Famous Foods a few blocks away. It was a tough time trying to order because we couldn't figure out the stall situation (dumplings we wanted were on a different stall's menu etc.), but we settled on…
Spicy Cumin Lamb Hand-Ripped Noodles from Xi'an Famous Foods
V really liked it! But personally it wasn't for me :( I only just learned that I don't like the taste of cumin and I've never been a fan of spiciness that just consists of heat. The lamb was tender and very flavorful, though. I might need to go back and try a different dish~~
· · ·
The next morning, my parents treated to dimsum at East Manor and V had the pleasure of having the THE BEST egg custard tarts in Flushing (ur welcome). There's a chef at East Manor whose only job before noon is to make egg custard tarts. They come fresh and piping-hot out of the oven every 20 minutes and there's always a line at the window because everyone who eats dimsum there regularly has developed an egg tart 6th sense. The chef, however, never cracks a smile, but I hope one day that he will get the recognition he deserves for his banal but delicious concoction. Another favorite that V got to try is a sweet glutinous flour pancake (甜薄罉) filled with sugar, crushed peanuts and shredded coconut :9
We headed to the city afterwards to do some shopping in Muji and later some perusing at the MoMA Design Store. V had Momofuku Milk Bar on her food list and we were planning chicken & rice from the Halal cart for dinner, so it was a perfect place to spend a few hours.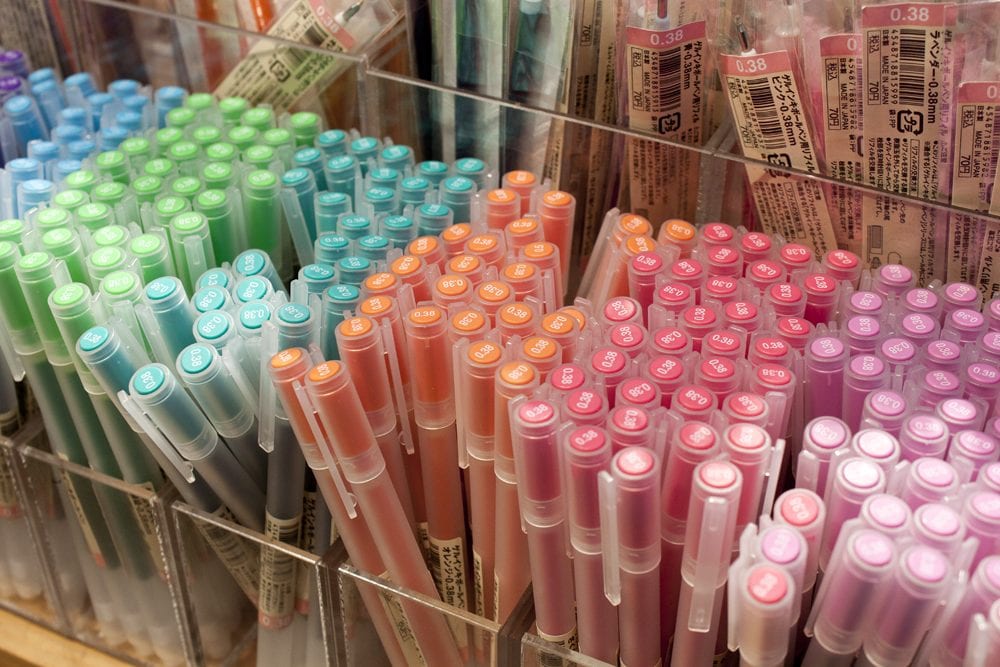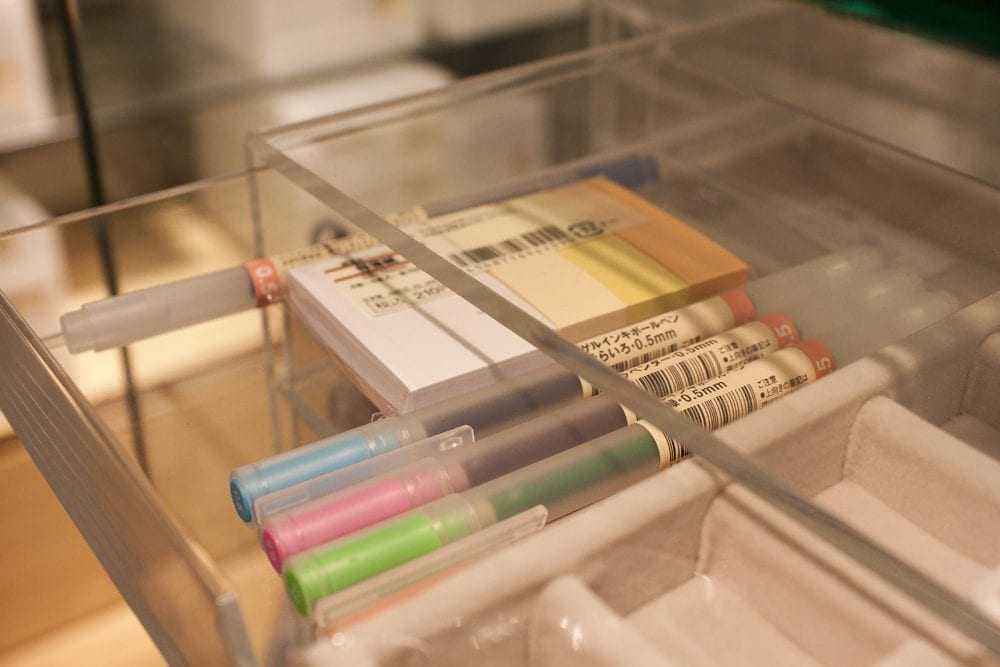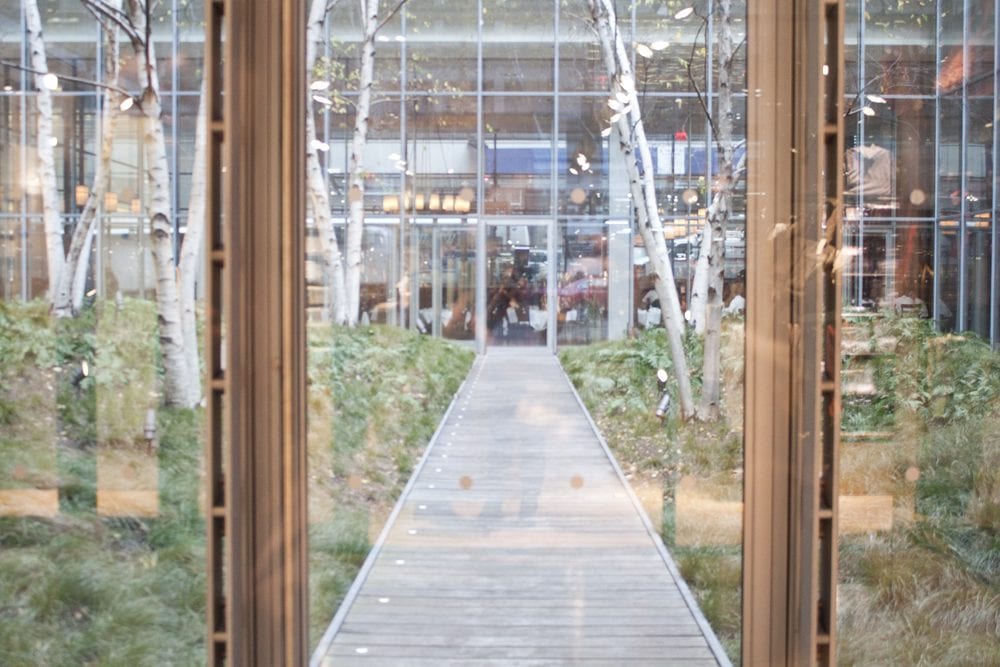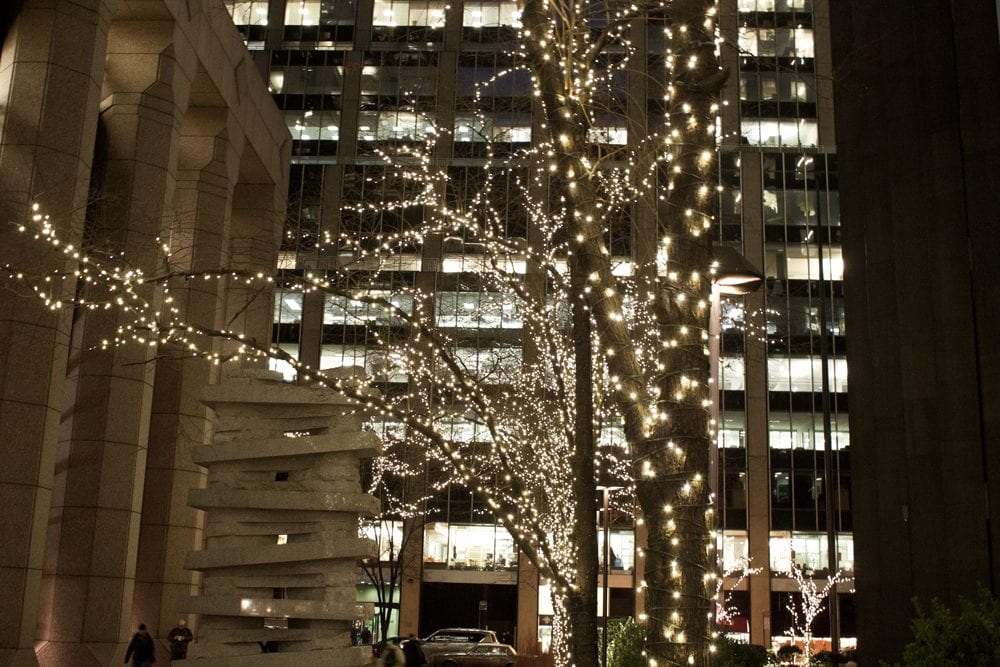 The Momofuku Milk Bar location in Midtown isn't nearly as large as the one in East Village, but it was still very ~*chic*~. I wasn't in the mood for sweets so I didn't get anything (REGRET), but IIRC the menu had some unique selections like cornflake marshmallow cookies and actual milk jugs for sale. In/to spite of the terrible cold, V went for the cereal milk soft serve LMAO.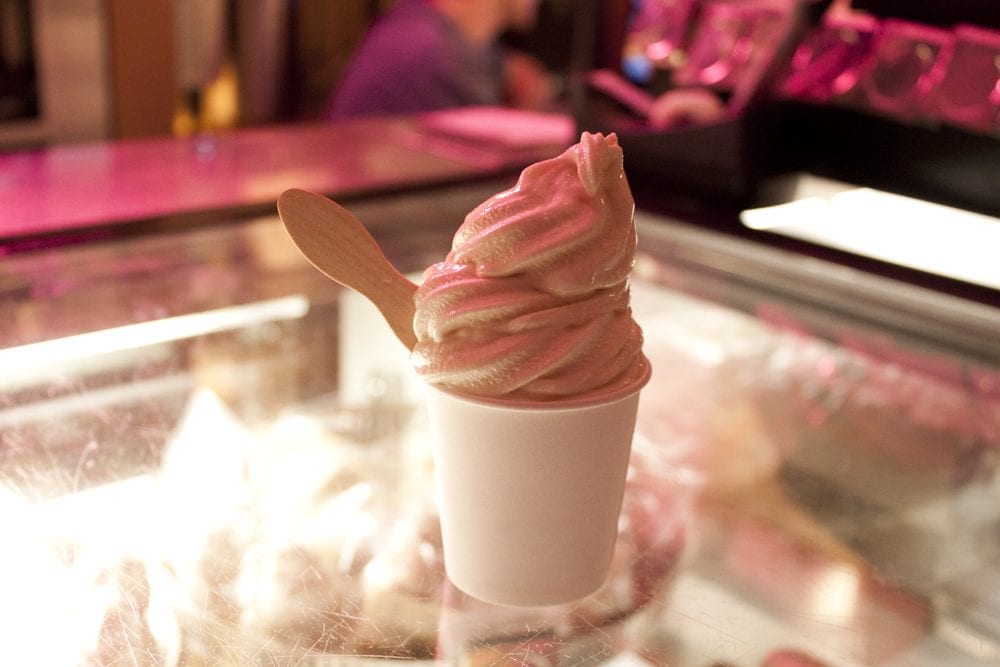 Once the 53rd & 6th Halal Cart opened, we got on line and picked up a serving of chicken & rice to share. Then we made the foolish decision to attempt to eat the whole meal outdoors on cold stone seats. That was the worst… especially because we were headed to Rockefeller Center next and there is indoor seating ahswojdlsjzk.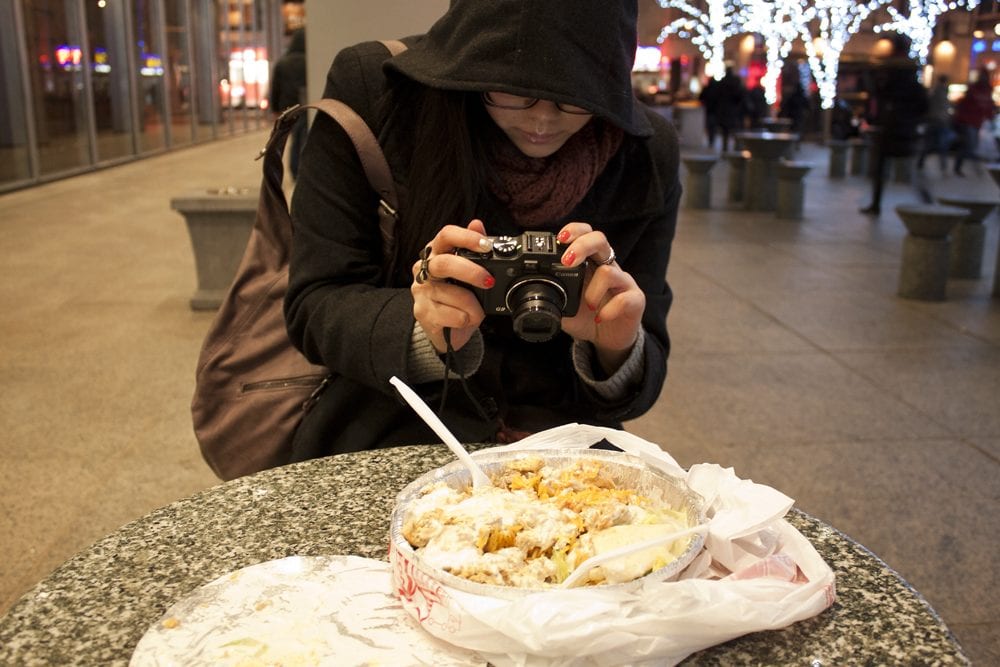 Pylones had some neat products for sale, but the staff called me MA'AM when he asked me not to take photos inside and I did a double take. MA'AM.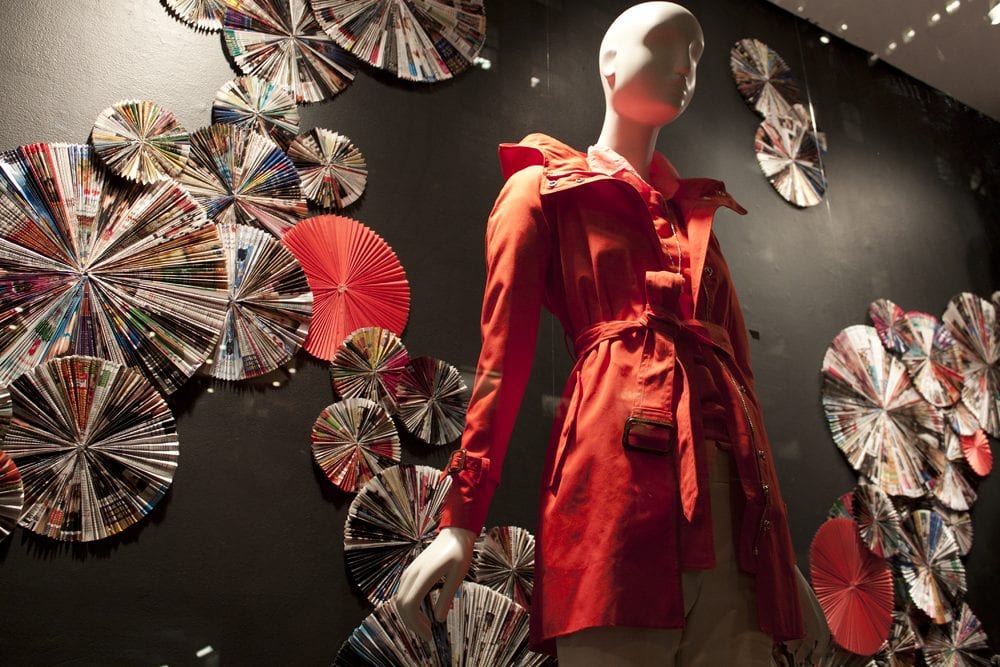 The walk to Rockefeller was only a blocks, but it was so frigid out that we had to duck into stores and banks along the way to warm up. But it was absolutely nothing compared to how cold it was when we finally arrived at Rockefeller Center. The cold air whips around the tall buildings and it strikes down with a vengeance. RETURN OF THE ICE AGE. It was a new level of misery for us, but everyone else seemed extra cheerful because of the festivities and the beautiful tree~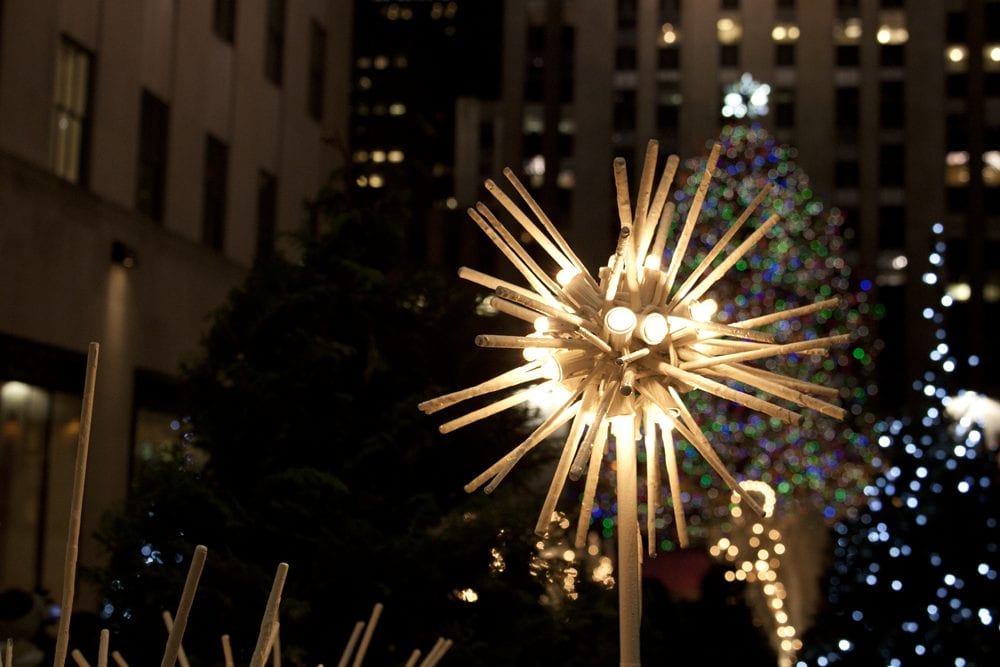 So lovely! I hadn't seen the tree since I was a little girl so it was a nice experience to see it in all it's fully-lit glory at night. A lot of the shops in the center were closed by the time we got there so we headed downstairs for coffee (and I was reminded that there are seats AHAH) and then hopped on the train home.
· · ·
On Thursday, we had lunch with CM, whom I met on a lunch date with another friend in 2011, at Tiny's Giant Sandwhich Shop in the Lower East Side. It was a really quaint tiny (HAH) sandwich place with really cute decor: exposed brick, chalkboard menus & natural wood tables. CUTE.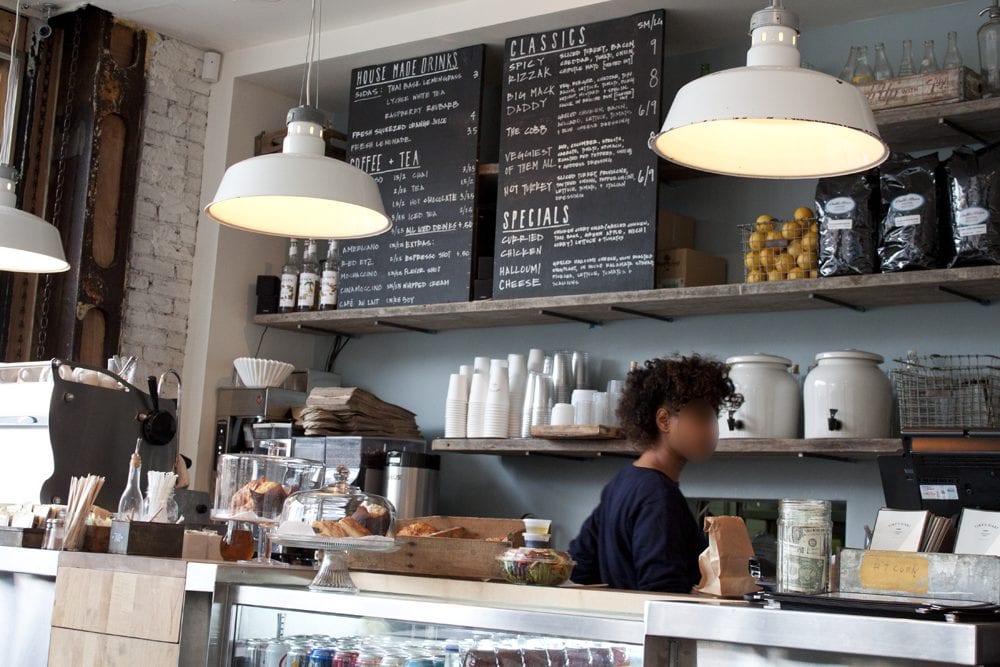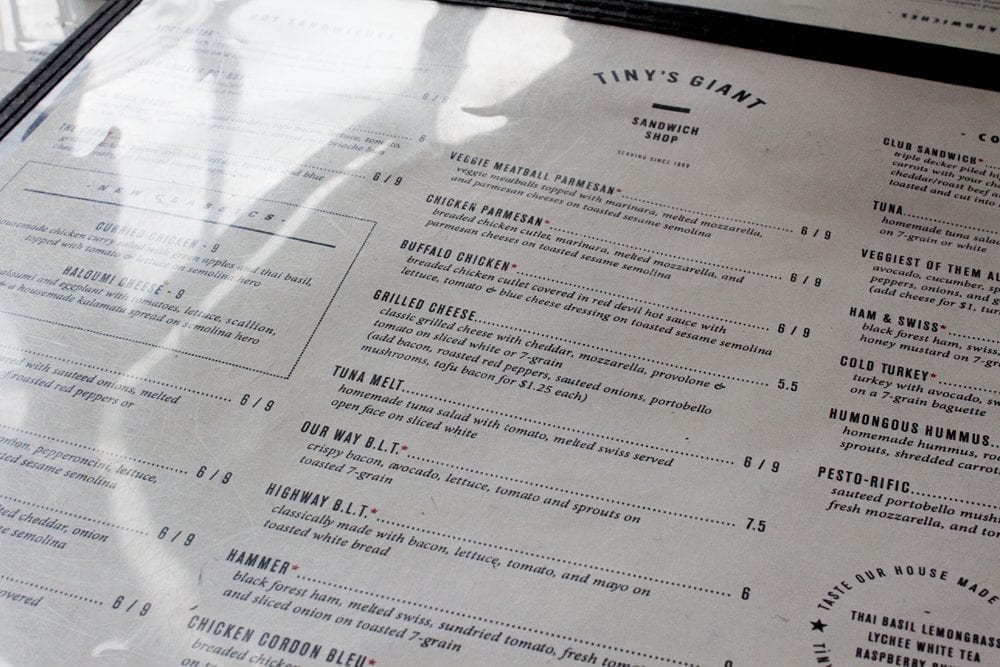 The sandwiches were incredible!! We ordered the Spicy Rizzak, The Cobb and Southwestern Chicken and had them cut so we could share. Each order came with a side of crispy potato chips~ I think my personal favorite was the Spicy Rizzak!
ohhhh yeahhhhh
V and I picked up Moleskine notebooks at an Exit 9 Gift Emporium, (mine is still empty LOL), walked around the LES area for a bit and then headed north to Big Gay Ice Cream for ice cream AGAIN.
The Gobbler: pie pieces, whipped cream, apple butter & bourbon butterscotch
The three of us spent a few hours shopping in Soho and found ourselves wandering the streets of Nolita lamenting over the lack of a warm place to hide, when we rounded a corner and AS IF IT WERE AN OASIS IN THE DESERT, found ourselves standing in front of a pop-up park??? How awesome! It was magic, honestly.
Park Here is an free, publicly-accessible, indoor park equipped with fake grass, benches, HEAT and even a hammock! The only con was that it was only a temporary installation; The space is owned by Openhouse Gallery who rents out the spot to brands/companies/teams that need a place for events or projects. We managed to catch a visit right in the middle of the season (rumor is that it will be open again next January~)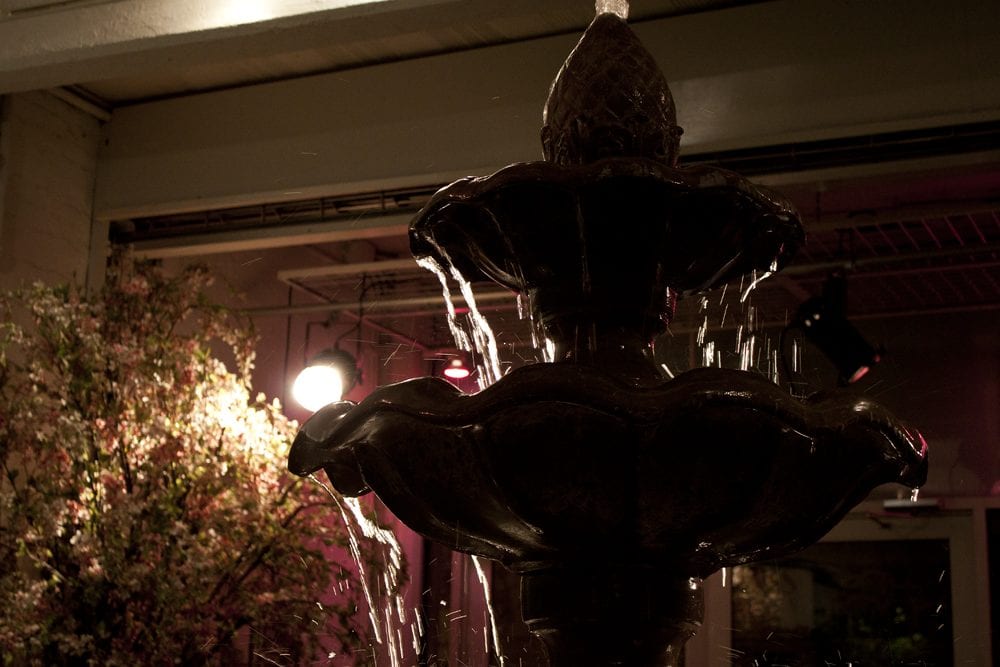 HAHAHAHAHA matching rings
We were having a grand time, when a stranger with an enormous camera approached us and starting a conversation about photography after seeing us take photos. He mentioned that he was a famous photographer and I was legitimately interested in learning about his work until he commented about our "Americanized names" and very nonchalantly made racist remarks about his time spent working in China. Unbelievable. CM dismissed him SO QUICKLY.
On our way back to Flushing, we stopped at Grand Central for some photos and then popped into the food court at New World Mall for some late night snackin'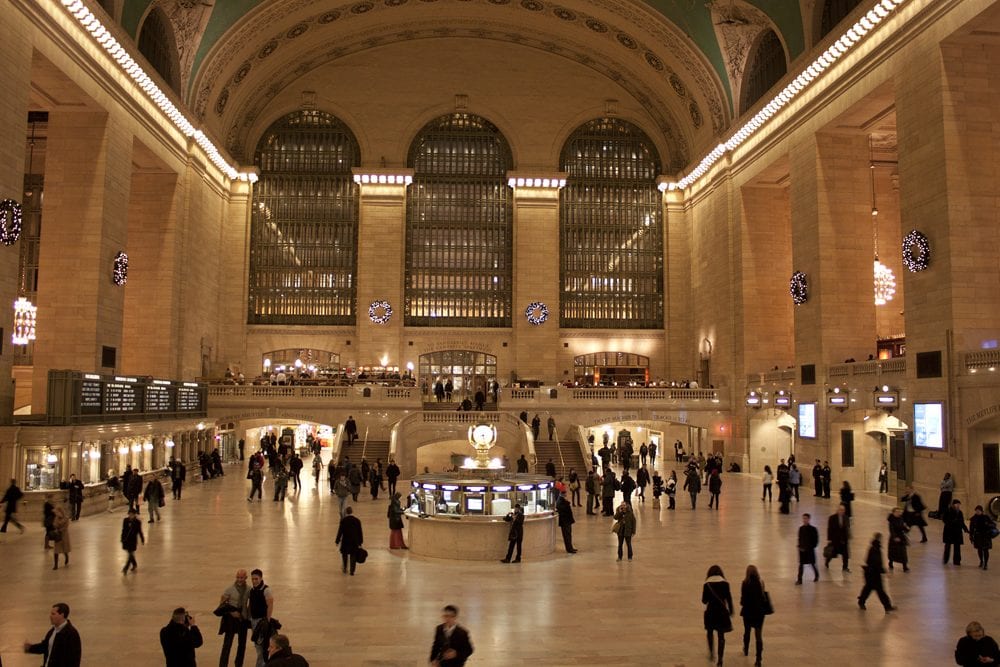 Beautiful constellation art on the ceiling of Grand Central Station
Pan-fried pork buns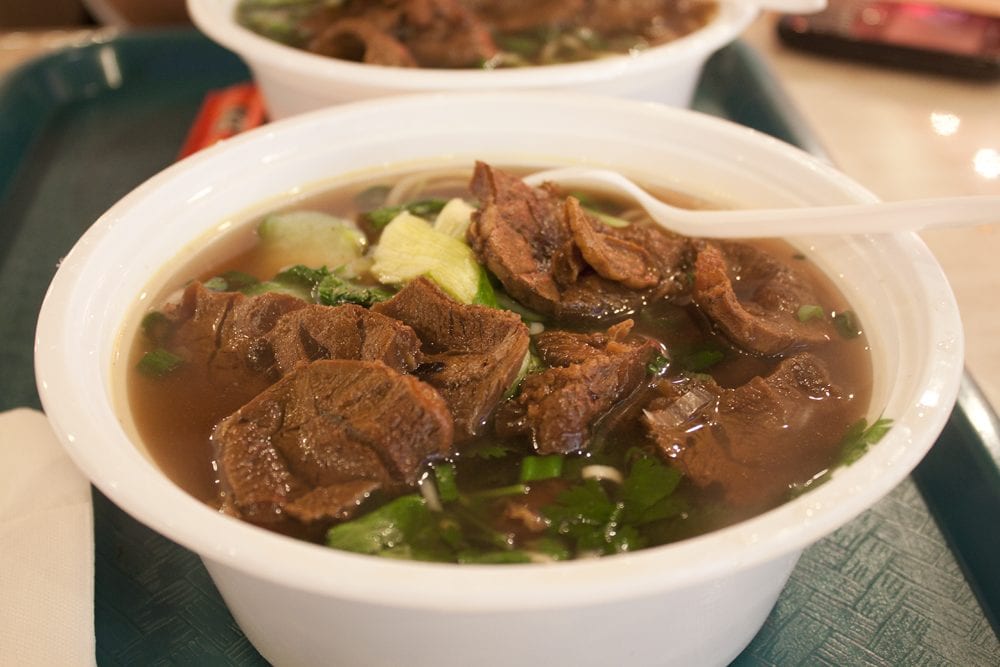 Hand pulled beef noodles from Lanzhou Hand Made Noodles
The rest of the night was spent watching back-to-back episodes of Running Man with Liz (SADDEST FRIENDSHIP) and doing face masks (◡‿◡✿)
· · ·
We lost precious sleep time staying up, so Friday went veeeeeeery lazily. We even managed to watch all of Genesis of Beast DVD (which was my birthday gift from V – THANK YOU!) before we mustered enough energy to get ready. FINALLY, we dragged ourselves out of the house and headed to Eataly where we cried over all the fancy gourmet & artisanal foods.
Didn't know Eataly stocked Davines products!!
V FELL IN L♡VE with the Flatiron building, which happened to be hosting artist work in the large display area entitled "Hypergraphia: The Cup Drawings" by Gwnyeth Leech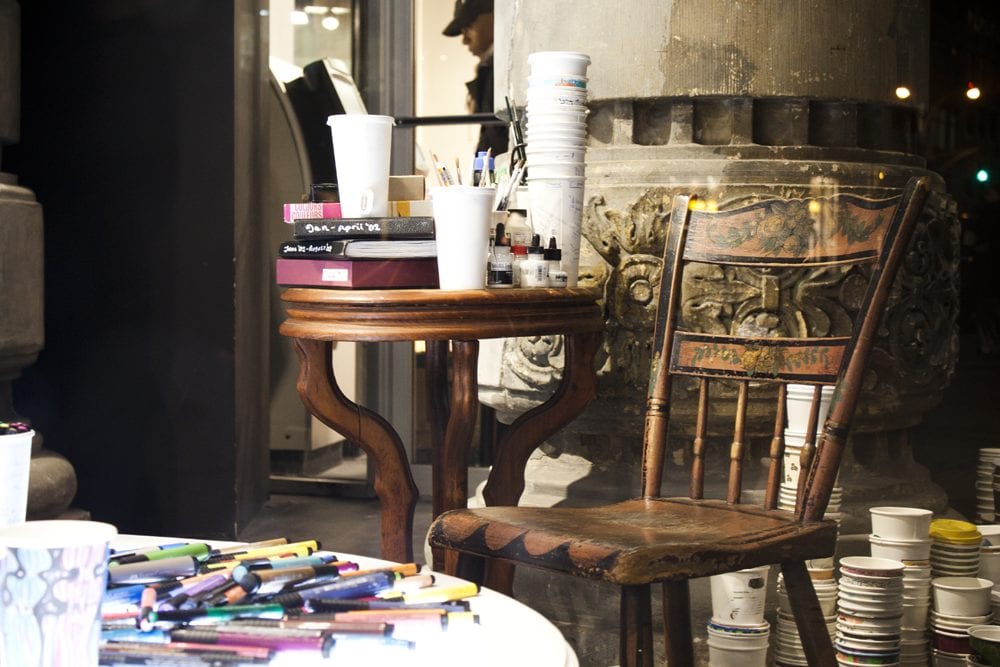 We passed over Shake Shack because V tries it last time (STILL LUV U SS) and went for Belgian fries at Pomme Frites, a small specialty shop that makes the most incredible fries with a huge array of sauces. There are SO MANY SAUCE OPTIONS. TOO MANY OPTIONS!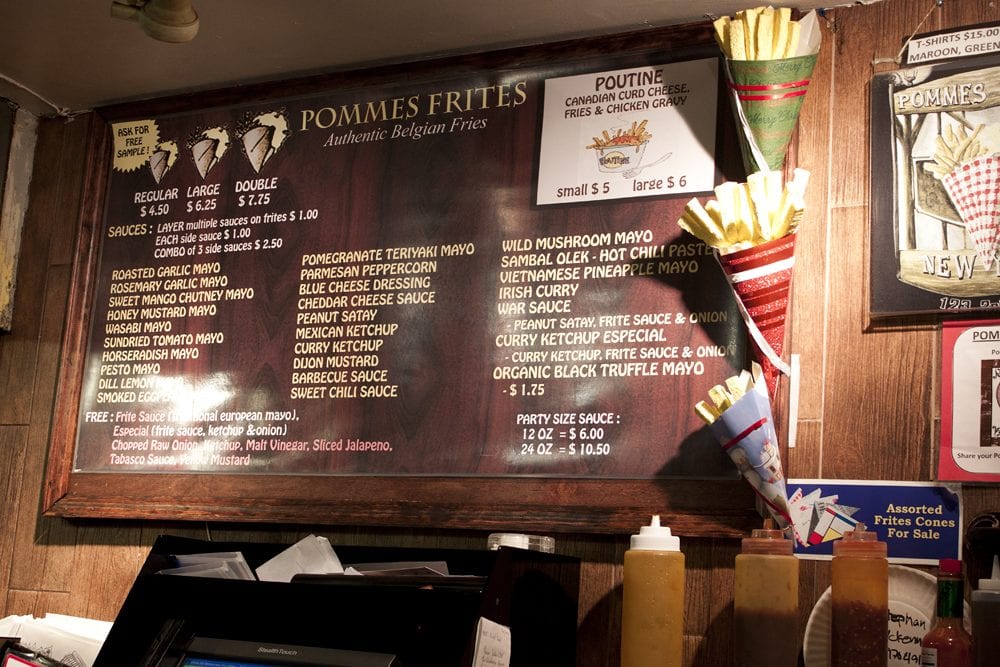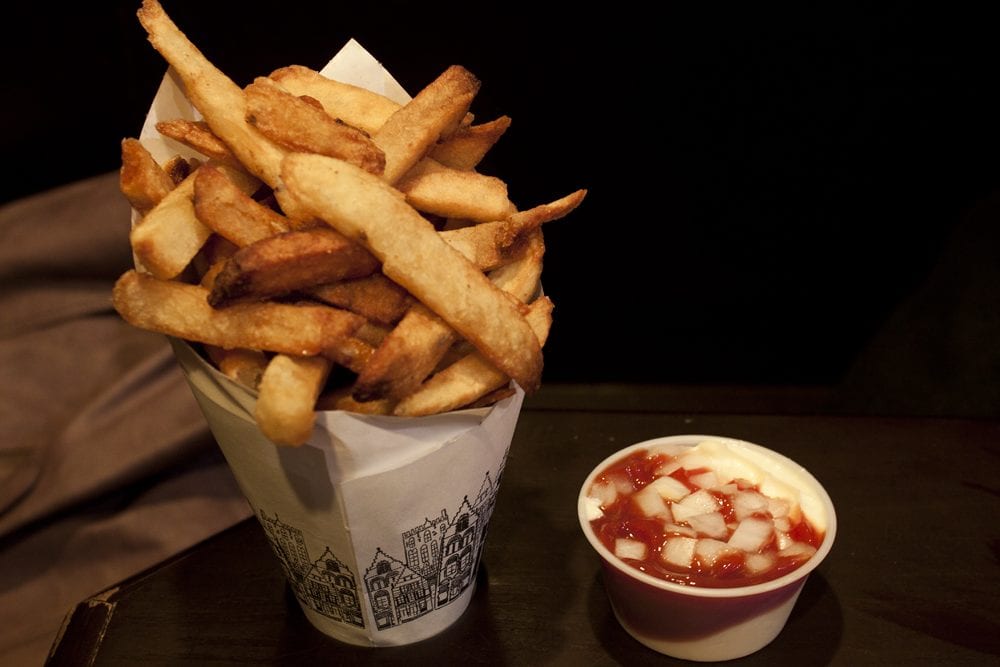 We settled on large fries with Especial sauce (Frites sauce, ketchup and raw onions) and it was sooooo goooooood. The fries were seasoned to perfection and hot to the touch. I really need to go back and try some of the other special sauces on the menu like one of the cheese sauces or mushroom mayo omg. The location was a very crowded near the entrance when we got there because it's a small shop, but if you're staying and willing to push through, there are seats in the back where it's much quieter. The fries are served in a pointed paper cone and the tables/countertops have holes drilled into them for you to slip the cone into – ingenious!
Afterwards, we did some belated x-mas gift shopping at Anthropologie and also slipped into Magnolia Bakery where V picked up a Banana (Bread) Pudding. IIRC, we were aiming for a pistachio cupcake (I LOVE PISTACHIOS), but they were all sold out. I had a taste of of the Banana Pudding and it was scrumptious!! Magnolia is always packed with people so I've this lonely photograph to document it…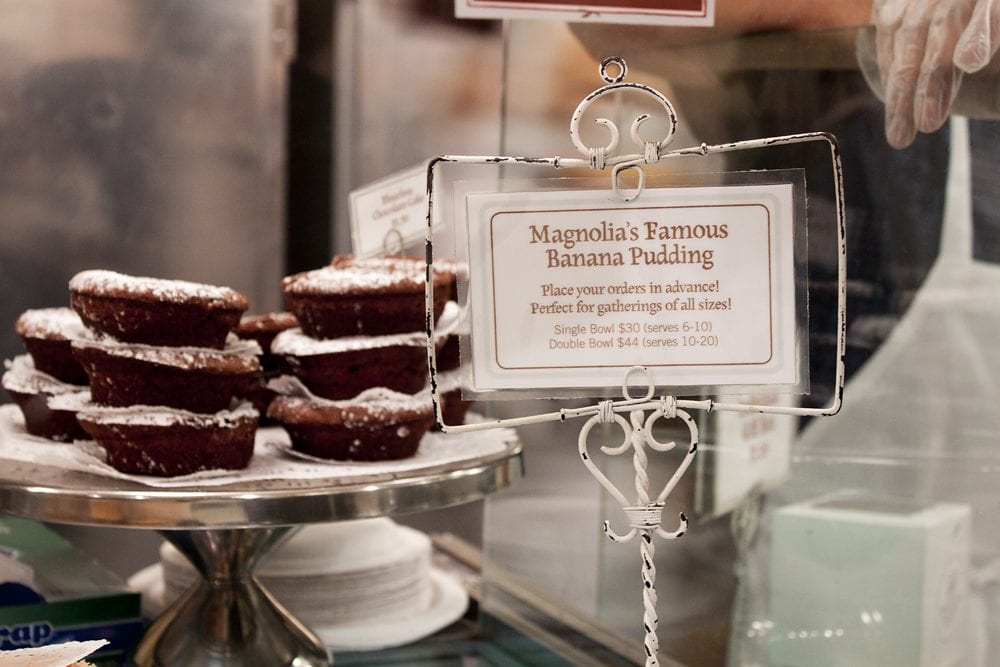 · · ·
The next day, V met up with a couple friends who wanted to get dimsum and asked me to tag along so I could take everyone to a restaurant. Afterwards we actually did some grocery shopping HAHAAHA because Flushing has some great supermarkets?! Since there wasn't much to do, we hopped on a train to the city in search of more food excitement. Our first stop of the night was the Doughnut Plant location in Chelsea and despite the getting there earlier than we did last year, a ton of flavors were still sold out!! SHAME.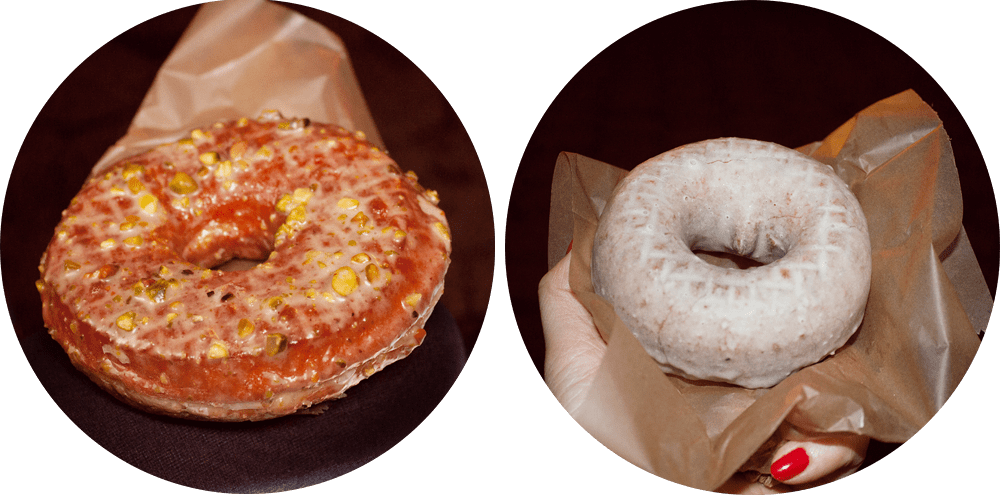 I got my hands on a something pistachio! A Pistachio Cake donut for me and V had a Tres Leches Cake donut. The "cake" in the name differentiates the texture from the yeast or filled options – the cake kind is made with unleavened baking powder so it's much more dense and buttery. We actually saved the donuts for after we went to our next location, but when we did try them – they were pretty good! V brought up how much better the pistachio donut would have been if it had pistachio cream and I didn't know I wanted it until I heard it!! I thought the Tres Leches was a bit too sweet, but V was a big fan~
V's friend is a big fan of mac&cheese and so I told them about a place called S'MAC that my college friends took me to a few years ago. In my defense, the last time I was there was during my freshman year (5 years ago!!) and so equipped with my terrible navigation, I guided everyone down the street the wrong way – we ended up in front of the take-out version of S'MAC when the original shop with seating and skillet pans was only 2 doors down. I AM THE WORST.
I believe this is the nosh (small) Cheeseburger Mac that I shared with V, but mac&cheese does not photograph well huh
The mac&cheese was as great as I remembered it, but it was a bit pitiful eating it on a park bench instead of in the shop. My great apologies :( However, it was still! not! enough! to curb our ravenous appetites so we went for dessert at the Dessert Club, ChickaLicious. The bit about knowing places are good because of the crowd? 100% true because despite the time and weather, ChickaLicious was overflowing with customers. It was a struggle to find a seat/standing room and I had to wiggle my way to the front to place our order, but it was worth it for…
THIS BABY. One of ChickaLicious' signature desserts, the Cookies & Cream ice cream sundae. INCREDIBLE! It was humongous and definitely an ice cream lover's dream. A few people actually gave up on the menu and just asked V and I what we were having LMAO. V's friends had a green tea cake, but there are so many options on the menu that I can't remember the specific one – they said it was good!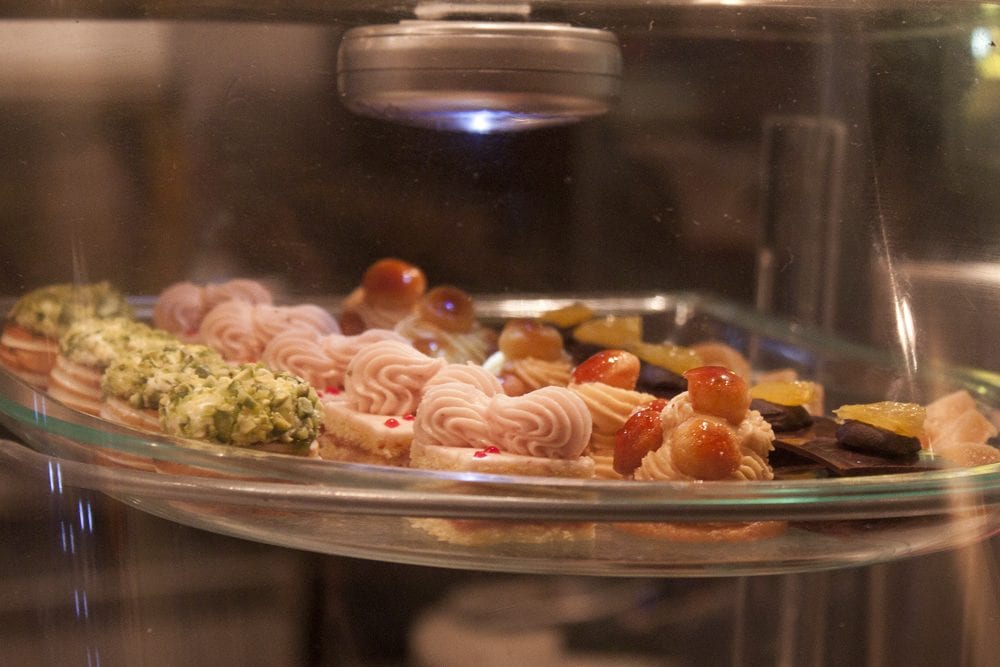 A selection of petits fours by the counter
LOOK AT THIS. Another one of the signature desserts, the Choc Éclair Ice Cream Sandwich, that I was contemplating because it looked amazing.
The night ended after we escorted V's friends to their train and bid them farewell!
· · ·
The last day :( V is a T E R R I B L E packer and left everything for the morning of (TSK!!!!!) so it was a slow morning of sitting whining and shoving things into her luggage. Dragging her luggage throughout the city would have been a disaster, so we went for lunch first at Food Gallery 32.
Jjamppong (짬뽕) from the Jin Jja Roo
AAAND a split order of jjajangmyeon (짜장면) and tangsuyook (탕수육)
CAMERA INCEPTION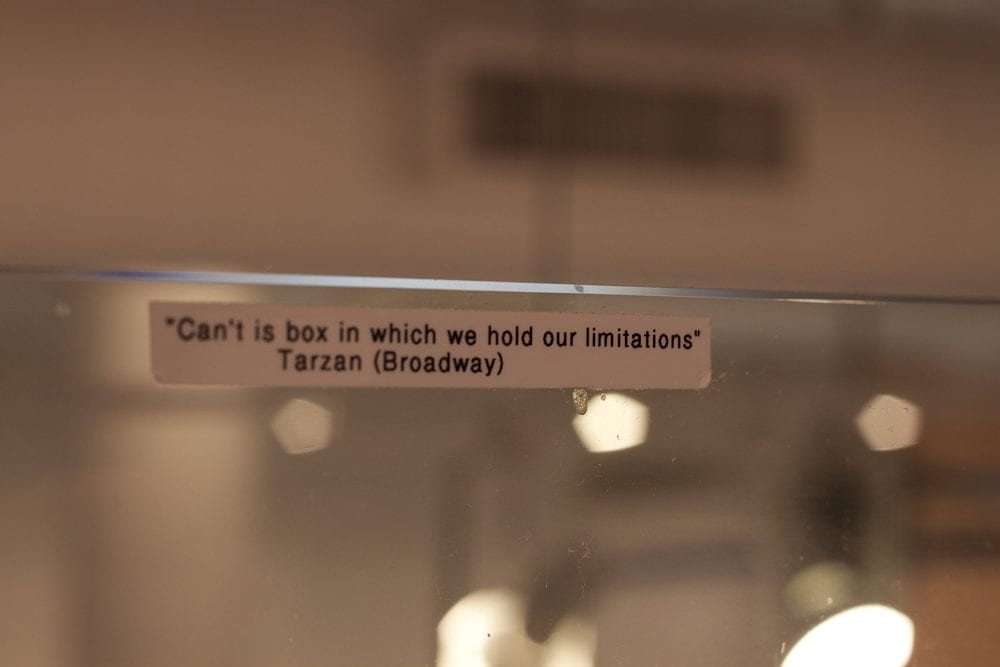 Tarzan on Broadway is not a source that would come to mind if I was in need of a quote
After getting some Red Mango downstairs (V claims she is a flavor mixing expert!!), we crossed the street to Woorjip aka the Best Place Ever so that V could get some lunchboxes to go for her trip home. I could devour everything in Woorijip >8E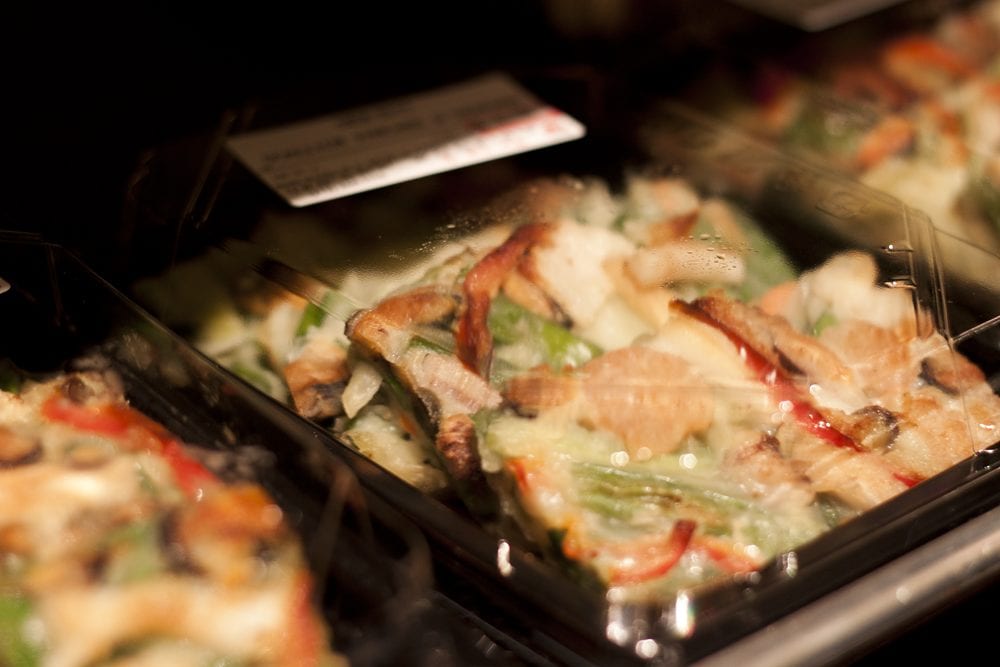 We went to a few more shops, but before long it was getting dark so we got back on the train, went back to Flushing, got her luggage and went back to the city for a quick dinner at Go!Go!Curry! because of it's proximity to the Port Authority Bus Terminal.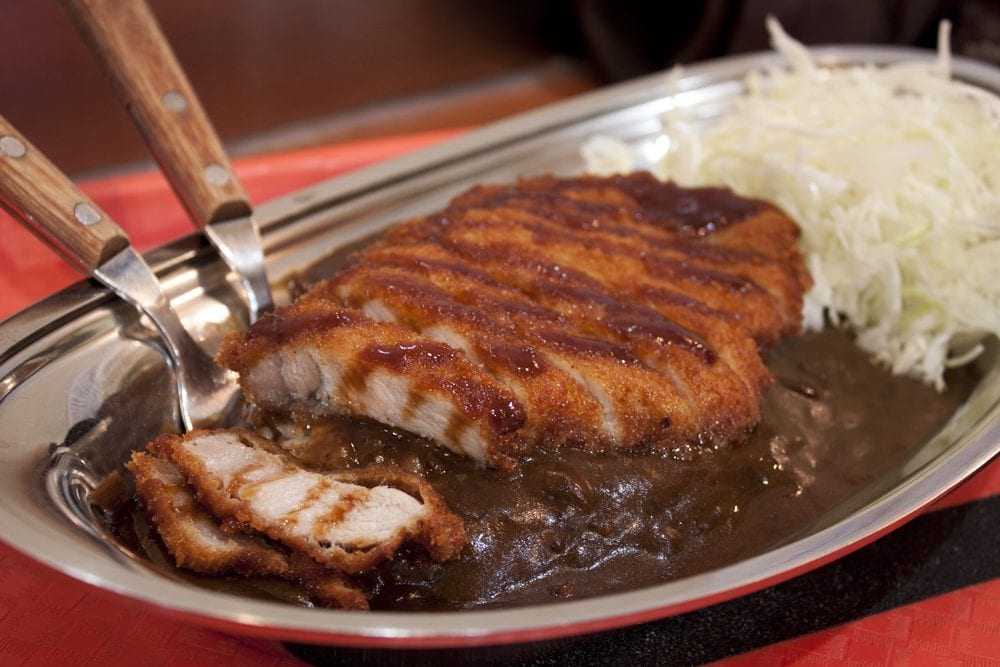 And then it was gooooodbyyyyyye and I got way more emotional than I should have HAHA. It was a tiring, but awesome week spent with one of my closest friends just eating incredible things and chatting about the mundane. Because V stayed with me the whole time, it was 24/7 friendship and I grew attached to having someone to share all my time. Saying farewell was surprisingly sad, but like all great internet friendships we made sure to pick up where we left off via sns KEKE.
♥ NEW YORK MISSES YOU V!!! ♥
---
[toggle title="Location Location Location!"]
Picnic Garden
14742 Northern Blvd
Flushing, NY 11354
TEL: (718) 358-5959
Xi'an Famous Foods
41-28 Main Street Bsmt #36
Flushing, NY 11354
East Manor (Murray Hill)
4645 Kissena Blvd
Flushing, NY 11355
TEL: (718) 888-8998
MUJI Times Square
The New York Times Building
620 8th Avenue (40th st)

New York, NY 10018

TEL: (212) 382-2300
MoMA DESIGN STORE
44 W 53 Street

New York, NY 10019

TEL (212) 767-1050
Momofuku Milk Bar
‪15 W 56th St‬
‪New York, NY 10019‬
TEL ‪(347) 577-9504‬
The Halal Guys
53rd St & 6th Ave
New York, NY 10019
HOURS: 7PM – 4PM
Tiny's Giant Sandwich Shop
129 Rivington St
(btwn Essex & Norfolk)
New York, NY 10002
TEL (212) 228-4919
Big Gay Ice Cream
East Village
125 East 7th Street
(btwn 1st Avenue & Avenue A)
New York NY 10009
Openhouse
PARKHERE (WINTER ONLY)
201 Mulberry St
New York, NY 10012
TEL (212) 334-0288
Eataly
200 5th Ave
New York, NY 10010
TEL (212) 229-2560
Pomme Frites
123 2nd Ave.
New York, New York 10003
TEL (212) 674-1234
Doughnut Plant
220 W 23rd St
New York, NY 10011
TEL (212) 675-9100
S'MAC
345 E 12th St.
New York, NY 10003
TEL (212) 358-7912
Dessert Club, ChikaLicious
204 E 10th St.
New York, NY 10003
TEL (212) 475-0929
Food Gallery 32
GUIDE
11 W 32nd St
New York, NY 10011
TEL (212) 967-1678
Woorijip
12 W 32nd St
New York, NY 10001
TEL (212) 244-1115
Go!Go!Curry!
273 W 38th St
New York, NY 10018
TEL: (212) 730-5555
[/toggle]