I've got a huge backlog of Memebox posts and with two boxes in the mail (plus a few more scheduled for the rest of the year), it's about time I get these posts out of the drafts. I'm aiming to have all of them by the end of the month, but I'll do my best to space them out in case they're not your cup of tea. I have a problem and it's that I looooove makeup & cosmetics too muuuuuuuuuuuuuuuuuuuuch. Anyway, Box #8!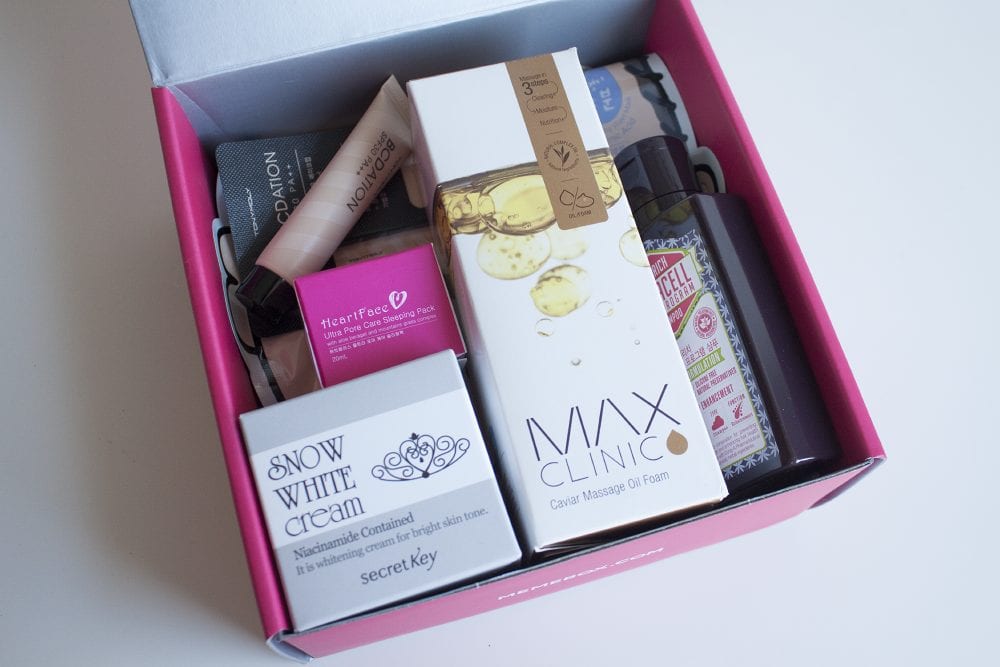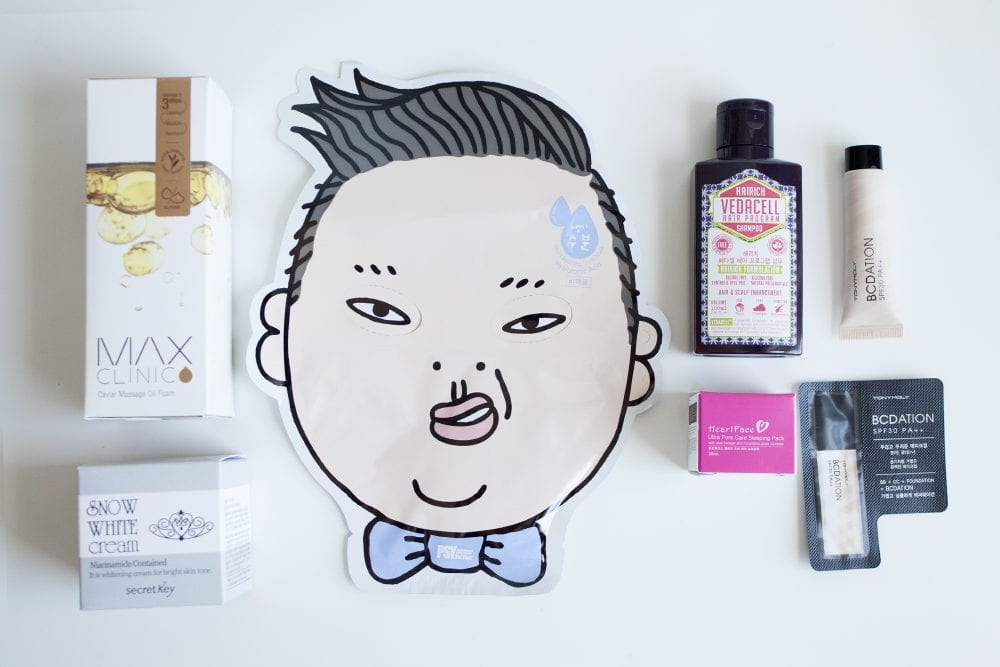 I missed out on boxes 5-7, but managed to snag Memebox #8 which arrived with 3 full sized products and 3 deluxe samples. While I got some uses out of each of the products, I must admit that this box was kind of let down.
· · ·
Hairich Vedacell Program Shampoo (100ml)
Full Size: $23 for 340ml – Sample value: $6.76
In box #3, I received a dry shampoo, but box #8 came with a super cute bottle of shampoo. I appreciate the shampoo being large enough for more than one use and I love the name of the brand – if anyone is Hairich, it's ME – and I barely get any use out of satchel samples. The Hairich Vedacell Shampoo is a "4 in 1 complete shampoo free of sulfates, silicones and synthetic dyes, " which means that, like the aforementioned dry shampoo, it doesn't lather up. It's technically better for your hair, but it's REALLY hard trying to distribute un-lather-able product through almost two feet of wet hair… It gives a nice clean, but nothing extraordinary so I don't know, personally, if it's worth the struggle in the shower. It smells like herbs/natural ingredients which I love, but may be a deal-breaker for others. I think I feel a cooling tingle from the product as well, but that might just be me.
· · ·
Tonymoly BCDATION SPF 30PA++ – Pink Beige (8ml)
Full Size: $27 for 50g – Sample value: $4.32
I'm always excited to get to try new base products, but unfortunately, the Tonymoly BCDATION just didn't impress. This was my second time with a Tonymoly product; the first being the very popular Tonymoly tint which I loved in spite of issues with the application. The BCDATION (short for BB cream, CC cream and foundation) is another beloved TM product in Korea so I was excited to try it, but I knew it was wrong for me the moment I dispensed it. It felt too heavy, was more coverage than I needed, was the wrong shade and didn't give me a finish that I liked. On my skin, the BCDATION just sort of sat on top of it, never blending in no matter how long I was wearing it. I think this would work a lot better for individuals with oilier skin than myself, who are light-medium with cool undertones and need medium coverage. I saved the satchel sample for future swatches, but gave the tube sample to a friend who might get better use out of it.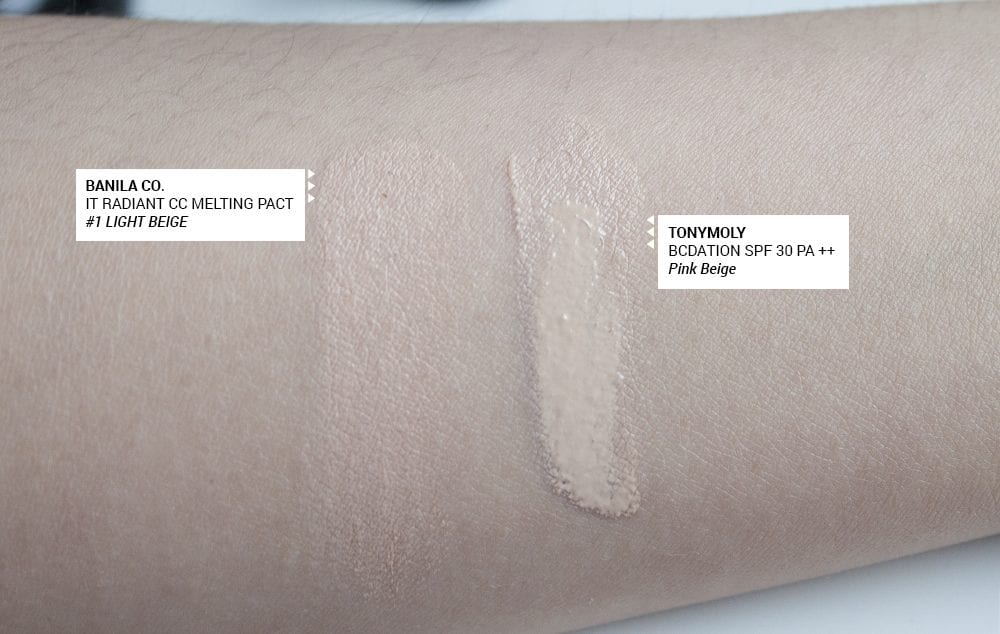 While I appreciate the foundation sample, I can't help but wonder how much of a waste this must have been for people who didn't even come close to the shade included. I think most people who like Asian cosmetics know that their base products usually only come in one or two shades, which is why some won't even bother with them if they're not a specific shade of pale. I can't imagine the logistics of having to set up a preference system for boxes, but Memebox could consider putting a notice on the product page about a foundation possibly being included. I hope that they're at least sending customers some points for including a product they can't use.
· · ·
Heart Face Ultra Pore Care Sleeping Pack (20ml)
Full Size: $49 for 100ml – Sample value: $9.8
I've gotten into sleeping masks lately because I'm Extremely Lazy and so the whole notion behind getting an extra concentrated boost of moisture or a tightening treatment without the secondary work (rinsing my face afterward and then going through my skincare routine or spend another 15 minutes patting leftover essence in) is naturally very appealing. Over the last few years I've cried about the Laneige Water Sleeping Pack_Ex because I was convinced that it was going to be a holy grail that changes my skin, but when I finally got a chance to try it, I was disappointed to find that it felt like little more than a gel moisturizer. In the last year, I've tried some other sleeping packs from TFS and Etude House, but neither brand had anything that left amazing results. Getting a sleeping mask in this box left a mixed reaction. On one hand, I was still wanted to give sleeping masks a try because I really am Very Very Lazy, but on the other hand, I was ready for the inevitable letdown.
Sadly, this too wasn't so great. If you're looking for something that moisturizes while you sleep, then sure it does that just fine. But it's also something that your regular moisturizer can do. Despite as advertised, it didn't do anything for my pores and rather than reducing sebum, I found myself waking up with blackheads that were more prominent because of the oil I'd accumulated overnight.
· · ·
Secret Key Snow White Cream (50g)
Full Size: 50g for $21
My first experience with Secret Key was with the Twinkle eyeliner in box #3, which I liked for the color payoff and formula. This time I received a whitening cream .. just as I'd sworn off using whitening products. My face has reached a point where it's noticeably lighter than the rest of me so I've been using this for my bacne scars (yeah yeah) and I passed out a few samples to my friends who needed help lightening hyperpigmentation from breakouts. I haven't been very good about using this regularly – hey, don't underestimate the dexterity necessary in applying things to ones back – so I can't vouch for how well it's worked its cause, but as far as I can tell, the marks on ye olde back are still as prominent as they were before. It has a slight baby powder scent to it and applies white white WHITE, but if you massage it into your skin, the white cast goes away and it sinks in quickly without residual greasiness.
My big point about the Snow White Cream is not about it's effectiveness (or lack therof), but of the discomfort I felt receiving it. As someone with fair-skin who enjoys being this shade of paste, I've used whitening products mostly as a means to lighten the appearance of leftover scars from pimples. I've recommended products with whitening ingredients to friends who struggle with hyperpigmentation, but I've certainly NEVER suggested they lighten their skin. Whitening products are not for everyone and not at all appropriate to include in a box full of suggested products. Don't support the gross notion that white(r) is better/cleaner. Don't support the idea that people who don't have fair skin are unattractive. Do NOT contribute to beauty marketing that tries to tell people that they need to make their skin lighter to be desirable/attractive/beautiful.
· · ·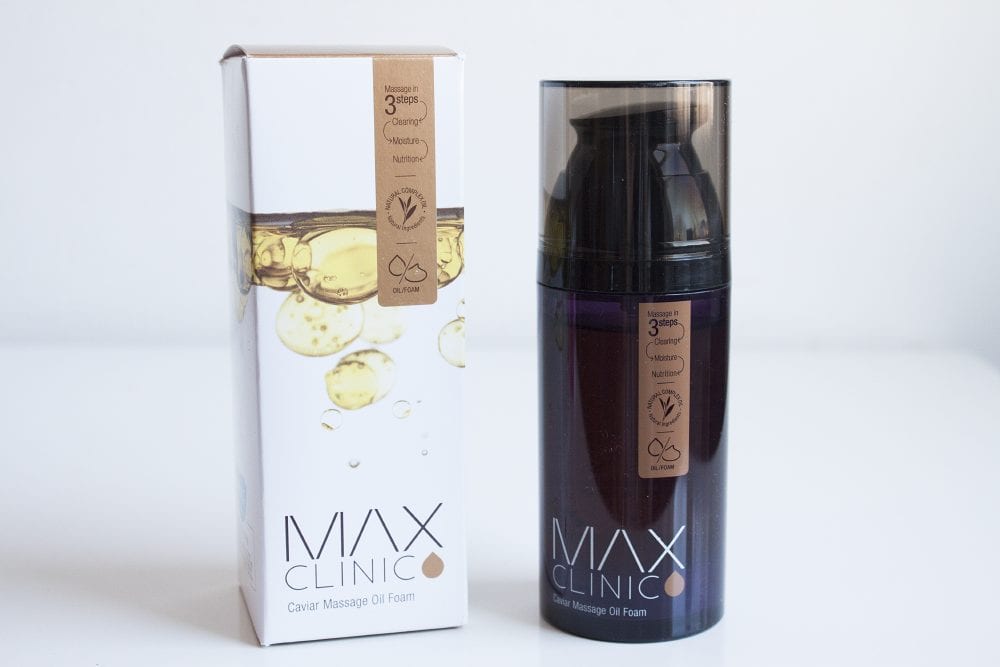 Max Clinic Caviar Massage Oil Foam Cleanser (110g)
Full Size: $73 for 110
Do I really need to wash my face with caviar oil? No, but I will if I'm living the LUX LYFE. This is probably my favorite product in the box in part because I was just running low on my regular Kracie cleanser, and the Max Clinic Caviar Massage Oil Foam Cleanser swooped in to save the day. The name of the product is a bit of a misnomer because it's definitely more of a foam cleanser than an oil cleanser – you apply the product to a wet face instead of a dry one. It does a nice job of removing all of my base makeup, but it has a harder time with eye and lip makeup. I always use a separate remover for eye and lip so it didn't bother me too much, but it might not be the one-step cleanser that some might prefer. I double cleanse as well because I find that my skin never does well if I skip a second cleanse. Despite being a foam cleanser, it doesn't dry out my skin and my face still feels relatively comfortable enough for that second cleaning. The Max Clinic cleanser is unscented and usually a pump of the product is enough for my whole face. I love the chunky packaging because it gives it a nice weight and makes it feel just a tiny bit that it's worth $73. Despite how much I like how well it cleans, I don't know if I can justify spending close over $70 to purchase a product that I have to order from overseas. The supposed caviar oil in it is quite luxurious in concept, but the cleanser is on your face for less than a minute and I'm not sure what skin properties I can get from something that will be rinsed off in seconds. Love it, can't afford it.
This item is the only one in the box that is still available for purchase on Memebox.com. If you're interested & not too thrown off by the price, you can for pick it up Max Clinic Caviar Massage Oil Foam Cleanser on Memebox [Affiliate Link] for $73 before s&h. Alternatively, you can purchase the cleanser (and other variations) for MUCH CHEAPER on ebay.
· · ·
Flower Men Energy Factory Moist Boosting Sheet Mask – Hyaluronic Acid (25g)
Full Size: $4 for one 25g mask
HAHAHA. The Flower Men Energy Factor sheet mask was the last item in my box and it was a surprise coming face-to-face with .. PSY's face. The Energy Factory brand is a mens skincare line created by Somang Cosmetics who signed PSY as their spokesmodel in 2013. The mask featured in Memebox #8 is one of three in their sheet mask collection and contains hyaluronic acid to help draw moisture to dry skin. I thought the packaging was really fun so I used it as soon as I got it, which unfortunately, was quite a while ago. Overall, I recall it having average sheet quality, average hydration and an average scent. I did, however, struggle with the fit of the mask which had cutouts that were too large for my face. I had quite a bit of overlap near my cheeks and chin area. Perhaps this is because the mask is, as quoted on the actual description card, ""as big as PSY's face, meaning double the pampering." That's… not only a hella uncool thing to say, but also not exactly true since I wasn't making use of the parts that I couldn't get on my face. I've got a big head but my forehead makes up most of the facial real estate and the mask certainly had more cheek than there was forehead.
· · ·
Total MSRP Value: $118.88
Price Paid: $23.99
Overall, this box was kind of a disappointment and so I didn't have to link to much because there wasn't anything I would really repurchase. I used everything, but nothing, save for the cleanser, was really meaningful or effective. While I'm getting more purported value than what I paid for the box, the bulk of said value is a single item that costs more than I would ever pay for a cleanser… that I can find for cheaper on third party sites. After being really impressed with box 3 & 4 and then waiting for #8, I was underwhelmed by how unexciting it was. I thought this box highlighted some points where Memebox can be improved and I hope they make changes for better as they accumulate more customers internationally.
(Stay tuned for box 9, 10 & 14, though because they were AMAZING)
· · ·
If (for some reason) this post (still… somehow) inspired you to try Memebox, you can pick up a Global Memebox on Memebox.com [Affiliate Link]. Box #8 is sold out, but there are upcoming global and themed boxes available. Signing up for an account with get you $2 in store credit to apply to any order. If you make a purchase using my affiliate link, use code W8VL to take $5 off your order.
---
(I'm working on a more streamlined disclaimer for these posts to be FTC compliant)
Affiliate Disclosure: This post contains affiliate links as part of Memebox's Affiliate Program, which means I may earn a commission for any purchases made through the aforementioned links. These links are plainly disclosed with the label [Affiliate Link] immediately succeeding the link itself. Although I may receive compensation for this post, all opinions contained are my own and were written independent of the affiliation; I purchased these items with my own money and will not hesitate to post a review that is negative should that be true to my experience. I can and will only recommend products for purchase which I have used and had a positive experience with. However, I am not a licensed medical professional and make no guarantee that you will have the same experience with the products mentioned.