I've been on a lip color kick for months and months with a complete and utter disregard of my wallet's soft sad whispers of "noooooo stop you don't need that." My newest favorite addition to my collection are the Rimmel Apocalips Lip Lacquers, which I've been lusting after since they launched in the UK last year. They finally made their US debut in June of this year, but as the Show Off Lip Lacquers and because I am, on occasion, a self-indulgent fool, I ended up buying them off ASOS during a summer sale for their original name. YEAH I KNOW. Don't worry, I'm judging me too.
Of the 14 space-themed shades, I picked up Luna, a neutral peach pink, and Big Bang, a blue-based red, both of which have already seen a lot of love from the beauty blogosphere. All the internet love makes this post questionable levels of helpfulness since so many people have already spoken about them, but I think they're phenomenal and still worth sharing.
The packaging for the Lip Lacquers is sleek! Glossy black finish, silver text and a geometric top that I love because I think it ties in with the astronomy theme (I can't really verbalize why – I'm just super into this space thing, alright). Most unique to the Lip Lacquers, is a chamber near opening of the tube, which fills up with product the first time you use it. Essentially it allows you to see whether or not it's been opened before. My package was a bit damaged during the delivery process and the product from one of my tubes managed to wiggle it's way into the chamber even before I opened it. It didn't come close to how quickly and extensively the chamber filled as soon as I pulled the wand out of it. It's a pretty cool feature and a great idea even though it admittedly loses it's practicality after the first use.
On the other hand, the applicator on the Lip Lacquers are a waste of my time. They look like standard doe-foot applicators, but they come with an unnecessary well in the center that's mean to help scoop product out of the tube. The LLs are so pigmented that you only need the smallest amount, yet the applicator pulls out a huge glob every single time. Why would anyone need so much at once??? The pointed tip is nice for a precise application, but I really think the same thing could have been achieved with a nice brush applicator.
One thing that Rimmel seems to have missed, however, is not having the shade of the product actually on the packaging. The shade name is printed on the sticker that seals the tube, but once you discard it, there is no way to identify the color that you're using. I have two vastly different shades so I don't think I'll confuse them anytime soon, but it would probably would be helpful to have the shade names on the tube for those who bought many more than I did.
But that's enough about packaging, here look at these colors!!!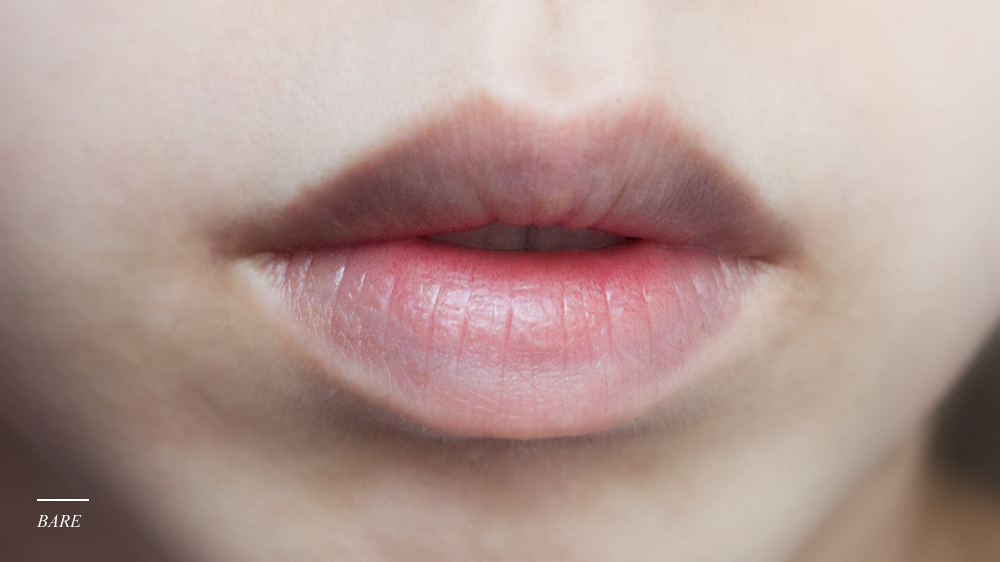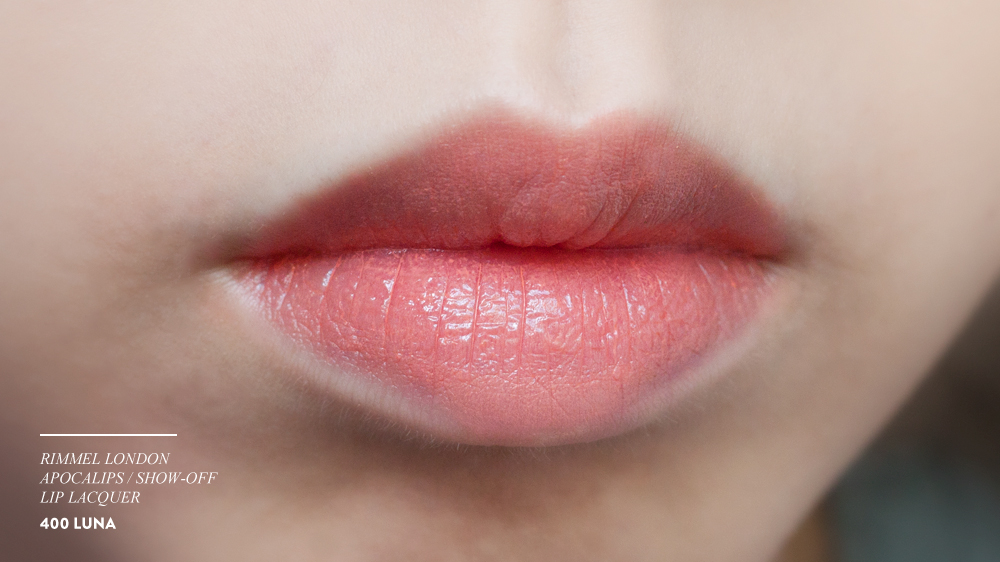 Apologetically blurry shots, but here is how the two colors look against the rest of my face. For reference, I'm about a NC15 in MAC, BD10 in YSL and Mont Blanc/Deauville in Nars.
Luna is the PERFECT peach pink and it's such a nice color for the summer. I've been wearing all month in combination with a peachy blush. The catch with Luna is that I have to be very careful about applying too much, otherwise it seeps the lines on my lips and starts emphasizing how dry they are. I did a heavy swatch in the photos above and you can see how it's made my lips look flakey and clings to my dry patches. I feel like this is a thing that happens to all creamy/milky looking shades and it's a shame because they're lovely and some of my favorite colors :( It helps to first apply a balm and then pat the product into your lips with clean fingers.
Big Bang is on the other hand is a lot less everyday wear, but the formula is the better of the two. I was on the fence about this shade for the longest time because I had my heart set on a cool-toned red and swatches seemed to swing both ways because of it's neutral undertone. Luckily, it ended up leaning cool against my yellow undertone skin and I'm super excited to have my perfect blue-red lip color. It's a classic sultry shade of red and a fantastic color albeit a bit bold. Every time I wear it, I struggle between thinking it's too harsh or feeling like a Warrior Princess. Of the two shades, Big Bang is the more pigmented one; I apply a light coat to my upper lip and just press them together for a full coverage lip color. It doesn't do the chalky-lip-look the way that Luna does because the color is so opaque, but it also means that the downside of Big Bang is how much work you have to put into applying it. It's nearly impossible to apply without a mirror. On-the-go touch ups are not going to happen and you'll regret it if you try.
The pigmentation in these is incredible and you need very little to get the job done. They have the consistency of a gloss with the color payoff of a lipstick – pretty much what you'd think a lip tar or a liquid lipstick would be like. After about an hour or so, they lose their glossiness and take on a satin finish. I don't find them particularly sticky, but weirdly enough, I feel like they never really dry down. Luna fades away, but I can still blot Big Bang after a few hours, which is tricky because it's very easy to notice when you've smudged something. Both of them smell like Jolly Rancher Hard Candies in watermelon to me, but a friend of mine said her tube of Celestial smelled like carrots. They're not the most moisturizing things on the planet, but it's not a complete deal breaker for me.
Price: $5-6 MSRP
Coverage: Depending on the shade, you can get sheer to full coverage in one swipe
Finish: Satin
Shade Selection: 14 shades
Scent: Watermelon
Lasting Time: 3-4 hours drinking and eating regularly
Does everyone need these? No, probably not. Some of these shades are incredible, but if you already have the same colors in lipstick form, that might be the better option of the two. They're still fairly cheap and really fun so if you'd like something to try – they're worth it!