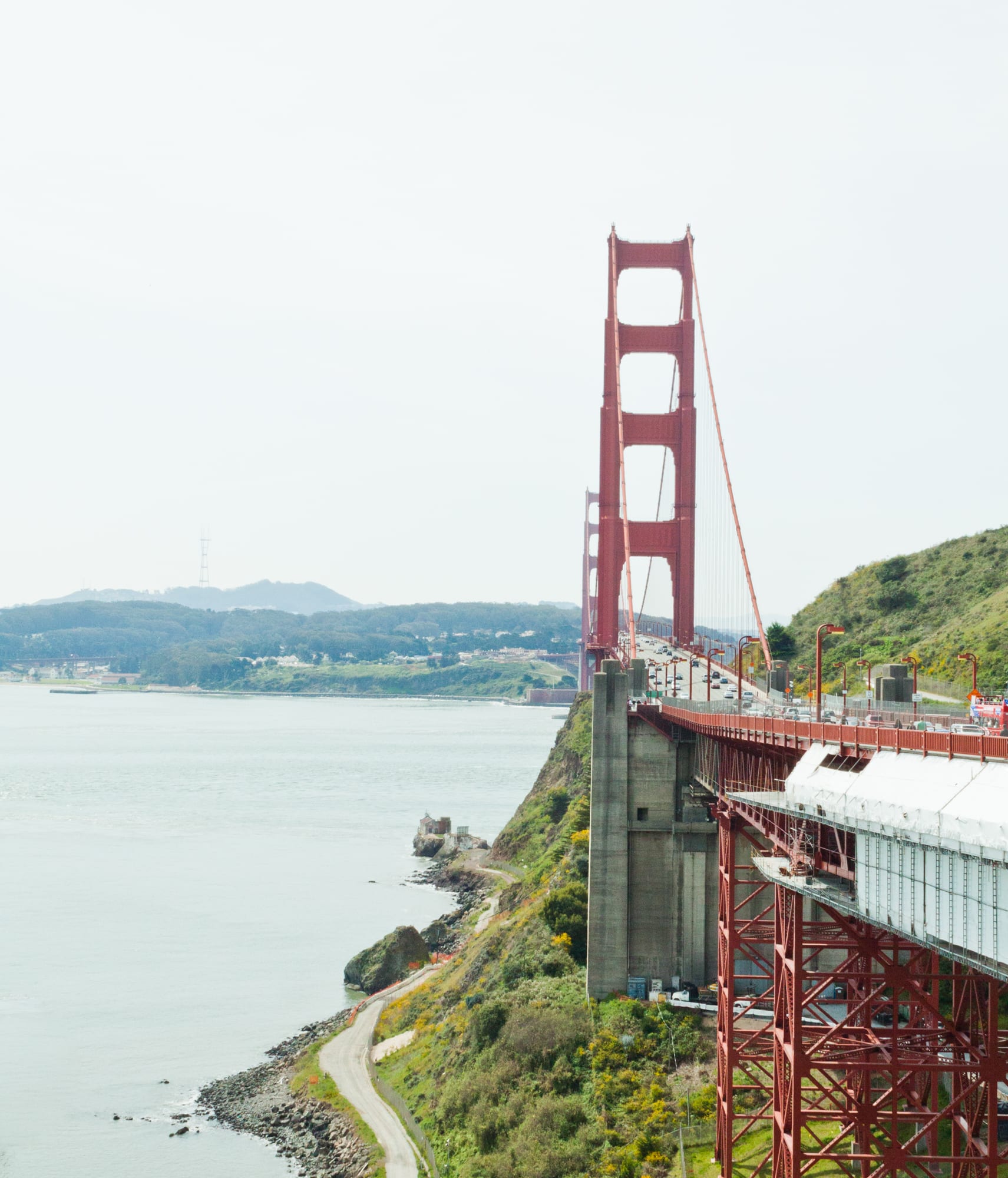 The cold is finally letting up here! It's averaging 40° and up these days so I'm keeping my fingers crossed that spring will be here soon because I'm tired of grey skies and early nights. My summer lust is full-fledged ☀️ and I recently dug up some old photos from a trip to California so I could do some California dreaming about the warm sand & the ocean breeze.
In the spring of 2012 the fam and I finally took a long awaited trip to the West Coast. My aunt had recently given birth so we took the opportunity to stop by for a visit, but California is so big that it seemed like a waste to spend the vacation in one city. We decided to cover a few cities in a week's time and took advantage of the expansive Highway 1 to get us around.
· · ·
FRIDAY, APRIL 6, 2012
· · ·
New York City » San Francisco:
Chinatown, Ferry Building, Pier 1, Union Square, City Hall
Our first destination was San Francisco and I think looking back I can say conclusively that it was my favorite city on this trip. Part of that is because we ended up staying at a hotel that was just a few blocks away from Union Square which meant that we were right in the middle of the hustle & bustle and I really got a chance to experience the city. I was so taken with the hills and trolley tracks and really touched by the kindness of folks who stopped and helped me out when I had TOURIST MODE activated.
· · ·
SATURDAY, APRIL 7, 2012
· · ·
Alcatraz Island!
San Francisco:
Fisherman's Wharf, Pier 45, Palace of Fine Arts, Crissy Field Beach, Little Tokyo, Dinner at R&G Lounge
This was the day I got my first taste of a California beach! It was too cold to get into the water, but it was wonderful enough to feel the sand beneath my feet. I'd been having a tough year and even today, I remember feeling so entirely at ease and peaceful lying in the sand. Plus, I ate a lot of seafood! I would move to San Francisco if it meant I could eat fresh seafood for cheap because as much as I fear the terrible monsters of the ocean, I sure love to eat them. I think I loved everything about this day. (I'm sure the Palace of Fine Arts is a tourist cliche, but it was a pleasant surprise and really beautiful to see.)
· · ·
SUNDAY, APRIL 8, 2012
· · ·
San Francisco
Lombard Street, Muir Woods National Monument, Golden Gate Bridge, Battery Spencer
My aunt was kind enough to take us on a car tour on our third day so we could see some destinations that would be out of the way without one. Having lived in a city like New York all my life, I've realized that I don't often think about or have any want for nature until I stumble upon it. To be honest, 95% of the time I'm indoors and it takes a lot of convincing to woo me out of my hermit hole, but every once in a while I just want to be around fresh air and trees and open spaces. There's nothing quite like standing beside a towering redwood, 500 years of age, and really seeing in a physical form that all of these problems that seem so big and encompassing are only tiny obstacles; that life has and does and will move on.
· · ·
MONDAY, APRIL 9, 2012
· · ·
San Francisco » San Jose » San Simeon
Intel Headquarters, 17-Mile Drive, Pebble Beach, Lone Cypress, Pacific Coast Highway
We packed up and bid adieu to San Francisco on day 4. My dad had rented a car and we planned to start the drive down to Los Angeles that day. We had a late start with a stop at the Intel Headquarters and then lingered in the scenic 17-Mile Drive… which turned out to be a big mistake because while the drive down the Pacific Coast Highway was beautiful, it was also the absolute most terrifying experience of my life. While we enjoyed some spectacular views of the ocean at dusk, there just wasn't enough sunlight left in the day for the drive and by the time we hit the Big Sur area, where the road has the tightest unlit one-land one-direction roads with no guardrails, it was pitch black outside and I was convinced we were going to die by falling off the side of the cliff. Thank GOODNESS we stopped for the night just as my motion sickness hit peak vomit levels. A lot of people seem to love this drive so maybe it was just me, but thank goodness my dad's a great drive & at least I can comfort myself in getting some neat photos…
To be continued!